30+ Stay at Home Mom Jobs that Pay Well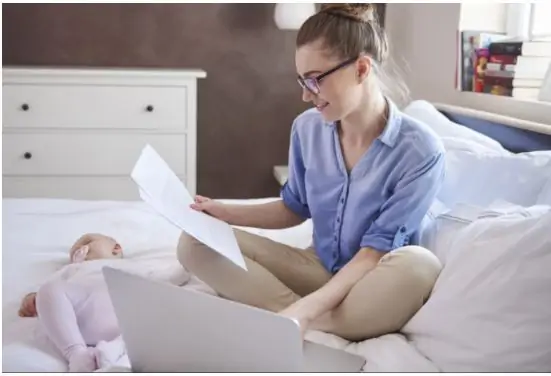 Stay at Home Mom Jobs Online
How do you find stay at home mom jobs?
This is the question I asked myself when I was 4 months pregnant with my second child and ready to make that transition from my 9-5.
Climbing the corporate ladder didn't matter anymore, being there for my kids did. We were living on a two-household income, so before I could quit my job I had to find a way to supplement my income.
I NEEDED to find a legitimate stay at home job that paid well, and I was not looking for any direct sales positions or multi-level marketing (MLM) gigs.
Update: I'm no longer at my 9-5; I'm doing job #1 on this list and I love it.
After searching for legitimate work from home jobs for moms online, I couldn't find any success stories, and I needed to know these ideas could work for me.
Out of frustration and a short timeline before I had my daughter, I decided to reach out to successful work at home moms and interview them to see:
What they do
How they do it at home with kids
How others could get started
How much they earn
I documented everything and created this website to share their stories for moms like me. That's what you'll find here today, Tried and True Mom Jobs.
Related article: 30 Stay at home mom hobbies
Quick Question: Are you in our group? We have a private FB group where our mission is to help you earn a MINIMUM of six figures per year. If you'd like to join our free Unbound: More than just a mom group, fill out the form here.
I've also been asked over and over what are the best jobs for moms with no experience, so I did a video to show you my top 8 stay-at-home mom jobs that I think are the best for moms and most profitable!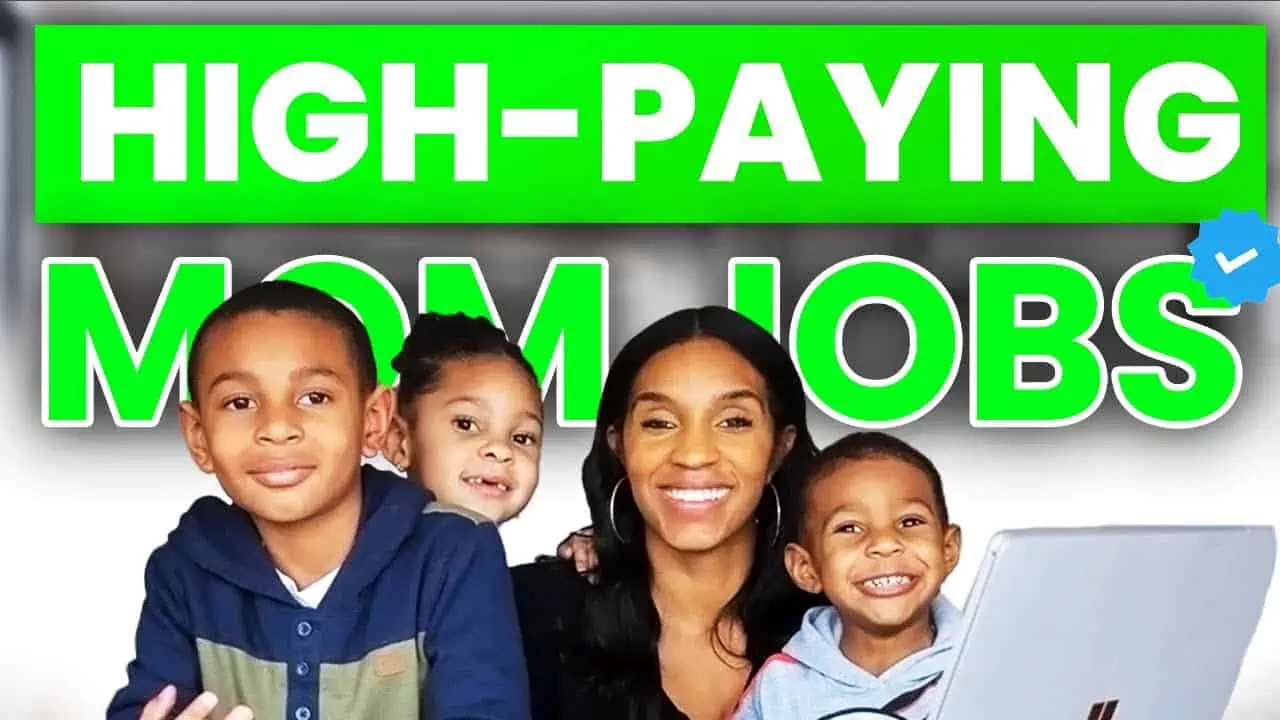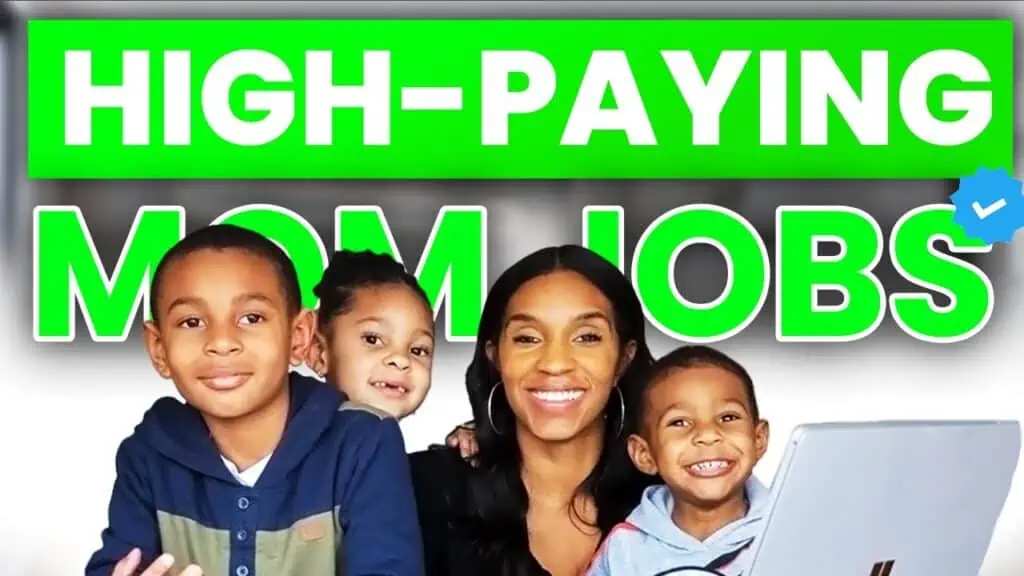 What is a Good Job for A Stay at Home Mom?
A good job for a stay at home mom is something that is flexible enough to work around your own schedule and can be done part-time because let's face it, we already have a full-time job just being a mom. And that's exactly what you'll find on this list.
Some of these stay at home jobs, unfortunately, do not offer health insurance, so if you're in need of health insurance see what others who are self-employed are using here.
This post contains affiliate links, which means I may receive a small commission, at no cost to you, if you make a purchase through a link.
30+ Best Legitimate Stay at Home Jobs for Moms
Here are remote jobs for stay at home moms that moms are doing today!
1. Start a Blog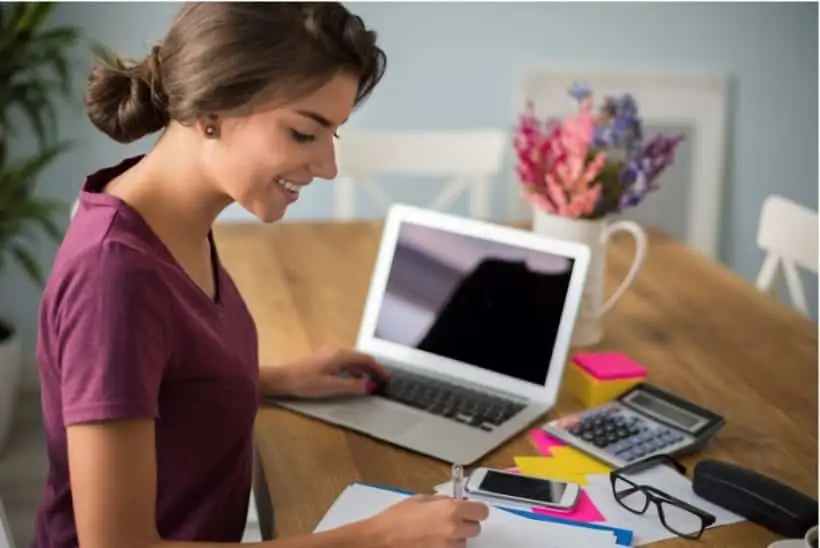 Blogging is the #1 online stay at home mom job because it is one of the most flexible jobs you can have and the earning potential is limitless.
After reading how bloggers are making between $1,000-$50,000 per MONTH, I instantly thought, well why can't I do that? And now I am!
I will admit that starting a successful blog takes A LOT of work (in the beginning anyway) but I was DESPERATE to find a way to make money from home so I could stay home with my kids. Desperation is a great motivator, it's what kept me going. This blog HAD to work. And it's paying off significantly.
Blogging is the best stay at home job for moms with babies because it can help you earn passive income. I make money from ads just from people reading my articles.
I can assure you, I did not write this article today and yet it's making me money.
When you get a nice number of people reading your articles it brings in a nice income. Here's a screenshot of one of my earnings from my ad revenue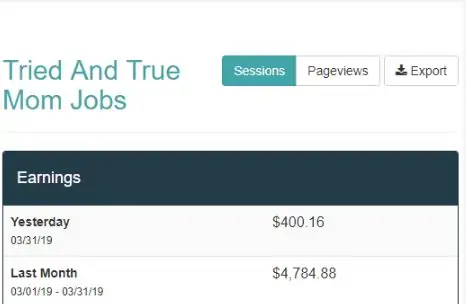 I made $400 in one day just from ads, and I make even more in affiliate sales. You can see how I make money blogging here.
You DO NOT need to be an excellent writer to become a blogger, you just write like you talk. It's very conversational.
I'm definitely not a great writer and I have my lovely mom review my articles before I post just to have a second pair of eyes.
I spent a lot of time working on my blog the first year with a full-time job, busy toddler, pregnant with my second child and also "trying" to be a wonderful wife to my wonderful husband. So, I know if you want this to work…it can. It just depends on you.
I also didn't make much money my first year. After a year in I finally started to see a nice income. So definitely consider doing this on the side as it may take some time before you start earning money, but it's so worth it if you stick it out.
I work VERY part-time on my blog now, you can see my stay-at-home mom schedule and I'm making more money than when I was at my corporate job.
If you want to start a blog, I've detailed all the steps in my How to Start a WordPress Blog article from scratch! I also mention the most popular niches that make the most money and get the most traffic.
2. Get into Real Estate BUT w/o Buying or Selling Anything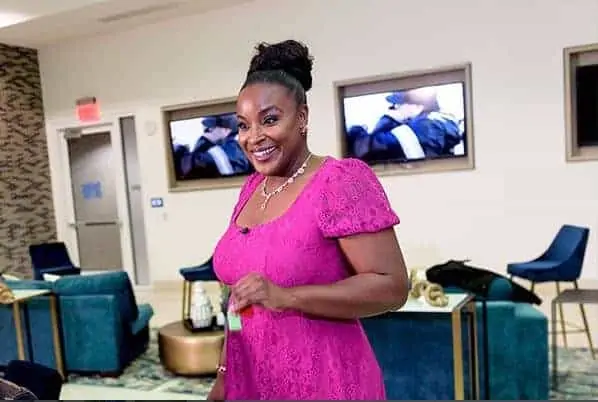 See how they do it in my article on How to Become a Bookkeeper from Home.
5. Freelance Content Creator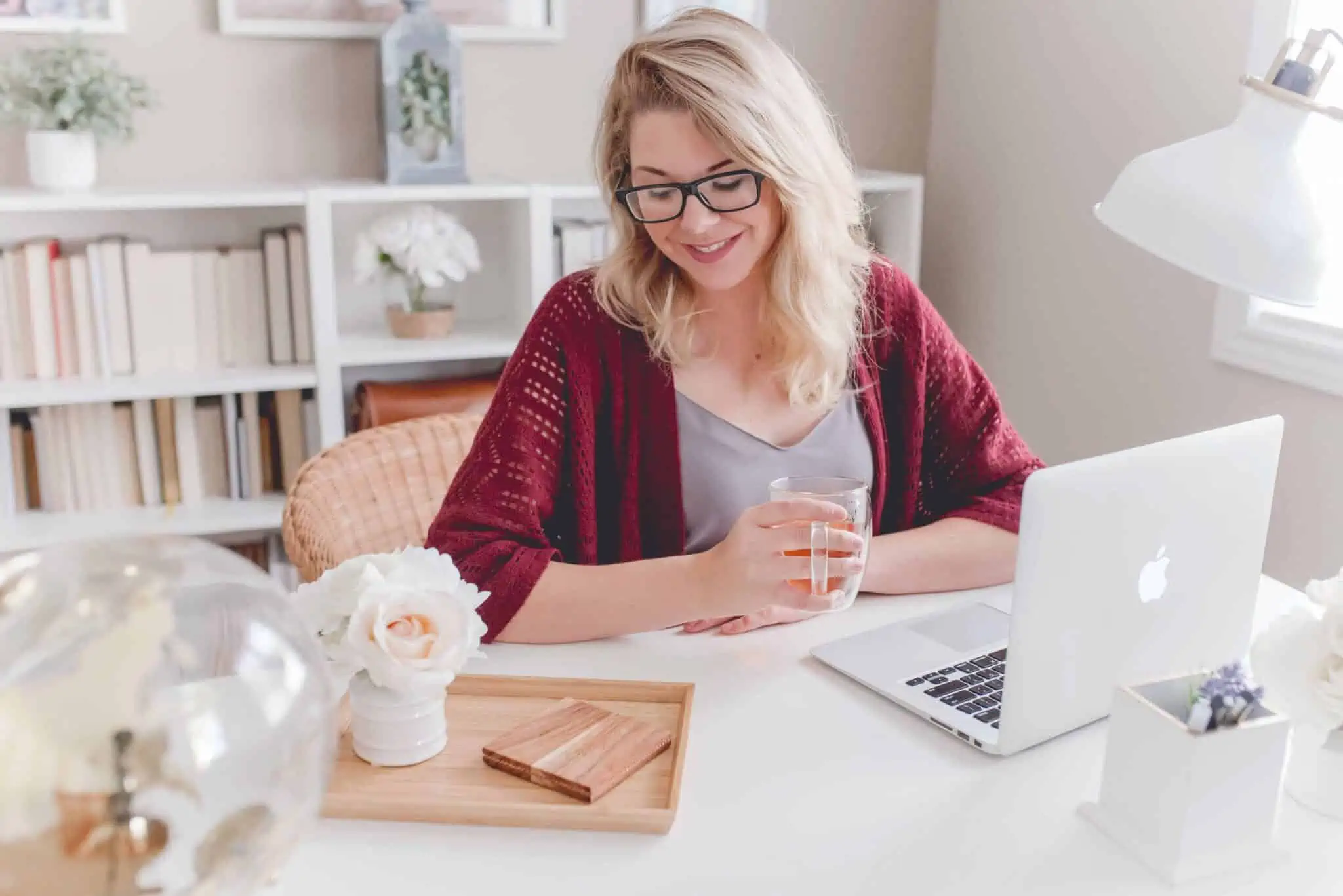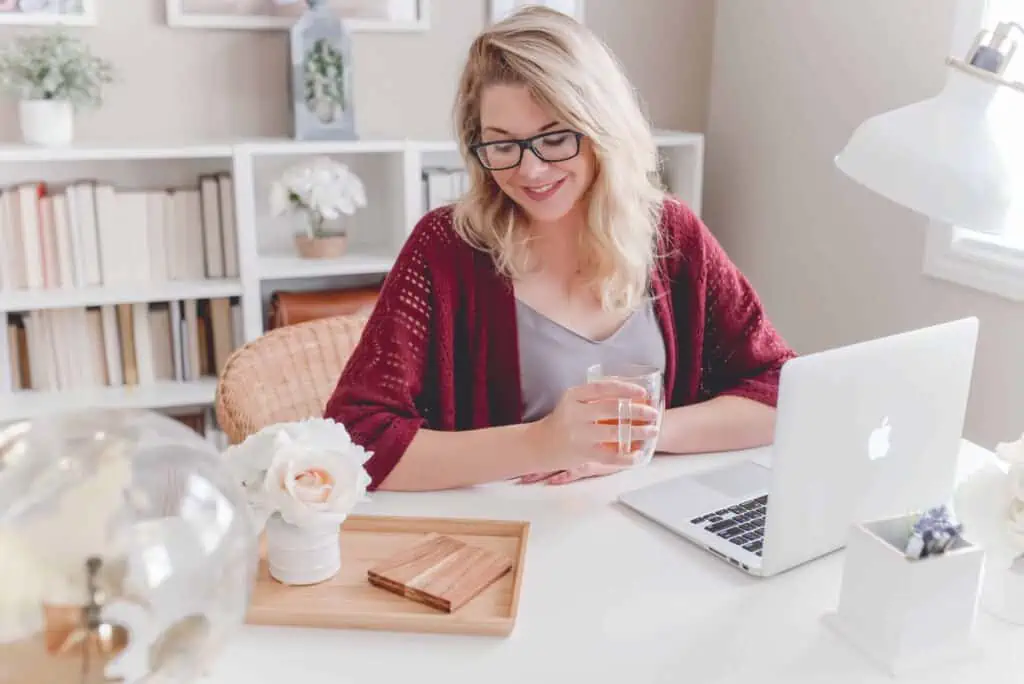 Most people have no idea that this niche exists or that there are thousands of bloggers that regularly purchase from freelance content creators working behind the scenes.
See how this mom was able to retire her husband and stay as a stay-at-home mom working around her own schedule.
You have to see how this works as another mom that I interviewed who does this made $4,000 her first month after she got the proper training! It's insane, and no one talks about this.
How to get started: Check out the article on How to become a Freelance Content Creator
6. Print on Demand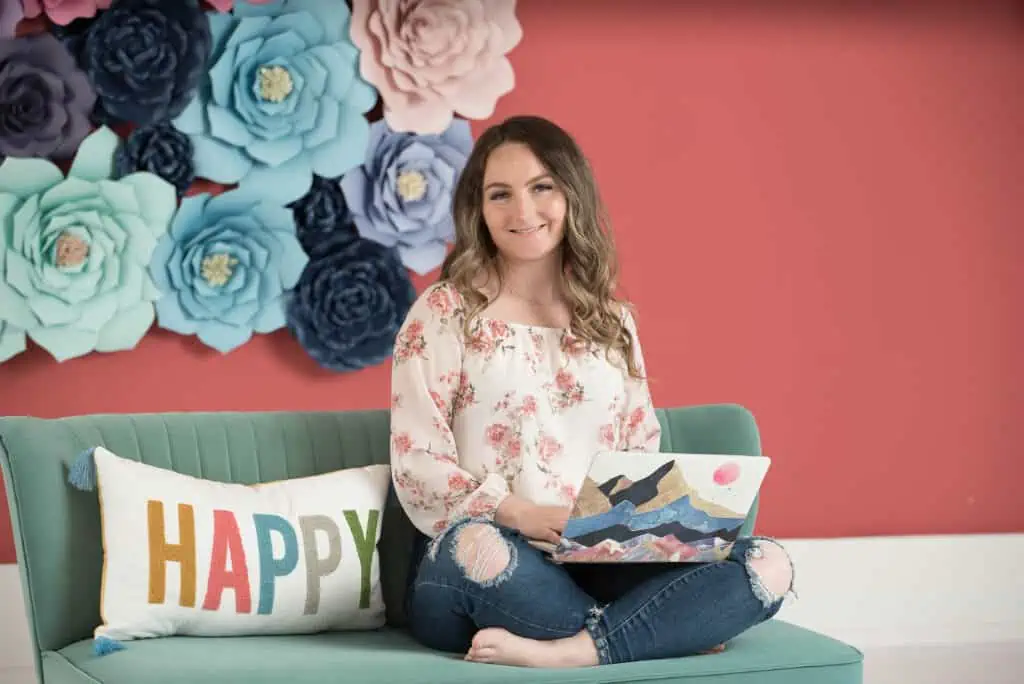 Print-on-demand is one of the best ways to make money from home because Cassiy Johnson made over $26,000 in ONE MONTH! Yes, we said one month.
Cassiy was watching a YouTube video on different side hustles and they said print on demand was an easy way to make money from home and she ran with it.
Print on Demand is a process where you create designs for products like shirts, mugs, and tote bags for example digitally online using software like Canva.
Then you post them for sale on Etsy using digitally made mockups of the products to show what they will look like once they are printed.
It's easier than this sounds, check out how Cassidy explains how she does this in our article on How to make money with Print on Demand.
7. Freelance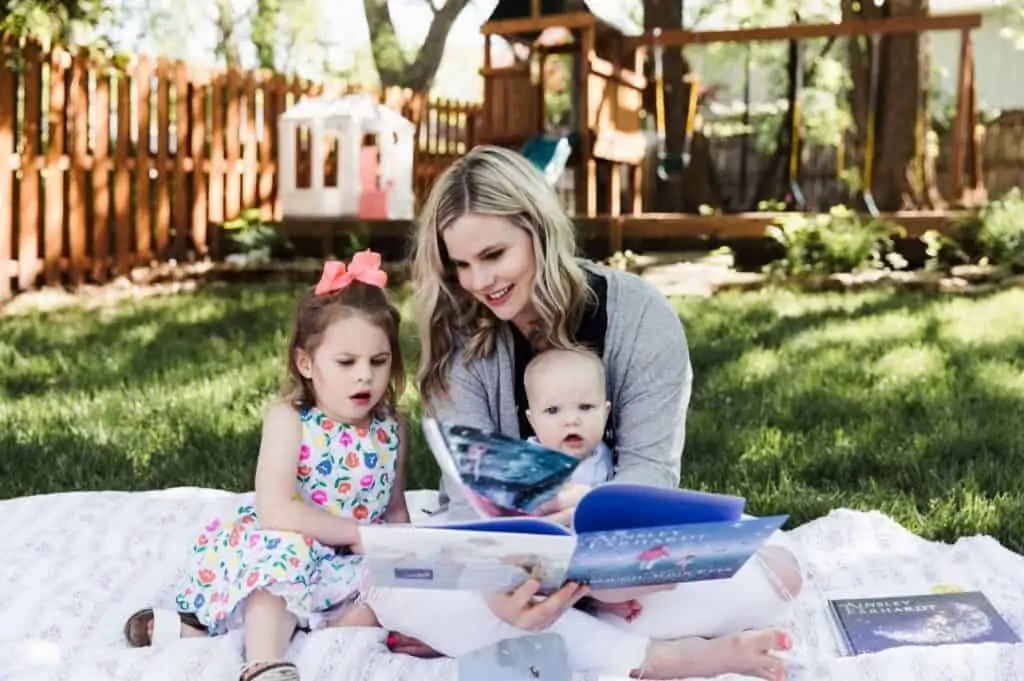 This is the type of Freelancing you are probably used to hearing about:
Virtual Assistant
Social Media
Design Tech
Pinterest Management
Copywriting or more!
If you've ever had an interest in one of these it's time to pursue it! If you don't know-how, that's okay because my friend Micala can help you out.
She was a teacher working 50-60 hours per week earning $2,300 a month. Pre-tax. Absolutely miserable dropping her baby off at daycare every day. She needed to work. And she wanted to work but on her own terms.
She didn't want to give up extra long morning snuggles or afternoons playing at the park. She wanted it all. Do you want the same?
Within a few months of freelancing, she was working 15-20 hours per week, earning double her old paycheck with her baby beside her every step of the way. Now she teaches moms how to do the same.
I had an AMAZING interview with her on How to Become a Freelancer Online and she created a free workshop to show you how she did it and how you can too.
Click here to check out her FREE workshop to see if freelancing is right for you.
8. Make money helping put babies to sleep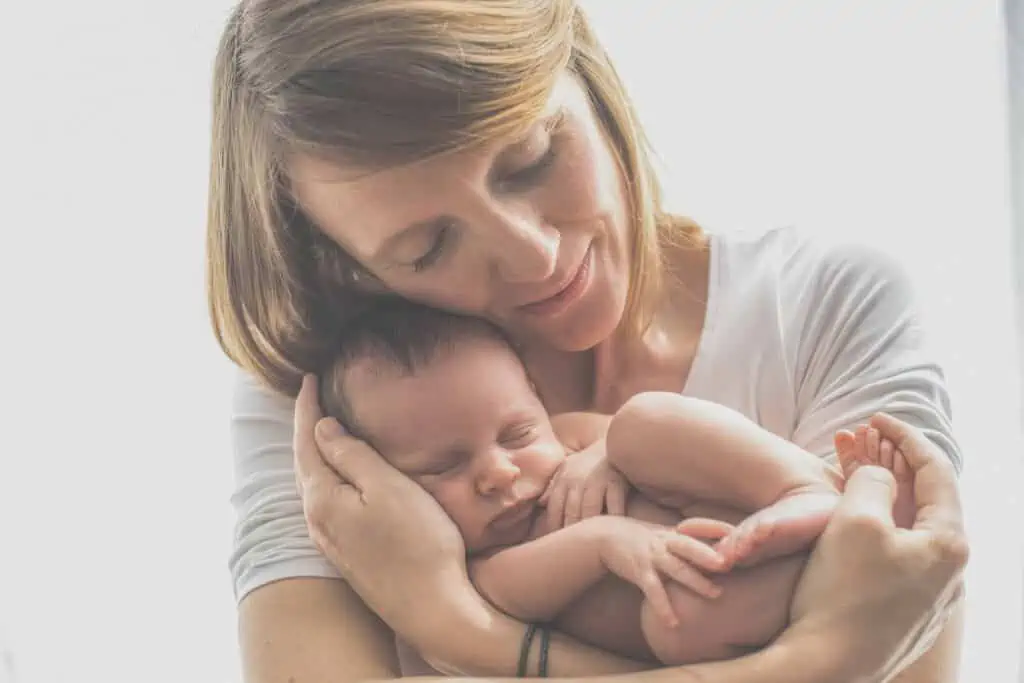 Yes, this really is a thing. Jayne Havens is a stay-at-home mom and she was always getting asked if she could help others get their kids to sleep through the night since she had early success.
She started charging people, and in her first month in business she made $2,400! By the end of her first year in business, she was having $10,000 months!!! And mostly everything is done by email or text.
This is one of the best work from home jobs for moms with babies that you can share your success with others and get paid for it!
Check out my interview with her on how to become a sleep consultant and consider this as a great way to make money from home with your kids by your side.
9. Start a Dog Treat Bakery
15. Life Coach
This is one of the best work from home jobs for moms with no experience because it does not require any training, it does not require you to get on the phone, and you make your own schedule.
As an US Rater you work on your own schedule as long as you can meet the 20 hours a week requirement. The pay is $14+ per hour and you will be evaluating search results from different search engines and rate their relevancy. For more information you can apply here. 
For other related jobs like this you can check them out in my in my article on How to Work from Home as a Web Search Evaluator
21. Sell Low-Content Books 
I know what you're thinking, what in the world is this! Don't worry, I'll explain but this is one of the best side hustles for moms because you do the work once (while you're watching Netflix or whatever) and can make money from this every single month.
You create a cover of a book and one interior page. Post it to Amazon KDP and let your work sell. 
I know this doesn't make sense but we break it down in our article How to make 1000s selling low content books, or you can just watch as we show you how to do this in minutes. 
22. In-Home Childcare
29. Take Paid Online Surveys
I never wanted to be that person to stay home and take surveys BUT when you need extra money, why not?
Share your opinion to help brands deliver better products and services and get paid in the form of gift cards or through PayPal. I recommend signing up for only Survey Junkie,  Swagbucks, and PrizeRebel.
The more Survey websites you sign up for, the more you'll earn.
Tip: Open a separate email account solely for surveys. You'll start to get inundated with emails and it will be more manageable in a different account.
30. Use Upwork
31. Get Paid to Test Apps and Websites
Companies need feedback on the user experience of their websites, and they'll pay you to get it. This is a fast and easy way to make money online.
Here are two reputable companies to sign up for: