How to Make Money as a Kid At Home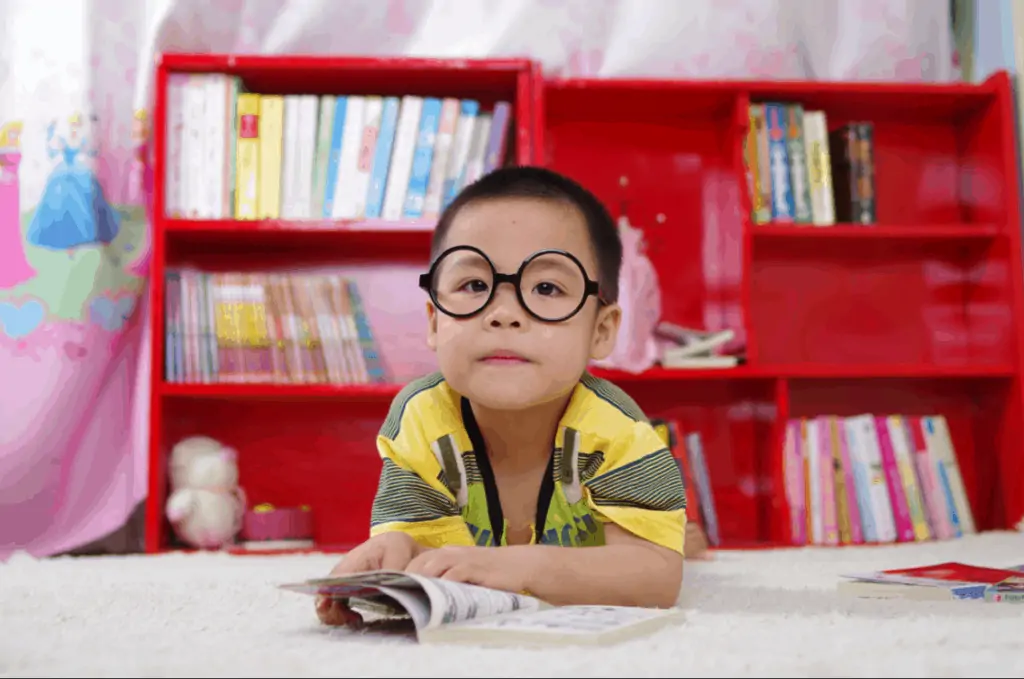 Best Ways to Earn Money as a Kid
Everybody wants to make money, but if you don't meet the age requirements for getting a job, you'll have to think outside the box.  I know many wonder how to make money as a kid fast, so today, we'll show you how. 
One of the best things about becoming an entrepreneur is that age doesn't matter. When it comes to making money, the only requirement is to get started with an idea.
I have two kids that are under 2 years old, and I'm constantly thinking of what they can do to make money at a young age because I want to show them the importance of entrepreneurship and business sense.
I write about ways moms can make money from home so they can stay home with their kids; everything I post is tried and tested by other moms so my readers can rest assured that it works. The same goes for this list.
Everything listed are ways kids are already making money today.
You can literally make thousands of dollars with some of the ideas on this list, but it just depends on how much effort you are willing to put forth.
If you are wondering how does a 12-year old make money, or even younger, don't fret. There is something for every age on this list.
This post contains affiliate links, which means I may receive a small commission, at no cost to you, if you make a purchase through a link.
Here are 15+ Easy Ways to Earn Money as a Kid
1. Flip products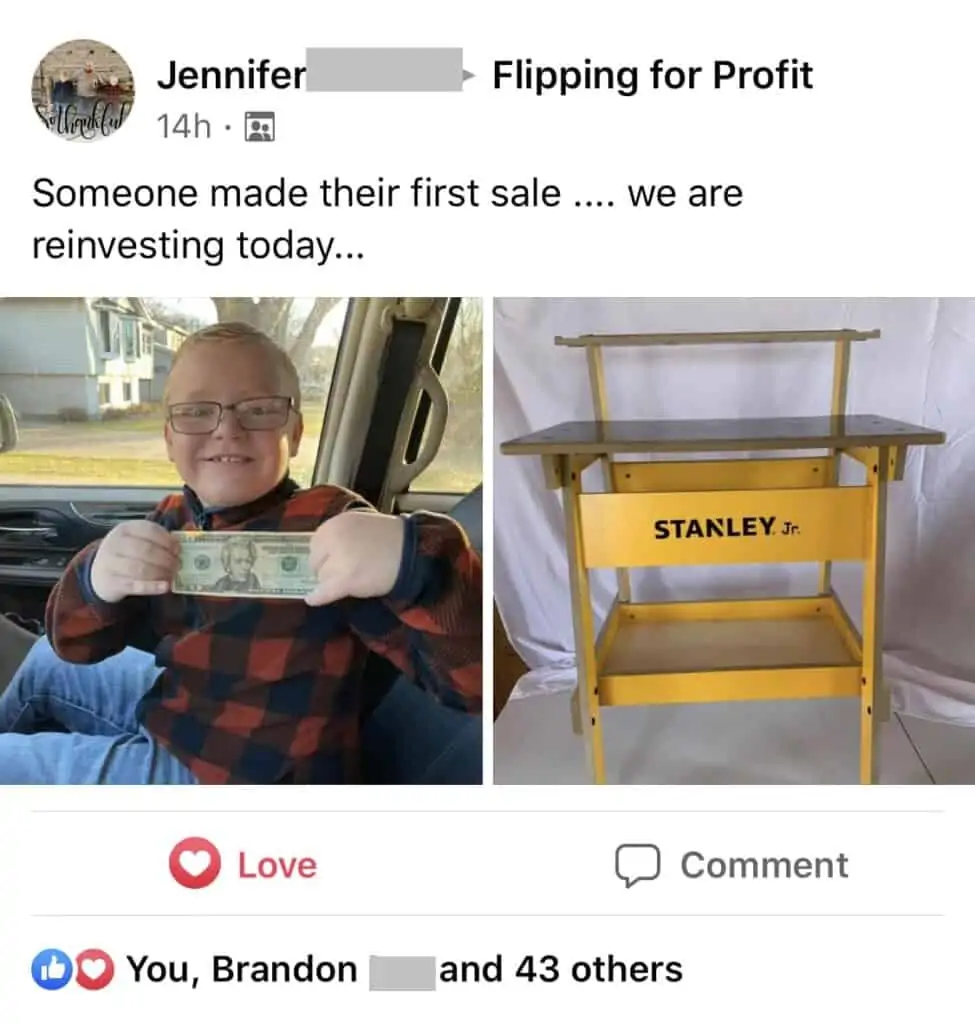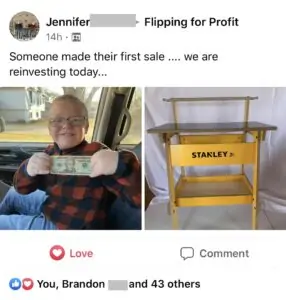 Melissa and Rob find sweet deals at yard sales, thrift stores, and flea markets and then "flip" them (sell at a higher price than we bought it for) online. They do this with their kids and make over $100,000 a year doing this!
They recently created a course to show other kids and parents how to do the same. This is a great way to make easy money and a lot of it! Check with your parents to see if you can do take this course together to learn the ins and outs of selling products online.
Click here to check out the course
2. Take Paid Online Surveys 
Share your opinion to help brands deliver better products and services and get paid in the form of gift cards or cash. I recommend signing up for both Survey Junkie and Swagbucks (you get a $5 bonus just for signing up with Swagbucks).
You will need to apply to a lot of surveys to make decent money but it's all about how much effort you put in.
Tip: Open a separate email account solely for surveys. You'll start to get inundated with emails and it will be more manageable in a different account.
3. Walk or Pet Sit Dogs
Dog Owners treat their dogs like family members, and it's very important to them that their dogs are getting the right amount of attention and care even if they are too busy to give it themselves.
To find clients you can sign-up through Care.com for a teen account (you will need a parent/guardian to vouch for you) or create flyers and spread them around your neighborhood to let your neighbors know you are available to work.
I see a lot of people charge $20-$30 per 30-minute walk.
4. Sell Candy/Baked Goods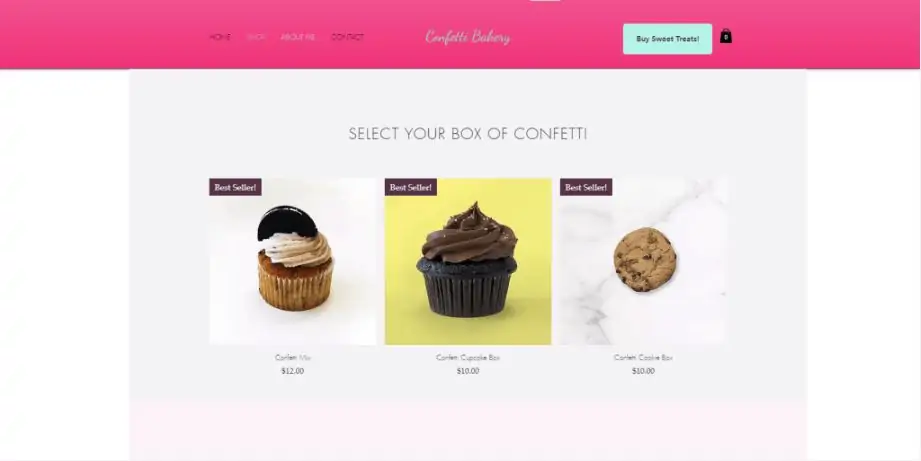 My niece (age 9) just launched her website on Wix (see screenshot above) to sell her baked cookies and cupcakes for $10 each box.  She sells 12 cookies and 10 cupcakes in a box. She quickly learned how to make money fast as a kid. 
In her first week and a half, she made $180 while only spending $35 on supplies and $33 on the website builder Wix per month. The site is very simple as you can see and she uses Paypal to process transactions.
Her mom promotes her website to friends and family on social media and continues to get a great response. They do a great presentation when customers receive their orders which encourages repeat purchases. Right now they are only doing local orders so they won't have to worry about shipping.
My little cousin also makes $200 a week selling candy, chips, and pop (soda) to classmates! She buys in bulk from Sams Club and sells them for $1. 
5. Become a Reviewer with Slice the Pie
You can make money by giving feedback on music and clothing before they are even released to the public with Slice the Pie. Your opinion will help artists, record labels, and brands make decisions.
You can make even more money by encouraging your friends to sign up using your referral link and entering your unique link when they sign up. You will receive 20% of all their review earnings for 60 days and 10% after that!
I recommend doing a couple of reviews, show your friends how much you were paid (and how easy it was), and then show them how to sign up using your link and code.  This is a perfect example of Affiliate Marketing.
I discuss more on How to Make Money with Affiliate Marketing
6. Start a YouTube Channel
My son loves to watch Ryan's World, and I just found out this 7-year-old made a whopping $22 MILLION last year from his Youtube account.
He started his YouTube show at 4-years-old because he was a fan of watching other toy reviews on YouTube and wanted to start his own. One of his videos went viral, and the rest is history.
So, think about it, you don't have to think of a new concept if you want to start your own YouTube channel. Ryan didn't, he just brought his own spin to it.
His channel started out slow, but he stuck with it. This is not a way to make money fast as a kid, but it could pay off SIGNIFICANTLY if you stick with it. Here is a step-by-step guide on how to start a YouTube Channel
Check out this article on how to make money on Youtube.
7. Start a Website
I recommend starting a website now on WordPress even if it's just for fun because this is an excellent way to make A LOT of money and age does not matter. You just need to know what to do.
You could be a front-end developer like me, which basically means I buy a theme like this business theme (this is the template of the website we're on right now) and I customize it to my liking. I'm COMPLETELY self-taught aka I Googled everything.
When it comes to building a website people think it's really hard and they would rather pay someone else to do it than do it themselves, and that's where you come in.
I volunteered to do my church website because I wanted the experience. I knew nothing about starting a website or the complicated backend stuff, which is okay because all premium themes come with backend developer support so you won't need to learn that AND you get to ask them for help on the front-end stuff.
Doing my church website was a huge learning curve but so valuable, I learned A LOT. After learning how to do my church website and doing the one we're on right now, I became really good at it. I charged $800 for doing a friend's website, and now any other site I do will be $1,000 or more. I could do a website in a day or two if I know what the client wants on the site.
I wrote a step-by-step guide on how to start a WordPress website that can help you get started. 
8. Babysit / Be a Mom's Helper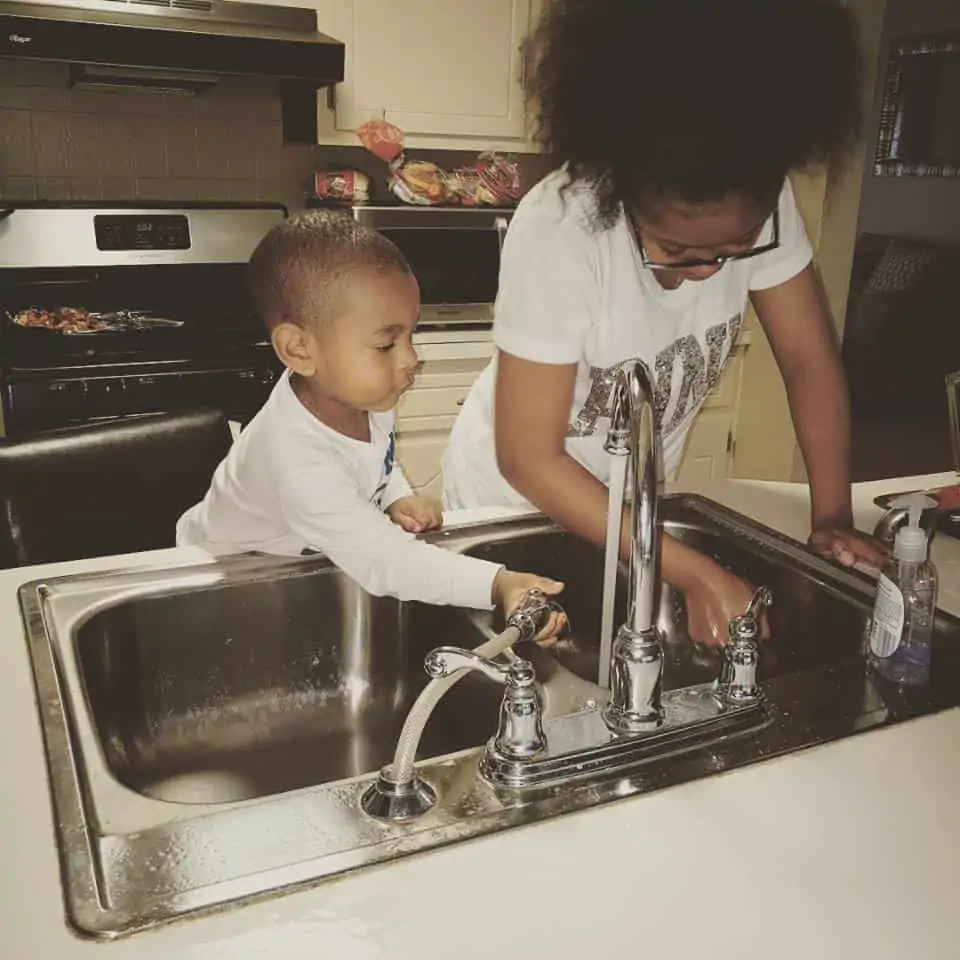 In case you're not of age to babysit alone don't let that stop you. There are a ton of stay-at-home moms or work-at-home moms (like I) who love the help and have no problem paying someone to entertain the kids while working and getting things done.
I never considered this as an option until my 12-year-old cousin asked if she could help me out this summer to gain some babysitting experience and earn some extra cash.
Tip: My little helper does more than just help to keep an eye on my kids. She also helps clean while the kids take a nap, which makes me want to give her even more money for going over and above. The same could work for you.
9. Lemonade Stand (REMIX)
Yes, the good old lemonade stand still works but you have to put a spin on it. You may make $5-$10 trying to do it in your neighborhood but try something different. Ask a parent, grandparent, or someone your parents trust to take you to a local, active park and set-up near the basketball courts, volleyball courts, or wherever you can get the most traffic.
People will want to support you, and they'll want cold water or a chilled cup of lemonade, so it's a win-win.
Make sure you check with your city ordinance to make sure it's okay to do this before setting up this easy way to make money as a kid. 
10. Car Detailing Service
I'm a true believer in this business for kids because people will already pay anywhere from $50 to $125 for their cars to be detailed. If you learn this way on how to make money as a kid and charge a little less to be price competitive you will still make good money.
Basic car detailing includes a car wash, vacuuming, polishing inside/out, and window washing. This is something you can easily do.
I recommend doing your parent's vehicle and taking pictures of before and after (make sure the before looks terrible) to show off the good work you do when trying to get clients. I would also consider doing a couple of free trials for your nearby neighbors in exchange for them to spread the word.
They'll tell their family and friends, and they'll also have a little adult guilt for you doing such a good job for free and become a paying customer. Here is a great article on How to Start a Car Detailing Service.
Or you could simplify all of this and just make money washing cars.
11. Lawn Care Service
Start your own lawn care service and include cleaning the gutters, mowing the lawn, edging, raking leaves a part of your package. Add shoveling snow depending on where you live (depending on how old you are).
I recently had a kid ask to cut my grass for $30, and although I needed it, I had no way of knowing that he would do a good job, so I declined. I recommend taking a photo of your work before and after and maybe even a picture of you cutting the grass yourself, so they'll believe you really did the work.
Had I known he could do a good job I would have hired him.
12. Start a Cleaning Service
This may not be the most enjoyable job, but you could make some good money doing this. Adults like to help young go-getters and wouldn't mind you cleaning their house for some extra money, but you will need to prove yourself.
I recommend doing your first job for free just to win your clients over. Always exceed their expectations so it will make them talk about you to their friends and family and you could get more work through word of mouth.
You could charge minimum wage per hour. I wrote an article on how to start a cleaning business here.
13. Resell Items Online
To make some extra money, you should consider selling your old video games to places like Gamestop, resell old clothes to Plato's Closet, or local consignment shops.
See how this kid makes $10,000 per MONTH selling sneakers.
14. Photography
Do you enjoy taking pictures, then you should get paid for it. As a kid, you may not get the trust you deserve to get high paying gigs like weddings and senior pictures, but you can be the main photographers' assistant, and you can learn a great deal.
I also recommend working on your photography skills and license your photos to stock photography sites like iStock and Shutterstock or submit them to The Sun Magazine.
My sister recently purchased the Canon EOS Rebel T6i Body, and she takes AMAZING pictures (she literally has NO experience at ALL). She also purchased the Canon EF 50mm f/1.8 STM Lens which is a KEY component of taking quality photos. It is an investment that can pay off significantly.
15. Start a Jewelry Business
I normally would never recommend this as a real way to make good money, but after seeing how this brother and sister sold millions off their jewelry line, it made me a believer. You can see their story of how they sold jewelry here and check out this teen who made $100,000 making jewelry. 
You can go to your local hobby stores for materials and sell on Etsy, at School, Craft shows, etc.
16. Solve a Problem by Inventing a Product/Service
You can always make money by solving a problem and creating a product or service. You can see the top 5 kid entrepreneurs who scored BIG on ABC's show Shark Tank and see what they invented for some inspiration.
Kids Can Make Money Fast Online and In-Person
I hope this list inspires you to get out there and discover new ways to make money fast as a kid. I think it's awesome that you want to make your own money.
Remember, it's important to make money but even more important to save it, so you'll always have it. It's also good to create goals to motivate you. If you want to save up for things like a car, break down how much you'll need to make and save each month, so your goal will seem more attainable.
Consider investing your money. You can see my post here on how to invest. The earlier you do this, the better. It's good to think long-term because you'll be well above your peers in knowledge and your finances.
Are there any jobs for kids that you are interested in that are not on this list?
You May Also Like
17 Ways to Make Money from your Smartphone
20 Tried and True Ways to Make Money From Home
17 Legitimate Ways to Make Money Online