The Best Online Tutoring Jobs Offering Up to $60 per hour!
Online Tutoring Jobs from Home
Are you looking for the best online tutoring jobs from home?
And the best paying online tutoring jobs?
Well, you're in the right place!
Online tutoring is growing thanks to the advancements in technology, and it's an excellent way to make money at home if you have teaching experience or knowledge in a specific subject.
These jobs are so fulfilling because it allows you to help others and offers the flexibility to spend time with your family or more time to do whatever you want.
Online tutoring is in my top 20 list of stay at home mom jobs because of its flexibility.
If you are a teacher or retired make sure you read until the end to see how to make money selling your lesson plans! 
I put a lot of work into this list by reaching out to people who have used these companies, trying to find the highest paying online tutoring jobs, and reviewing the employee comments on Glassdoor. I only list companies with a 3.4 rating or higher.
I have a very high standard and if I wouldn't apply to these jobs, I wouldn't ask you to either.
These jobs are online math tutoring jobs, online elementary tutoring jobs, teaching English as a second language, and even some online tutoring jobs that don't require a degree.
I have also listed the pros and cons of each company because quite frankly, nobody's perfect and I think you should know the whole story before applying to these companies.
If you find that these companies did not work out, check out my ever-growing list of ways to make money from home and join our mailing list as we update this list and find new legitimate ways to make money from home.
This post contains affiliate links, which means I may receive a small commission, at no cost to you, if you make a purchase through a link.
Best Online Tutoring Jobs for Teachers
Here are 7 of the Highest Paying Online Tutoring Jobs
WyzAnt is a company that offers affordable, top-rated private tutors in 250+ subjects and test preps. You can do in-person or online tutoring. Tutors on their website typically charge $30-$60 per hour and can earn more based on experience. This company received a 3.5/5 star rating on Glassdoor
Pros: Great customer service, you set your own hours, get paid quickly
Cons: You will pay a 40% commission in the beginning (it goes down as you stack up more hours) and there is also a 7% fee per client.
Instructor/Tutor – Kaplan, Inc. is one of the world's largest education providers, serving more than one million students and thousands of businesses and university partners through higher education, test preparation, professional education, English-language training, and university preparation offerings. You will need to have a degree and previous experience for the job you are applying for. This company received a 4.6/5 star rating on Glassdoor.com with pay between $17-$38 per hour, depending on the discipline.
Pros: Great support and training.
Cons: Sometimes lows in available work and not all work can be done online.  You may have to meet your tutee outside of your home

VIPKID is a leading Chinese online education firm that offers an American elementary education experience to Chinese students aged 4-12.  See how this mom makes $1700 a month working 15 hours a week.  
To qualify for one of their positions you need to be eligible to work in the US or Canada, Bachelor's degree in any field, one school year of traditional teaching experience or equivalent in mentoring, tutoring, or alternative education. This is a great job for moms because you don't have to sacrifice time with your kids during the day. Peak working hours are very early in the morning and late at night when the kids are asleep. The pay ranges from $15-$22 per hour with a 3.9/5 star rating on Glassdoor
Pros: You get bonuses for being on time, student sign-ups, teaching over 30 classes a month, and extra bonuses each month. The company treats staff well and listens to feedback.
Cons:  Not recommended for moms with small children unless you have help. Very competitive interview only a small percentage make it, but you can get a good coach/referral teacher to help you get hired.

Qkids connects Chinese young learners (5-12) with those who have a passion for education. Currently, you have to reside in the U.S. or Canada (due to the internet restriction) and have a bachelors degree. They make it easy for you by booking the classes for you and the hiring process is typically quick. This company received a 4.4/5 star rating and pay between $15-$21 per hour according to Glassdoor.
Pros: Friendly and supportive staff with training. Great flexibility and pay with a relaxed atmosphere
Cons: Early mornings over a long period may take a toll on you if not properly managed.

EF Teach Online is another online education firm focused on teaching children in China how to speak English. You can earn up to $16 per hour with EF Teach Online. Candidates must have a bachelor's degree or higher in any field. A diploma or official transcripts noting a bachelor's degree must be submitted before your contract can be finalized. Feel free to apply without these docs if you need a few extra days to obtain them from your college, but college credits or a bachelor's in progress is not sufficient.
Pros: Get local support and payment in the U.S. (The other companies are based in China) and you can choose your own hours.
Cons: Pay is not as high as the other firms
You can apply to EF Teach Online here
This company is looking for tutors who are teachers, professors, adjuncts, Ph.D. students, and industry professionals, who are all passionate about their areas of expertise and eager to help students learn. The application process entails filling out the application, taking an exam, doing a mock session and if you pass that and the background check you are now an official tutor. The pay ranges from $10.50-$14 per hour according to Glassdoor receiving 3.4/5 star rating.
Pros: Ability to work from home and choose your own hours
Cons: Some people have complained about the low pay 

You can apply to Tutor.com here
English Trainer – Gofluent improves employee English communication and professional skills for companies.  This position received generally good feedback receiving a 3.9/5 star rating with a flexible schedule on Glassdoor but mixed reviews on the pay (pay undisclosed).
Pros: Working from home, pay, and ability to choose your own hours. Great training, technology, and support.
Cons: No benefits and you have to give a month's notice if you need a day off

You can apply to Gofluent here 
---
Other Ways to Make Money Teaching…
Are you a teacher or retired?  You know the lesson plans you work so hard to create for your students? Well, why not sell them and help other students and teachers. What makes this even cooler is that teachers are making MILLIONS like Miss Kindergarten, Lovin Lit, and The Moffat Girls.  
Interested? Check out these sites where you can sell your lesson plans and make a nice profit Teachers Pay Teachers,  Teacher's Notebook, Houghton Mifflin Harcourt, and Amazon.
You might also like:
How to Work from Home as a Bookkeeper with No Previous Experience
How this Mom Makes $1,700/mo working for VIPKID
18 Legitimate Work From Home Jobs that Pay Well
Interested in teaching/tutoring or tried it before? Let us know in the comment section.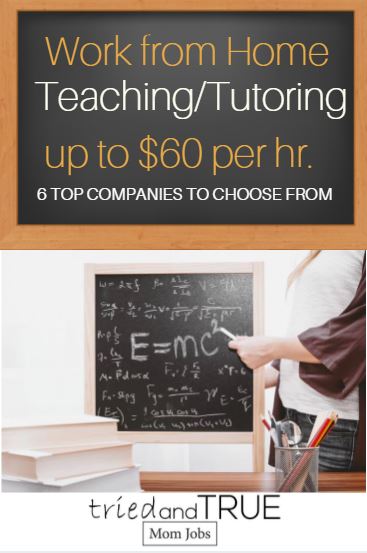 Best Online Tutoring Jobs

Max is the founder of Tried and True Mom Jobs, a blog about legitimate ways to work from home, save and invest. She only writes about things that work. Hence the name "Tried and True". She does the research, so you don't have to.