How to Become a Freelance Writer from Home – from A Stay-at-Home Mom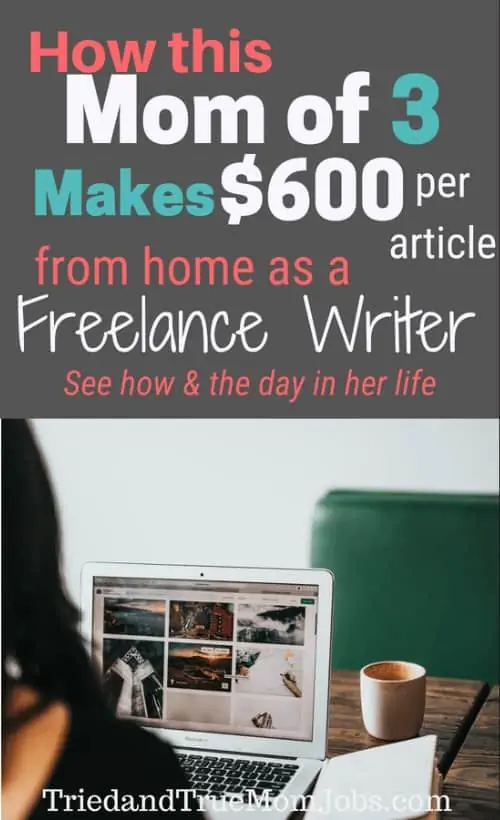 Do you like to write and desire to make money from home, set your own hours, and become your own boss? Consider Freelance Writing. I recently wrote a post on How to Start a Freelance Writing Career and now I'm excited to share with you a day in the life of a stay-at-home mom Freelance Writer.
Freelance Writing is considered one of the best stay-at-home mom jobs (next to blogging) because of its flexibility. Ashley Eneriz was kind enough to give us peek into her daily life as a Freelance Writer while nine months pregnant, two kids, a husband, and managing a household.
If you're serious about becoming a Freelance Writer, I recommend taking this free workshop to help you get started.
Ashley gave us the raw truth of what it's really like raising a family and working as a Freelance Writer. Read on to see if this is something that could work for you and your family.
How did you get started as a Freelance Writer?
I started in about 2006 when writing online wasn't a very lucrative or popular choice. I was happy to take any writing job that paid and would usually make $4 a 400-600-word article. While the pay was horrible, it taught me to write faster, and I was making more than my $8.25/hour barista job.
How long have you been a Freelance Writer?
Officially, 12 years. However, I don't always count the first few years since I was producing junk articles for little pay. These years did nothing to advance my career, and I am thankful they were ghostwritten. Many online writers who started out in the mid-2000s share similar stories.
How much do you charge for your services?
It really depends on the company and the amount of research involved. I aim to make $100-150 an hour, so this means I will earn $300-600 for articles that require interviews and more research and edits.
How often do you get paid?
This depends on the company. Some platforms I work with pay as soon as you submit the article, other platforms pay bi-monthly, and other companies pay monthly.
How do you accept payments?
Usually PayPal
Where & How do you find clients?
When I first started out, I was diligent in answering writing job boards and cold pitching. Now, most of my clients find me through my past work, portfolio, or LinkedIn account and ask me to work for them.
How many clients do you have today?
8
What tools do you use with your clients?
Sometimes I use Google Docs, but other than that I work with most of my clients through the Contently or Skyword platforms.
Can you give us a little insight into what a typical day looks like for you?
I try to wake up at 5 a.m. and work for an hour or two. I am nine months pregnant with my third, so this doesn't happen as often as I like.

Then around 6:45-7, my two girls (5 & 3) wake up, and we get ready, eat breakfast and start on homeschooling (for the kindergartener) and morning chores. If my five-year-old gets dressed, eats breakfast, does her morning chores, and completes her school load for the day with a good attitude, she is rewarded with an hour and a half of screen time. My three-year-old gets that too, despite being a grouch most mornings – haha. During this time, I try to do devotions and Bible reading for 30 minutes and work for an hour.

After that, it is mostly mommy time and roles, so crafts, baking, cleaning, playing games, errands, reading books, etc.

After lunch, the girls must either take a nap or play quietly in the playroom for an hour (screen-free), and I use that time to either relax or get more work done.

After that, it is back to being a stay-at-home mom and all the usual tasks that come with that – more cleaning, dinner prep, afternoon appointments, and lessons, etc.

My kids go to bed around 6:30-7 pm, and then I spend the rest of the night with my husband watching shows, playing games, or catching up, and then we try to go to bed around 9-10 pm so we can start the next day at 5.
Any Facebook groups you'd recommend joining?
Mom to Mompreneur is a useful one
Any cons to becoming a Freelance Writer?
So many! Freelance writing can take a lot of mental energy and dedication. You need thick skin to deal with rude editors and readers. When work is slow, you have to spend a lot of time pitching and hustling, which is not guaranteed money. You will be lowballed often or passed over for writers who aren't qualified but who cost less. On top of all that, family members and friends will not respect what you do as a real job. All of that to say, I love what I do, and it has been worth it, but it is not the easy way to make money that many websites boast it to be.
How many hours do you work a week?
15-20 depending on how big my workload is for the week
How many kids do you have?
2 with another one coming April 21st.
How do you manage your time with your work and kids?
You need to have defined priorities. No writing job is more important than my desire to homeschool and raise my kids, so I try to limit how much work I take on. I have turned down several full-time remote and on-location writing jobs that paid six-figures because of this.
Any advice you'd like to offer for those wanting to become a Freelance Writer?
I offer a free 7-day email course that will help you land your first writing client 
Do you have a website? 
Yes, I run Mama Hustle Repeat, a site to learn how to start making money as a freelance writer and to rock the WAHM life.
So there you have it! I hope this gave you some good insight into what it takes to become a stay-at-home parent and Freelance Writer.  Thank you, Ashley, for being so candid and giving us an honest view of what it takes to work from home as a Freelance Writer while raising your family.
Make sure to join our FREE mompreneur tribe on our exclusive email list. Where we send out new mom jobs, financial tips, and more! Subscribe here.
You Might Also Like:
How to Start a Freelance Writing Career
Freelancers: What to Know Your First Time Filing Taxes
20 Proven Ways to Make Money From Home
16 Ways to Make Money from Your Phone
Do you think Freelance Writing could be a good fit for you and your family? 
How to Become a Freelance Writer from Home – from A Stay-at-Home Mom