How to Become a Proofreader from Home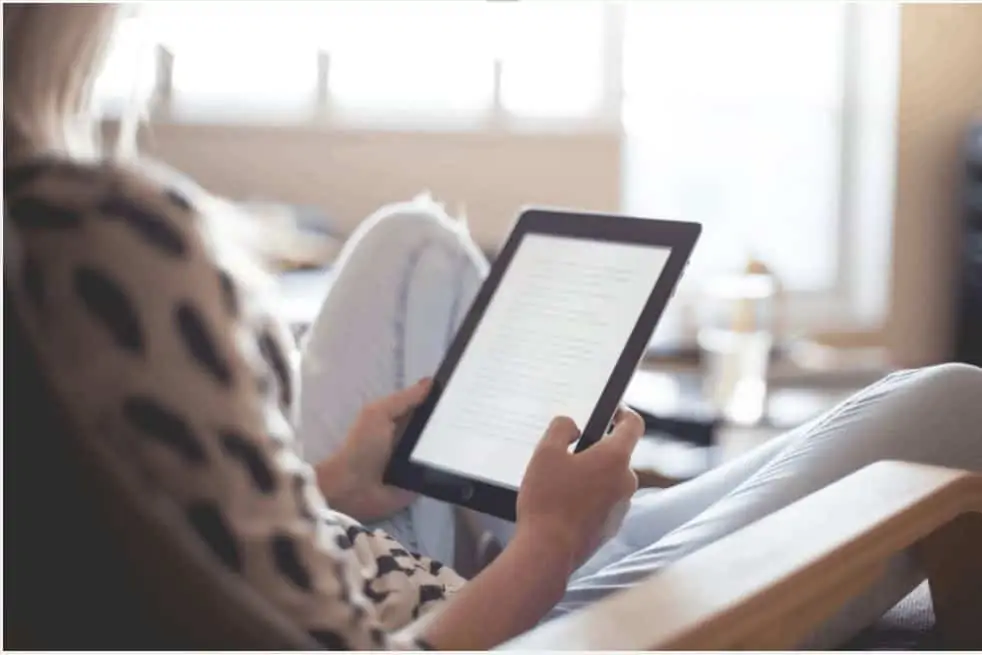 The Only Proofreading Courses You Should Consider
Do you find yourself easily catching errors when reading? Do you cringe when you see grammar mistakes? Do you enjoy reading and want to make money from your passion? If that sounds like you, then consider becoming a proofreader.
Today I am going to share exactly how to become a proofreader from home.
I honestly did not know you could make a lucrative career proofreading, but when I saw how some people were making $3,000-$4,000 per month as a proofreader, I had to find out how.
It turns out they had all taken this proofreading course that taught them how to start their own proofreading business. I didn't even know this was a thing.
I had to find out more, so I did some digging and found that the course they all took was Proofread Anywhere. This course was created by Caitlin Pyle who made $43,000 proofreading from home PART-TIME as a freelancer after getting fired from her corporate job.
She realized there was a huge open market for professional proofreaders, so she designed a course to help others start a proofreading business of their own.
So today we are going to hear from Caitlin as she tells us how to become a successful proofreader without previous experience.
If you find out that proofreading is not for you, make sure to check out our most popular article on legitimate ways to make money from home.
Quick question: Are you on our email list? If you're a mama like me, you definitely want to be on our list where we send out regular new mom jobs, productivity tips, and inspiration to get through this tough yet awesome journey of motherhood. Click here to subscribe.
This post contains affiliate links, which means I may receive a small commission, at no cost to you, if you make a purchase through a link.
How To Become a Proofreader from Home
It's easy to become a proofreader if you follow the example of someone who has already seen success. Here's what you can learn from Caitlin Pyle's experience:
1. Can you tell us a little bit about yourself and how you got started proofreading?
I started proofreading as a college student. While I was a communications major, I studied abroad in Germany, and students there would ask me to help them proofread their essays and theses. I loved using my eagle eyes to catch errors and help others turn their writing into masterpieces.
After I graduated, I had the opportunity to proofread transcripts for court reporters at a court reporting agency. Eventually, I was brutally fired from that job — I got my work done early and worked on my own projects when I had spare time, and they didn't like it.
I'm thankful that happened now, though. It forced me to think outside the box and realize I didn't have to sit in a crappy office all day working for someone else's dream. After I got fired from that job, I kept working with some of those reporters as a part-time freelance proofreader while I studied to be a personal trainer. I soon realized I could actually make a full-time income proofreading… and I haven't looked back since.
Because I was so passionate about proofreading, I started ProofreadAnywhere as a blog back in 2014, and it's exploded since then. I wanted to share my passion for proofreading with others — so they can grow their own freelance businesses as I did.
2. What exactly do proofreaders do, and is it different from editing?
I'm glad you asked that because many people think proofreading and editing are the same thing. Well, they're not! You could think of proofreading and copy editing as cousins — related, but different.
A proofreader should be the final pair of eyes on a project rather than the first or even second pair. By the time a proofreader gets the project, all the content should have been rewritten, reworded, and rearranged where necessary by the copy editor, and it should be almost ready to go. A proofreader double-checks to make sure no embarrassing grammatical and spelling errors slip through.
It's always a good idea to have a copy editor go over a document first and then have a proofreader make sure all the editing went well. A copy editor can't focus on copy editing AND proofreading simultaneously. That's why having both a copy editor and a proofreader is so important… and why it's crucial those two roles are kept separate.
Related: 30+ of the Most Profitable Small Businesses to Start
3. Is this something anyone can do?
Not necessarily! It's not for everyone, and that's okay! People shouldn't force themselves into yet another job they don't love.
You need to have a natural knack for spotting spelling, grammar, and punctuation errors and typos. You can learn all those nerdy grammar rules. But it makes it so much easier to get into proofreading if you can naturally spot errors (and you have that irresistible urge to correct them).
If you've always been a bad speller or you don't really like reading, then proofreading probably won't be for you.
4. What type of person do you think would be a good proofreader?
You absolutely must have an eye for detail! If you tend to skim or if "the little things" just don't bother you, chances are you will have a hard time forcing yourself to notice errors as you're reading through client documents.
Another super important skill you need to have is a willingness to do your own research. Even if you focus on proofreading in one particular niche, you'll still run across topics you're just not that familiar with. Instead of sending it back to your client saying you didn't understand what a word meant or how to spell something, you will need to do your own research.
Google will be your best friend, along with finding a supportive group to help you out. One awesome perk of both my proofreading courses is the private student and graduate Facebook groups, where proofreaders can ask questions and get advice (students often say it's their favorite part of the course!).
Related: 19 of the Best Part-Time Jobs Online that Pay Well
5. What is the most challenging part of proofreading?
The most challenging thing for most people is believing in themselves. Starting your own proofreading business is scary, but if you master your proofreading skills and take consistent action to market your business, there's every chance you can succeed.
6. How many hours a week did you work on average?
I worked an average of 20–25 hours a week, earning a full-time income. Proofreading is incredibly flexible — you can work as much or as little as you want and fit it around your schedule.
7. Tell us about your course. Who is it for? How does it work?
General Proofreading: Theory and Practice™ is the perfect way to begin your journey into proofreading for profit. It's an excellent, heavily detailed training system wherein you'll learn everything you need to know about proofreading general texts — think books and blogs.
The course includes 40+ lessons in 8 modules, including 10 grammar and punctuation worksheets and 40 practice essays so you can test your skills. The course is available at two levels — Ignite and Ignite Plus. With Ignite, you get lifetime access to the course.
With Ignite Plus, you get lifetime access to the course as well as the opportunity to take a hand-graded exam to verify your skills. If you pass the exam, you'll receive a certificate of completion, access to an exclusive marketing mastermind group for graduates, and a listing on Self-Publishing School's Preferred Outsourcer Rolodex.
If you love words and you want to make an income from home (or anywhere in the world), proofreading could be the thing for you — whether you're a stay-at-home mom, a retiree, a millennial, or an employee who hates their 9-to-5 desk job.
Related: 15 Real Work from Home Jobs that Pay Well in 2020
8. Once you take the course and are ready to work, how do you get clients or how do they find you?
That is the #1 question I get asked by prospective students. In fact, I get asked that question so often I've dedicated an entire module of the course to getting clients.
Of course, I'm not going to give away the secrets on how to market yourself and get clients here! It's extremely important that a proofreader has the training needed to make themselves excellent before they market their proofreading services. My General Proofreading course includes five modules of extensive training before we even talk about how to find clients and make money!
I teach you both the skills you need AND how to find clients. So if you follow the guidelines I include in the course, you should have no issues finding clients. It might not happen immediately after you graduate (although it does for some!), but if you put in the effort and market your business authentically, you will see the rewards.
9. How much can you earn as a proofreader?
This is a very valid question, but a tough question to answer because it depends on how much time you have to devote to proofreading and how proactive you are with your marketing. You reap the benefits of the work you put into it. Also, it can depend on your reading speed, skill level, and the rates you set.
Your income depends solely on you. Proofreading isn't a get-rich-quick scheme. It's a learn-the-skills-and-reap-the-rewards opportunity. The more you know your craft and the harder you work at marketing and providing excellence, the more money you'll make.
There is always an upper limit to how much you can earn when you exchange your time for money, but investing in improving your speed, skill, and efficiency will push that limit.
But to give you some frame of reference, I earned around $43,000 a year proofreading legal transcripts.
The important thing to remember is this: YOU are in charge of your success and how much money you make!
10. What advice would you give to someone who wants to become a successful proofreader?
I advise aspiring proofreaders to invest in some training before they hang out their shingle as an online proofreader. I'm not even saying you need to take my training (though it is definitely the best, so why wouldn't you take mine? :P) Learning on the job often involves making lots of mistakes — and in this industry, mistakes are what get you fired and make it harder to find your next client.
If you're a word nerd, and you want to expand your skills to earn money in other niches, it's definitely worth checking out my free Intro to Proofreading workshop.
11. Do you think this would be a good job for stay-at-home moms with little ones?
Yes! Proofreading is one of the best jobs for stay-at-home moms. Many of my students and graduates are moms! Freelance proofreading is flexible and can fit into a busy lifestyle. It also offers you the unique opportunity to make money doing something you enjoy, from anywhere in the world. You can choose how much work you do and how much money you make. The sky's the limit!
---
Thank you Caitlin for an awesome interview! If you're interested in becoming a proofreader, I highly recommend taking her free workshop to see if this is right for you.
Make sure to join our FREE mompreneur tribe on our exclusive email list. Where we send out new mom jobs, financial tips, and more! Subscribe here.
Do you want to become a Proofreader? Let us know in the comments.
You Might Also Like:
How I Make $1,700/mo Working 2 Hours a Day for VIPKID
How these two Moms became Successful Bookkeepers with No Previous Experience
How this Stay-at-home Mom Makes $5,000 per month selling products on Amazon
11 High Paying Skills to Learn