12 Best Jobs for Moms at Home that Pay Well
Online Jobs for Moms
There are some really good jobs for moms at home out there. The problem is, many people don't know what they are and how to find the one that's right for them.
I was one of them.
4 months pregnant with my second child and desperate for a way to stay home. I was determined to find out what my options were.
As I began my search, I couldn't find any online jobs for moms that seemed legitimate.
Frustrated and moving closer to giving birth, I decided to reach out to work from home moms to ask them what they do, how they got started, how they manage to do it with kids, and most importantly, how much they earn.
I asked, and they answered!
So I decided to create a website to share their stories for people like me looking for legitimate ways to make money from home.
That's why I named this website Tried and True Mom Jobs. These are all work from home jobs for moms, that moms do today! So you'll know it's real.
The majority of these jobs are part-time jobs for moms because let's face it, we already have a full-time job just being mom.
I didn't want to just share work from home jobs for moms but I also wanted to provide the tools and resources you'll need to get started for each AND an idea of how much you can earn for each (what we really want to know).
Make sure to join my mailing list as I discover new ways moms are making money from home and our YouTube channel so you can stay in the know. Click here to subscribe.
Some of these jobs, unfortunately, do not offer health insurance, so if you're in need of health insurance you'll want to know your options here.
This post contains affiliate links, which means I may receive a small commission, at no cost to you, if you make a purchase through a link.
12 Best Jobs for Moms that Pay Well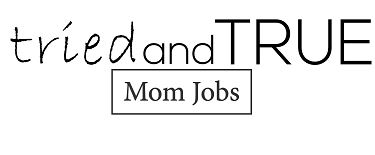 Tried and True mom jobs was created to provide stay-at-home moms legitimate job opportunities that pay well and offer the flexibility to raise their children.
Learn more...