30+ of the Best Small Business Ideas
Do you want to start your own business but have this one little problem…you have no idea what to do? Well, that's okay because I have a list full of small business ideas to help you figure it out!
Not only will I share the most successful small business ideas from home, but I will also show you how to get started and how much you can earn.
Not very long ago, I was in your shoes, trying to figure out how to make money with the new changes happening in my life, expecting my second child and desperate to leave my 9-5 for something that was flexible enough to work around my kid's schedule, but I didn't know what to do.
I was looking for some ideas from successful work at home moms (WAHM) but I couldn't find any, so I decided to reach out to WAHM's and interview them to see what they did, how they got started, how they were able to do it with kids, and most importantly how much they were able to earn working from home.
I created this website to share their stories in an article I wrote on Stay at Home Mom Jobs.
My site has taken off because people are looking for legitimate ways to make money from home from people who are doing it today.
There's no need to reinvent the wheel, you can follow a proven success model, make it your own, and become successful.
I would have NEVER imagined that I'd become a blogger, but when faced with a problem, I was able and willing to solve it and that's how most businesses get their start.
See the small business ideas list below and start planning for your future today.
This post contains affiliate links, which means I may receive a small commission, at no cost to you, if you make a purchase through a link.
Here are 30 of the Best Creative Small Business Ideas
1. Blogging
I started blogging because I couldn't find what I was looking for online, but there's no reason you can't write about what's already out there. You have your OWN voice and perspective.
I was inspired to start blogging when I discovered how bloggers were making between $2,000-$100,000 per MONTH (And now I'm one of them!).
If you want to start a blog, I wrote a step-by-step guide on how to get started along with the most popular niches that make the most money and get the most traffic.
2. Freelance Writer
Do you like to write? Well, why not get paid for it? This is one of the best creative small business ideas that you can make into a six-figure business.
Like Holly Johnson. I interviewed her and she now makes over $200,000 a year Freelance Writing! She created a free course for those who want to get started here.
3. Virtual Bookkeeper
Bookkeeping is one of the best small business ideas if you think you'd like to help business owners record their financial transactions.
You DO NOT NEED previous experience. There is a course you can take that will teach you all you need to know and how to charge $60 per hour.
I have an AWESOME interview with two women who took the course and are now successful Virtual Bookkeepers.
One of the women has 9 kids, homeschools 6, and runs a successful bookkeeping business so I'm convinced anyone can do this.
Check out the free training to see if this is right for you.
4. Proofreader
Do you find yourself easily catching errors when reading? Proofreaders are NEEDED, I know because I use one myself.
Caitlin Pyle of Proofread Anywhere made $43,000 in her first year proofreading while working part-time and studying abroad.
She realized there was a huge open market for proofreaders, so she designed a free course to help others get started.
You can learn the skills you need to start your freelance proofreading hustle here.
5. Sell Products Online
If you like shopping and searching for a good deal, you should definitely consider Amazon's FBA program. You find good deals on products at brick and mortar stores or online and resell them on Amazon for a higher price.
Ship to Amazon and they take care of the rest.
I interviewed Jessica who made OVER six figures her first year selling full-time! She created this FREE 7-Day Email Course to help others get started.
6. Virtual Assistant
Are you task-oriented and have skills in the areas of social media management, editing, graphic design, tutoring, researching, writing, administrative duties or data entry?
You can make $25-$100 per hour as a Virtual Assistant. Gina Horkey, six-figure Virtual Assistant shows us how to get started here.
7. Teach/Tutor
Online teaching is growing thanks to the advancements in technology, and it's an excellent way to make money at home if you have teaching experience or knowledge of a specific subject.
I interviewed Brittney Sutton who makes $1,700 a month working only 2 hours a day for VIPKid!
You could make $10.50 – $60 per hour with these recommended companies hiring here. Make your own hours and work anywhere!
8. Transcription
Transcriptionists listen to audio files and record (type) what they hear, it's a great small business idea to work from home.
Enroll in this FREE 7-lesson mini-course to learn more about transcription, the demand for transcriptionists, the skills involved, and decide if it's a good path for you.
Kim does this while homeschooling her son, you can see how it all works here.
9. Social Media Manager
Are you active on Social Media and would like to post on behalf of other businesses? This is one of my favorite small business ideas from home.
Depending on how many clients you have you could make between $1,000-$10,000 a month.
To get started consider taking this highly recommended course and see how Nicole built her small business as a Social Media Manager.
10. Start a Drop Shipping Business
Drop shipping is a method where you can sell third-party products from a Drop Shipping Company without ever seeing or shipping the item. When you make a sale, the product is shipped directly to the customer from the drop shipper.
Your profit is the difference between what you charge your customers and what the drop shipping company charges you.
Theo McArthur has great success with drop shipping and created a course that teaches you how to launch your first profitable Dropship Website in 14 Days or less and grow your Income to $10,000 per month in profits!
11. Photographer
If you love taking pictures, you should look into Photography as it is one of the best small business ideas that can earn you a great income.
My sister recently purchased the Canon EOS Rebel T6i Body, and she takes AMAZING pictures along with the Canon EF 50mm f/1.8 STM Lens which is a KEY component of taking quality photos. It is an investment that can pay off significantly.
How much can I make?
Wedding Photography -$700 – $3,500+
Senior Portrait Photography – $100-$300 a session
Small local businesses – $25 – $200 per image
If you want to get started, I recommend taking pictures of any and everything, take classes and learn photoshop to polish off your photos and add quality finishes. Post your pictures to your social network and check out these two apps to make money from your phone taking pictures.
12. Interior Designer
Do you watch HGTV and think, I can do that, I want to do that?
See how Julie Putzel got started and manages to earn a six-figure salary, How to Become an Interior Designer.
13. Graphic Designer
If you have an eye for design and have experience in Adobe Creative Suite/Adobe Creative Cloud – including InDesign, Illustrator, or Photoshop, there is a profitable market out there for you.
You can charge $25-$300 per hour, depending on your experience.
Check out this highly recommended course Learn Photoshop, Web Design & Profitable Freelancing to help you build your own small business.
14. Web Designer
I started my first website for my church because we needed one. I had no previous experience and it was a huge learning curve but it taught me a lot and now I can charge a nice price for making others by using an already pre-existing template (theme).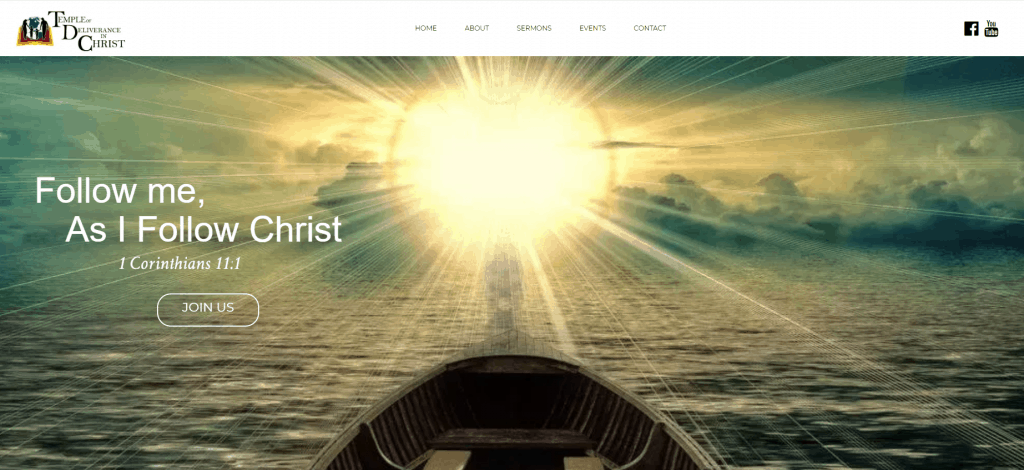 I don't know anything on the backend, but if you buy a theme it comes with support and all you'll need to do is customize it to your liking.
I was listening to a podcast the other day where this guy charged his FIRST client $500 and then turned around and charged another client $50,000 for the SAME TEMPLATE, amazing! You can listen to it here.
15. Travel Agent
Do you love to travel and enjoy helping people? Consider working from home as a Travel Agent.
According to Glassdoor, the typical salary ranges from $29,000 to $58,000 a year, but it all depends on experience and number of clients.
You can either start your own business or work for an agency, Sarah B. who started her own Travel Agency tells us how to do both here.
16. Etsy Seller
Do you consider yourself as artsy or crafty? Etsy is a great platform to turn your hobby into a thriving business.
Don't know what to sell? Check out the top 10 best selling products on Etsy.
How much you can make varies significantly but see exactly how Nicci makes $350,000 selling on Etsy.
17. Contractor (Plumbing, Electric, Handyman)
Are you the one they call on for any plumbing, electric, or handyman repairs? I helped a contractor get started with his own business by creating him a website, Facebook page, and Yelp account.
He has done very well by posting pictures of his work to his social media network and don't underestimate the power of word of mouth.
If you do a good job and even throw in a couple extra things for free, clients will be sure to give good reviews and tell others.
You can easily make six-figures as a contractor if you do good work. Everyone needs a good go-to guy or girl.
18. Start an In-Home Day Care
If you love children and have a passion to make an impact on a young life, this is a great opportunity to start your own small business.
How much you can make really depends on where you live, but you could charge $30 a day which turns out to $600 a month (assuming it's for 8 hours a day), while some daycares will charge $900 or more a month.
I recommend taking this neat course on How to Start a Home Daycare Business. Ladonna operated her own profitable home daycare and shows you how you can do the same, along with all the information you'll need to get started.
19. Start a Doggy Daycare Business
Do you love pets? Why not start a doggy daycare and walk and sit dogs while their parents are at work?
Dog parents will no longer feel the guilt of being away all day while they're in your good hands. You can charge $20-$40 per day.
Create flyers and pass them out in your local area. Start small and as your clientele increases consider getting your own facility.
20. Start a Mechanic Business
If you love working on cars you should consider starting your own small business.
I would prefer to take my car to a trusted small business mechanic than a dealership because whether it's true or not, I just feel like my car is getting more personal attention and that I won't be overcharged.
To increase word of mouth, I always suggest going the extra mile and letting the client know what "extras" you did "on the house". People love that kind of stuff and will be sure to spread the word.
Average pay is $30-$40,000 a year but could be much more depending on you.
21. Start a Courier Business
Starting a courier business is one of the easiest small businesses ideas on this list. All you need is a dependable vehicle and cell phone. Couriers pick up and deliver packages and documents for businesses or individuals.
Your potential customer could be architects who need to transfer blueprints, medical labs, caterers, grocers, lawyers, flower shops and more.
Related: How to Make $100 per day Grocery Shopping
You could make $36 per hour. Order some business cards or be creative with a stress ball, magnet or something creative that business will keep to easily remember and contact you.
22. House Painter
Are you good at painting? Well, I need you at my house 🙂 I really don't know any good painters and I wish I did.
Painters can make $50 an hour and getting started is easy. Social Media has never been so powerful. Take pictures of before and after and keep posting your work to your social network.
Let it stay fresh in the minds of your friends and when something comes up, you'll be the first person they'll think of when they need a job done.
Making business cards on magnets are some of my best recommendations because these are things people don't typically throw away and keep on their fridge.
23. Baker
Do you like to bake? As much as this health movement is spreading I don't know if it will ever outdo the love people have for sweets.
I have a couple of friends who are bakers and they do quite well by showing their work on social media. Just looking at all the tasty things forces my hands to type, 'I want one' and next thing you know, I'm out of $10-$20.
If you want to become a baker just start baking, it will need to be good of course. Try giving out free samples ONCE to a crowd and then hopefully that will be enough to draw in the paying customers and then rinse and repeat to a different crowd.
Post your orders frequently to remind your social network of what you do, you want to stay at the forefront of their mind when they think of something sweet they should think of you.
According to Glassdoor Full-time Bakers average pay a year is $28,412 but this all depends on you.
24. Event Planner
Are you a planner by nature? To some, planning an event might seem easy while others find it impossible to do so they outsource for help.
Becoming an event planner can start by working under other event planners and helping out, or just putting yourself out there and doing one for free to show off your work and get referrals.
Either way, the best experience is by doing. According to Glassdoor Event Planners average $55,169 a year. Post what you're doing to your social network and let the good you're doing spread!
25. Car Detailing Service/Specialist
I'm a true believer in this business because people pay anywhere from $50 to $125 for their cars to be detailed. If you charged a little less to be price competitive you would still make good money.
Basic car detailing entails a car wash, vacuuming, polishing inside/out, and window washing.
I recommend doing a really dirty car and take pictures of before and after (make sure the before looks terrible) to show off the good work you do when trying to get clients. Here's a great article on How to Start a Car Detailing Service.
26. Massage Therapist
My massage therapist works out of her home and she is AMAZING. She only charges $50 an hour for a full body massage and that's a great deal. I give her a $10 tip which I'm sure many of her other clients do or they may give much more.
Because she works out of her home she only accepts clients by trusted referrals so that she can maintain and ensure a safe and friendly environment. Safety should always be first. If you decide that you want to do this job out of your home be mindful of this while promoting to new clientele.
According to Glassdoor Licensed massage therapists make an average $45,408 a year. Most states in the U.S. require certification and licensing in order to register as a certified massage therapist.
27. Laundry Services
You can make up to $500 a WEEK doing laundry. It's an ongoing chore that we all do, BUT for some, who don't have the time but do have the money, outsourcing is the new normal.
See how you can start your own small business doing laundry here.
28. Landscaping Business
Start your own lawn care service and include cleaning the gutters, mowing the lawn, edging, raking leaves a part of your package. Add shoveling snow depending on where you live.
I'm a big believer in free trials, who would say no to a free trial to getting their lawn work done? I understand you're doing a lot of work to prove yourself, but it could be worth it depending on how bad you want to increase your clientele.
The landscaping business can be competitive, and that's why you have to differentiate yourself and price accordingly. You'll want to work in a middle to upper-class area because they are more likely to pay for this service.
You can make $70,000-$100,000 a year depending on your work ethic.
29. Personal Trainer
You'll want to be "fit" first if you want to tell someone else how they can be fit :-). If you love health and fitness and have a passion to see others meet their goals, you should consider becoming a Personal Trainer
To become a certified personal trainer this is the program you should go through to jumpstart your journey from the National Academy of Sports Medicine.
According to Glassdoor, the average salary is $35,130. Again, this all depends on you.
30. Sewing and Alterations Business
Having the skill to sew is a gift. I've tried it and I've failed miserably, my mom is actually a fashion designer and it's amazing what she can do with a needle and thread.
If you like to sew and already know how you can easily start your own sewing and alteration business. Offer friends, family, or local businesses an introductory rate to win them over and build a good rapport.
Post often to your social media network keeping them updating of the work you are doing even if it was just hemming someone's pants. Post "Another happy client" with a picture, remember you want to stay top of mind for when they'll need you.
According to PayScale average salary ranges from $20,031 – $42,292 a year
Final thoughts
I know I just gave you a lot of small business ideas to think about and hopefully you found one that will work for you. I have some additional ways to make money from home that's listed here if you need more ideas.
If you liked this article make sure you subscribe to our mailing list and stay updated on ways to make money from home, save and invest.
Are there any small business ideas I missed? Let me know in the comments.
You Might Also Like:
How I Won $10,000 Losing Weight
How I Retired at 31 with a Million Dollar Portfolio
10 Ways to Save on a Tight Budget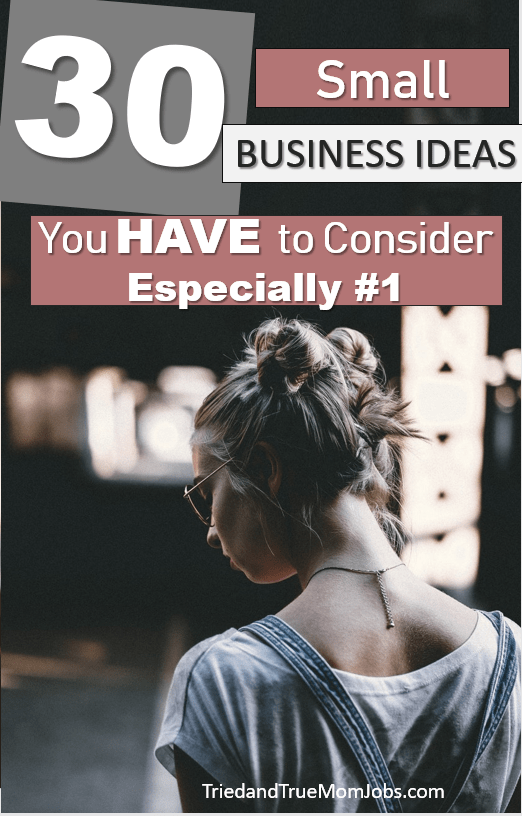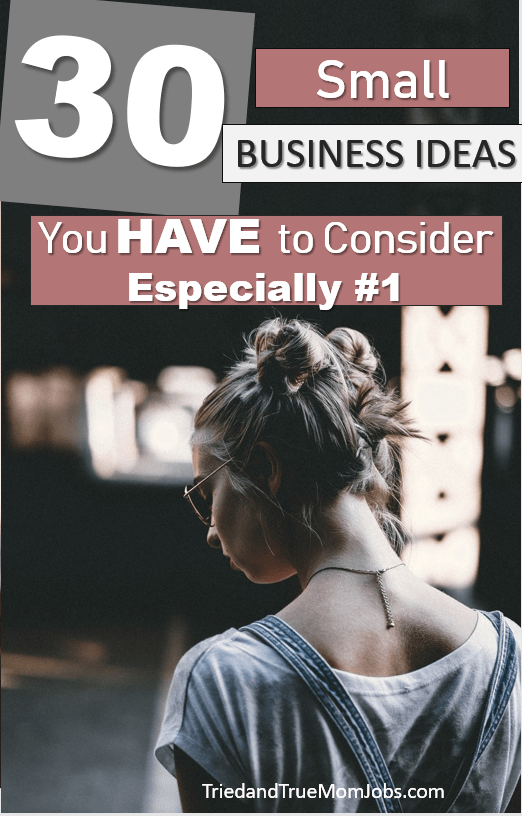 30+ of the Best Small Business Ideas

Max is the founder of Tried and True Mom Jobs, a blog about legitimate ways to work from home, save and invest. She only writes about things that work. Hence the name "Tried and True". She does the research, so you don't have to.