30+ of the Best Small Business Ideas
Small Business Ideas List
Do you want to start your own business but have this one little problem…you have no idea what to do? Well, that's okay because I have a list full of small business ideas to help you figure it out!
Not only will I share the most successful small business ideas from home, but I will also show you how to get started and how much you can earn.
Not very long ago, I was trying to figure out how to make money with the new changes happening in my life, expecting my second child and desperate to leave my 9-5 for something that was flexible enough to work around my kid's schedule, but I didn't know what to do.
I was looking for some ideas from successful work at home moms (WAHM) but I couldn't find any, so I decided to reach out to WAHM's and interview them to see what they did, how they got started, how they were able to do it with kids, and most importantly how much they were able to earn working from home.
I created this website to share their stories in an article I wrote on Stay at Home Mom Jobs.
My site has taken off because people are looking for legitimate ways to make money from home from people who are doing it today.
There's no need to reinvent the wheel, you can follow a proven success model, make it your own, and become successful.
I would have NEVER imagined that I'd become a blogger, but when faced with a problem, I was able and willing to solve it and that's how most businesses get their start.
See the small business ideas list below and start planning for your future today.
Be sure to subscribe to our mailing list as I often get companies reaching out to me about available remote positions they have and I only share these with my subscribers. Click here to subscribe.
This post contains affiliate links, which means I may receive a small commission, at no cost to you, if you make a purchase through a link.
Here are 30 of the Best Creative Small Business Ideas
1. Blogging
I started blogging because I couldn't find what I was looking for online, but there's no reason you can't write about what's already out there. You have your OWN voice and perspective.
I was inspired to start blogging when I discovered how bloggers were making between $2,000-$100,000 per MONTH (And now I'm one of them!).
When you get a nice amount of people reading your articles it brings in a nice income. Here's a screenshot of my earnings from the other day.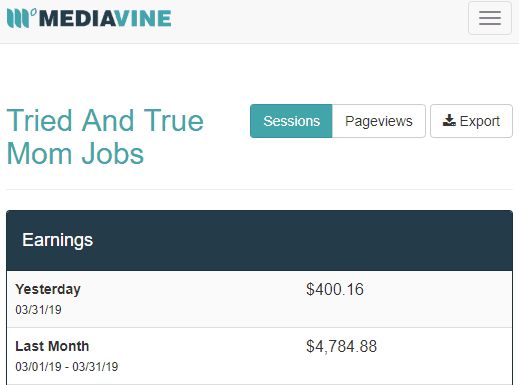 I made $400 in one day just from ads. I also make money by partnering with companies and becoming an "Affiliate".
However, I didn't start earning this much in the beginning (I've been blogging for about 15 months).
Blogging takes A LOT of work in the beginning but it's so worth it as I work VERY VERY Part-time now and I'm making more than when I was at my corporate job that I was beginning to hate.
You can see how I make money blogging and check out my Step-by-Step Guide to starting a blog along with the most popular niches that make the most money and get the most traffic.
2. Freelance Writer
Do you like to write? You can make a lot of money as a writer, I know because I interviewed Holly Johnson who makes OVER $200,000 a year as a Freelance Writer. I didn't even know that was possible!
How much can I make? Holly Johnson said that she finds it hard for you NOT to earn AT LEAST $40,000 to $50,000 a year working full-time as a writer.
How do I get started? Holly Johnson found the secret sauce when it comes to writing and charging the right rate for your work. She created a free introductory training on how to build a six-figure writing career. I highly recommend taking her course if you want to work from home writing and follow her path to success. I also have a number of ways to get writing gigs at the end of this article.
3. Virtual Bookkeeper
Bookkeeping is one of the best small business ideas if you think you'd like to help business owners record their financial transactions.
You DO NOT NEED previous experience. There is a course you can take that will teach you all you need to know and how to charge $60 per hour.
I have an AWESOME interview with two women who took the course and are now successful Virtual Bookkeepers.
One of the women has 9 kids, homeschools 6, and runs a successful bookkeeping business so I'm convinced anyone can do this.
Check out the free training to see if this is right for you.
4. Proofreader
Do you find yourself easily catching errors when reading? Proofreaders are NEEDED, I know because I use one myself.
Caitlin Pyle of Proofread Anywhere made $43,000 in her first year proofreading while working part-time and studying abroad. You'll have to see our interview in my article on How to Become a Proofreader.
She realized there was a huge open market for proofreaders, so she designed a free course to help others get started.
You can learn the skills you need to start your freelance proofreading hustle here.
5. Sell Products Online
If you like shopping and searching for a good deal, you should definitely consider Amazon's FBA program. You find good deals on products at brick and mortar stores or online and resell them on Amazon for a higher price.
Ship to Amazon and they take care of the rest.
I interviewed Jessica who made OVER six figures her first year selling full-time! She created this FREE 7-Day Email Course to help others get started.
My sister took her course and is doing great selling on Amazon.
6. Flip Items from Flea Markets and Thrift Shops
Rob from the Flea Market Flipper is the MASTER flipper. He made over $130,000 flipping items from Flea Markets and thrift stores PART-TIME.
And, you don't need to have a lot of money to start either. Rob recommends his students to start with a budget of $20-$50 to find items. Based on that, they should be able to make $100-$300 (mostly reselling on eBay) and then take some of the profit and do it again.
Rob created a free workshop to turn your passion for visiting thrift stores, yard sales, & flea markets into a profitable reselling business – in as little as 14 days. You can click here to sign up.
7. Virtual Assistant
Are you task-oriented and have skills in the areas of social media management, editing, graphic design, tutoring, researching, writing, administrative duties or data entry?
You can make $25-$100 per hour as a Virtual Assistant.
Gina Horkey, a Six-figure Virtual Assistant, wrote an epic article on Everything You Need to Know about Becoming a Virtual Assistant to help you get started.
8. Teach/Tutor
Online teaching is growing thanks to the advancements in technology, and it's an excellent way to make money at home if you have teaching experience or knowledge of a specific subject.
I interviewed Brittney Sutton who makes $1,700 a month working only 2 hours a day for VIPKid!
You could make $10.50 – $60 per hour with these recommended companies hiring here. Make your own hours and work anywhere!
9. Transcription
Transcriptionists listen to audio files and record (type) what they hear, it's a great small business idea to work from home.
Enroll in this FREE 7-lesson mini-course to learn more about transcription, the demand for transcriptionists, the skills involved, and decide if it's a good path for you.
Kim does this while homeschooling her son, you can see how it all works in my article How to Work from Home Transcribing.
10. Get Into Real Estate BUT w/o Selling or Buying Anything
Yes, this really is a thing. I met Boss Mom Danielle Pierce who is doing this earning over $400,000 a year WHILE homeschooling her 3 kids!
It's called Property Preservation or Repairing Foreclosed Homes. Danielle outsources 100% of the work and only does admin work.
How much can I make? It varies but Danielle says it's very feasible to gross $100k+ or more in revenue within 18 months
How do I get started? Check out my interview with Danielle to see how it all works and take her FREE Masterclass to see if this is right for you.
11. Start a Parking Lot Litter Removal Business and Earn Six-Figures
Yes, you can earn six-figures picking up trash part-time. Brian Winch does it and he shared with me the whole process and how you can get started in this article.
Expect to earn $30-$50 per hour. Check out my interview with Brian on how to get started and how he'll help you grow your local business.
12. Social Media Manager
Are you active on Social Media and would like to post on behalf of other businesses? This is one of my favorite small business ideas from home.
Depending on how many clients you have you could make between $1,000-$10,000 a month.
To get started consider taking this highly recommended course and see how Nicole built her small business as a Social Media Manager.
You Might Also Like:
How I Won $10,000 Losing Weight
How I Retired at 31 with a Million Dollar Portfolio
10 Ways to Save on a Tight Budget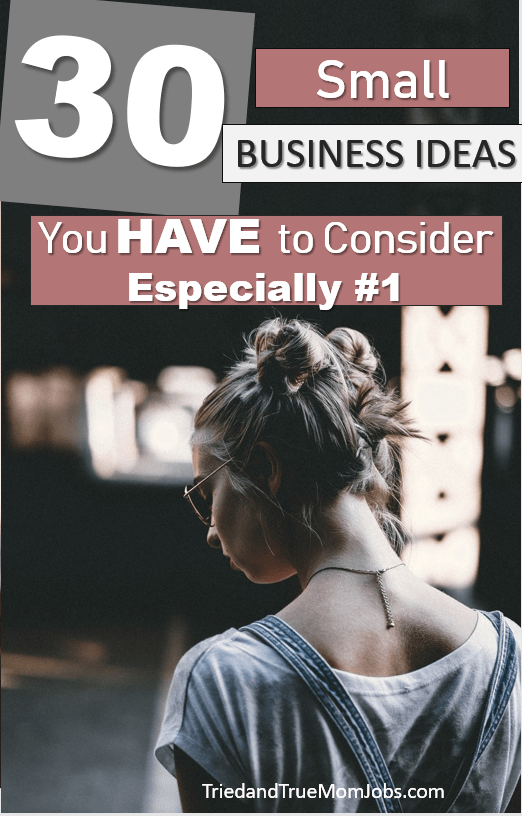 30+ of the Best Small Business Ideas

Whitney is the founder of Tried and True Mom Jobs, a blog about legitimate ways to make money from home. She only writes about things that work. Hence the name "Tried and True". She does the research, so you don't have to.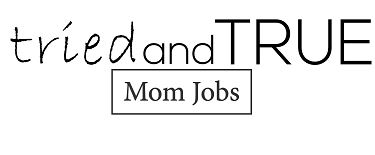 Tried and True mom jobs was created to provide stay-at-home moms legitimate job opportunities that pay well and offer the flexibility to raise their children.
Learn more...