How to Start a Baby Equipment Rental Business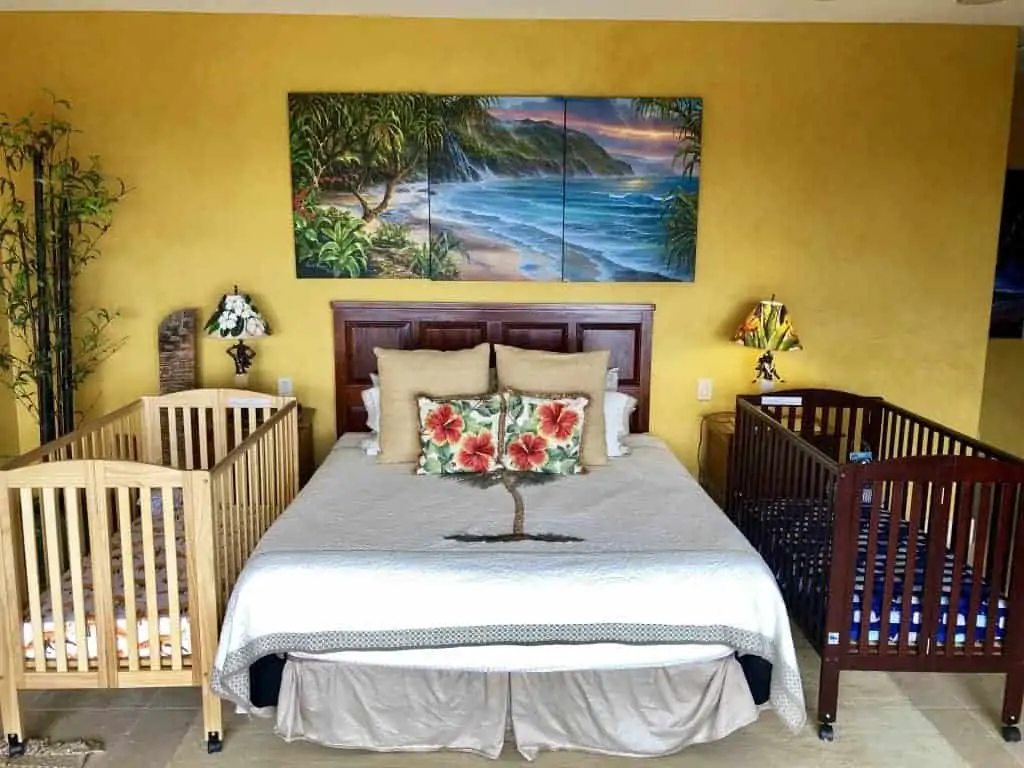 BabyQuip Income
Are you looking for ways to make money from home while raising your kids?
Have you ever considered renting baby equipment to traveling families?
If you live in a popular tourist area this can be a lucrative way to make money from home. 
Here at Tried and True Mom Jobs, we do the research for legitimate work from home opportunities so you don't have to and interview moms who do them today so you can go in knowing it can be and has been done.
Related article: 20 Stay at Home Mom Jobs that Moms do Today
We were privileged to speak with Boss Mom Ashley Anderson, who is a BabyQuip Provider in the beautiful state of Hawaii and she shares how she got started, how much she earns, and how you can do it too.
Make sure to subscribe to our mailing list for new work from home opportunities and success stories. Click here to subscribe.
Before we get started with the interview, I'll give some basic information on what BabyQuip is and how it works,
This post contains affiliate links, which means I may receive a small commission, at no cost to you, if you make a purchase through a link.
What is BabyQuip? 
BabyQuip is a platform business that helps you rent out baby equipment that you deliver and set up for traveling families and local grandparents hosting grandchildren.
What is a BabyQuip Quality Provider?
Independent Quality Providers (QPs) list and maintain their own baby gear items on the BabyQuip platform. QPs are on-the-ground partners who deliver, set-up, pick-up and clean the baby equipment and gear.
What do I get with BabyQuip ?
BabyQuip provides you with a platform to easily connect with potential customers, marketing and reservation systems to support the growth of your business, insight, and advice about baby gear, their customers and the market, ongoing mentoring and the opportunity to earn an income doing what you love.
BabyQuip has a team of full-time employees working to make everyone successful. You also get access to insurance which is very hard to get and can be very expensive!
Another Popular Question is if You Will Need to Buy Gear to Get Started
No. BabyQuip can get you launched on their platform and open for business before you buy any gear. They recommend (but don't require) that you purchase one item– a full-size portable wooden crib–because that's their most requested item and could easily be your first order.
It fits in many cars and all vans and SUVs. They'll tell you how to order a crib later. If you're close to a baby store, or use Amazon Prime, you can actually purchase gear after you get an order most of the time. That's how Quality Providers build their inventory. You can also purchase used gear in great condition.
---
Now that you have a basic idea of BabyQuip let's get started with our interview with Ashley and see how she got started with her baby equipment rental business.
Here's How to Start a Baby Equipment Rental Business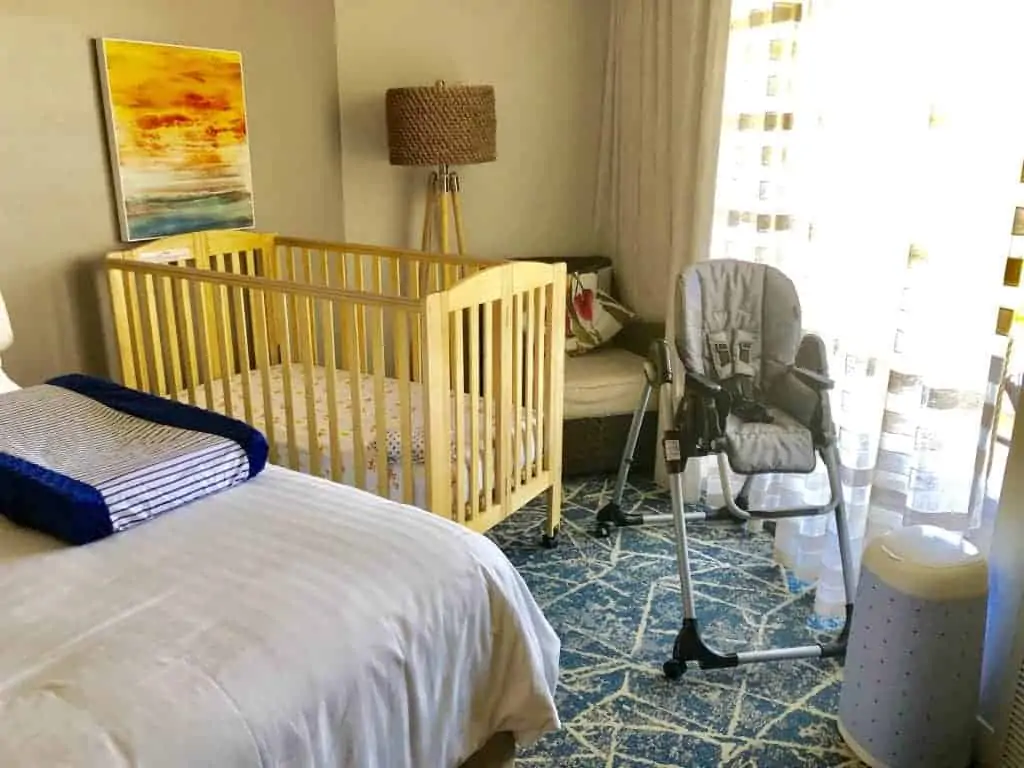 1. Can You Tell Us a Little About Yourself and How You Became a Quality Provider With BabyQuip?
Hi! I am a wife to a wonderful hard-working man who runs his own business, and a stay at home mom to two crazy and amazing kiddos. My 3-year-old daughter is an independent, strong-willed crazy girl and my son is a lovable and very attached 10-month-old.
We spend our days frequenting parks, going to sports and hula, taking walks, home-schooling for preschool and going to the beach. 
I became a provider with BabyQuip after finding a few ads online. I was 8 months pregnant with my son and really wanting to stay at home with both kids.
I ran a daycare for about 8 months and loved it but knew it would be too difficult with a newborn. I also used to manage restaurants but could not stand being away from the kids full time. I had an interview and got all set up. My son was born late September and in November I was up and running; ready to take orders.
After my first few orders in December, I was hooked and ready. I loved the fact that I could bring my kids with me to work, continue to work for myself and be able to help create an income for my family. Providing for them while raising them and schooling them is the most important part of my life and this was a great way to do so.
You can check out Ashley's store here.
2. As a BabyQuip Quality Provider, What Do You Have to Do?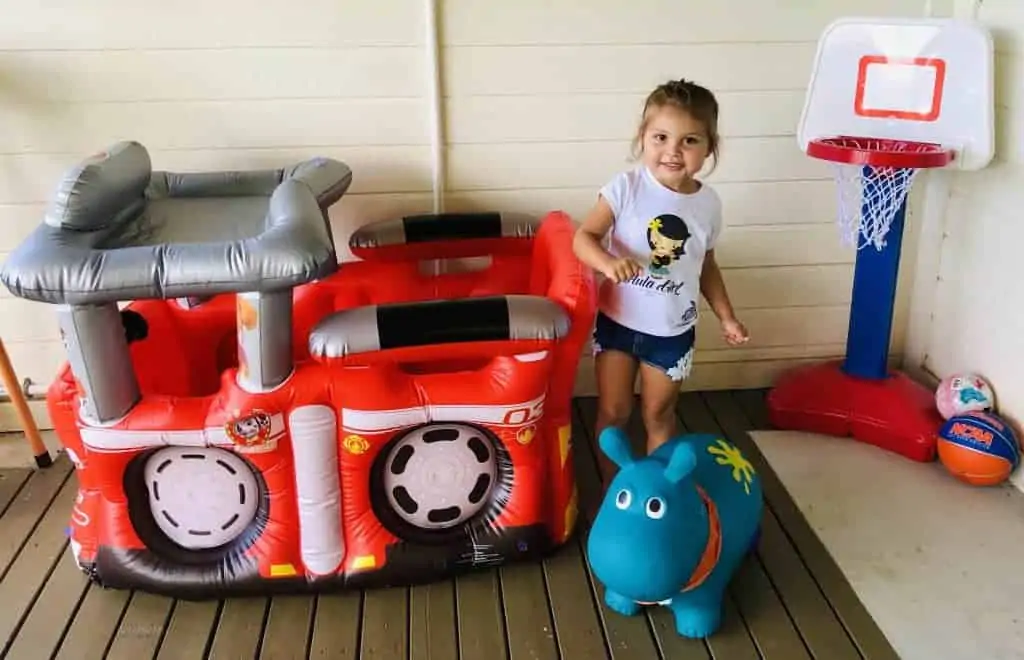 As a BabyQuip QP, I make sure that I own the inventory that I believe to be the most useful and needed gear for traveling families. I then list all the inventory I have on my website and ensure that I have the proper means to acquire gear I get a request for that I may not have.
I keep track of my orders on my Google calendar and contact hotels or vacation rentals ahead of time to set up all the gear before a clients' arrival. After the order is completed, I clean and sanitize all the gear and store it away in my climate-controlled storage unit.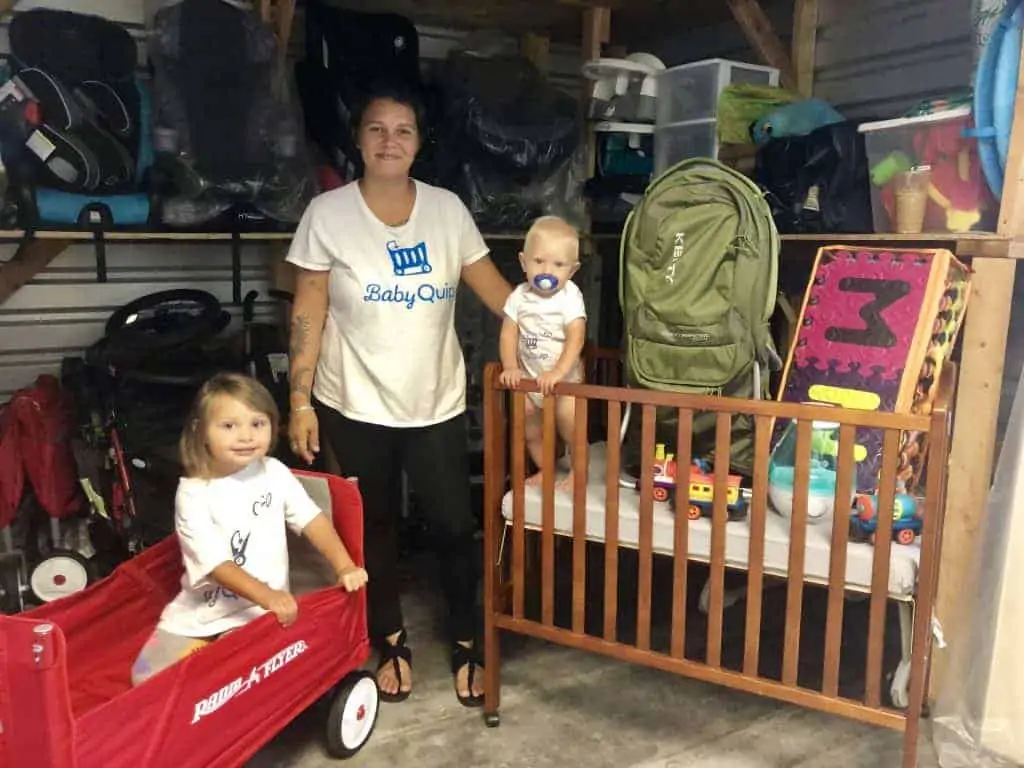 In order to have great customer service, we stay in contact with the customer before and during their vacation, check if any more gear is needed and offer different things such as play zones, grocery shopping, and goodie bags on arrival.
In order to get business, the kids and I visit, call and/or email every hotel, vacation rental company, Airbnb host, car rental company and any other contact involved in renting out items or homes to families and create a partnership with them.
Our partnerships are the reason for at least half of our orders every month! I also continuously run my business Facebook and Instagram pages, as well as try to do one or two types of advertisements, partnership requests, or meet and greets every week. I involve my kids in every rental from helping me clean gear to setting up and carrying items. It's a family business!
3. How Much Have You Earned with BabyQuip?
As of January 1st, 2019 through today, June 8, 2019, I have had 106 orders and have made $20,625. However, since it's only my first 6 months in business, most of the income has been invested back into the business to get more inventory or in advertisement (cards, brochures, events, actual ads, and memberships to local agencies).
I believe that if I spend a large portion of my income upfront to get my inventory and put my name out there, this will be a very busy, very large and very sustainable business for the future. I hope to grow this into a HUGE business on this island. 
4. How Often Do You Rent Out Your Equipment?
Pretty often depending on what item; I rent my cribs out all the time. I am always buying more. I also rent out booster seats and high chairs quite often. Toy packages are probably just as popular as cribs, maybe a little less.
Pack n' Plays are up there as well as our Radio Flyer Wagon, beach umbrella, pop up shade cabana and sleep packages (video monitor, humidifier, sound machine, and crib). I usually have around 4-8 orders happening at any one time in a normal month; however, it goes up and down with the season.
I usually have a new order every couple of days. I guess my answer is: each item in my inventory is rented out 2-4 times in a single month, while a small amount of my inventory is rented out once a month (custom orders, double strollers, roll away beds, etc.).
5. Any Tricks or Tips on Ways to Increase Your Items to Get Rented?
If I had to choose a few great ways, the first would be partnerships and relationships. Email, call and visit, in person, every single vacation rental management company in your local area. Tell them about BabyQuip, give them the information for the hotel/host affiliate program and just get your name out there. Call all the hotels and make sure to tell EVERY home that you deliver baby gear too.
Each of those homes or hotel rooms will have a company in charge, tell them about BabyQuip. Lots of people don't even know about this awesome company and are very thankful when they find out!
Secondly, get your name out there on the web. Create a Google Business page, Facebook and Instagram. When someone looks up traveling with children and "your area", you need to come up somewhere in their search to be a reputable company. 
Thirdly, check-in with reservations you already have. I always contact my clients and ask them if they have the three basics covered: sleeping, eating and on the go (cribs, high chairs, and car seats/carriers). I then ask if they need any toys or any beach gear (or anything particular to your area), not as an upsell but as a reminder. Even if they bring their own. You want that family to have everything they need to make their trip amazing. I get many new clients because of the great reviews and referrals from my past clients who were happy with my service!
---
Thank you Ashley for such a wonderful and candid interview. 
After hearing how it works for Ashley, is this something you're interested in?
To get started visit BabyQuip to sign up.
You Might Also Like
How this Mom became a Bookkeeper with 9 children and no previous experience
How to Become a Proofreader earning a full-time income Part-time
How this Mom earns $1,700/mo. Working 2 hours a day for VIPKID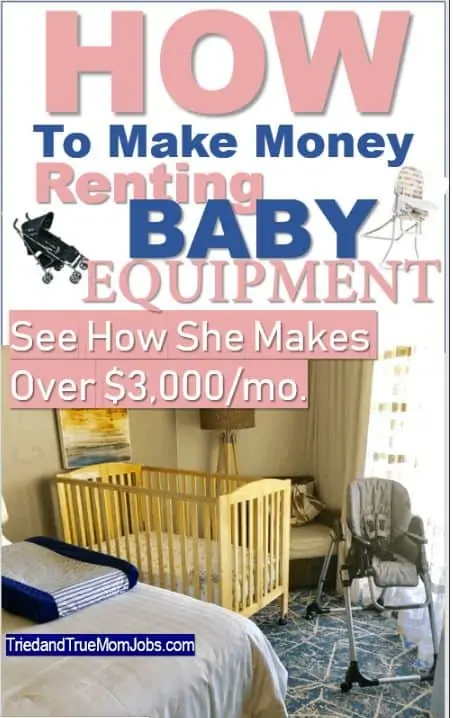 How to Start a Baby Equipment Rental Business