11 Best Jobs for Pregnant Women – #1 Worked for Me!

If you're searching for jobs for pregnant women, you're in the right place!
In this article, we're going to show you some jobs that pregnant women have done that gave them the flexibility they need before AND after their little bundle of joy gets here.
What kinds of jobs are these?
Your own!
Don't worry, I will give you a list of companies that you can apply to, but the number of jobs that are willing to pay you "well" knowing your particular situation is limited.
That's why I'm on a mission to help moms find ways to make money from home with their kids by their side, and I'm not talking about some small amount of a $10 an hour job I'm talking BIG!
Are you in our group? We have a private FB group where our mission is to help you earn a MINIMUM of six figures per year. If you'd like to join our free Unbound: More than just a mom group, fill out the form here.
The jobs I'm going to start with first on this list are all jobs that moms are doing that are making over 6-figures and they have all done this while raising their kids.
I chose to do #1 on this list and I love it!
Let's get into this list now.
This post contains affiliate links, which means I may receive a small commission, at no cost to you, if you make a purchase through a link.
Here are the best jobs for pregnant women
1. Blogging

Yes, believe it or not, you can make a significant amount of money blogging IF you use the right strategy.
I was pregnant with my second child DESPERATE to figure out how I can make money from home with my kids and quit my 9-5.
After a ton of searching and asking God for direction, I found blogging.
You see, the way I make money blogging is from Ads and Affiliate Marketing.
If you notice an ad on this article, that's known as an ad impression and I make money from that.
No, I did not write this article today and yet it's making me money. That's why this is the #1 best job for moms, especially pregnant women, because you can put a lot of work into it the first year and then reap the benefits like I did the second.
I only made $5,000 my first year blogging and the next year I made over $200,000!
This may not be the same result for everyone but it could be. I say, you never know unless you try and you must understand how it works first. This is not how you can make money fast but if you put in the work this is how you can truly be there for your kids and make money in your sleep.
If you want to see how to build a six figure blog from scratch using my strategy join my FREE blogging email list and I'll show you how HERE.
Related: 12 Online Jobs for Introverts
2. Property Preservation Contractor

How would you like to earn over $100,000/year with Real Estate, but never actually buying or selling anything?
Yeah, I already know. I met this money making mom, Danielle Pierce, a few years ago at a conference.
She was in front of me standing in line to check into the hotel and I asked her what she did for a living, she told me she was into real estate but didn't buy or sell anything. I had to know more so I asked if I could interview her and sure enough you can check it out here in my How to become a Property Preservation Contractor article.
During the interview I learned how she earned over $400K/year while raising her 3 kids from home AND homeschooling them!
The reason this is a perfect job for pregnant women is because she outsources 100% of the work and only does the admin work at home.
Check out the full interview HERE and see if this is right for you.
Related: Best Part-Time Jobs Online
3. Proofreader

If you cringe when you see misspelled words or grammar errors, you should really think about cashing in on catching other people's mistakes.
With this job you get to work completely around your own schedule AS long as you can meet your deadlines.
Caitlin Pyle made $43,000 proofreading from home PART-TIME as a freelancer after getting fired from her corporate job.
If you want to learn the skills you need to start your OWN freelance proofreading business, see if this is the right career for you by taking this FREE introductory workshop.
Related: 30 Real Ways to Make Money From Home Part-Time
4. Freelance Content Creator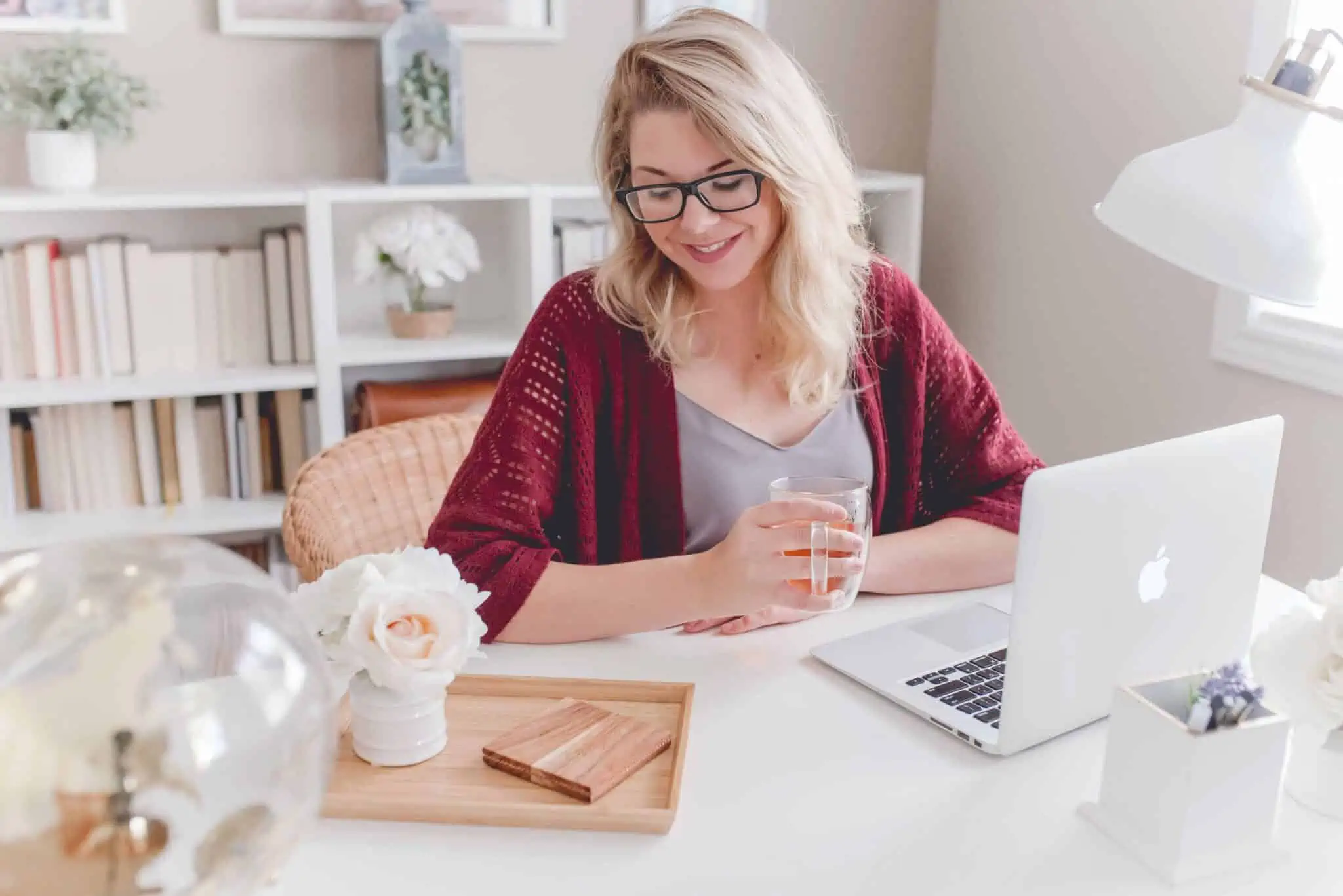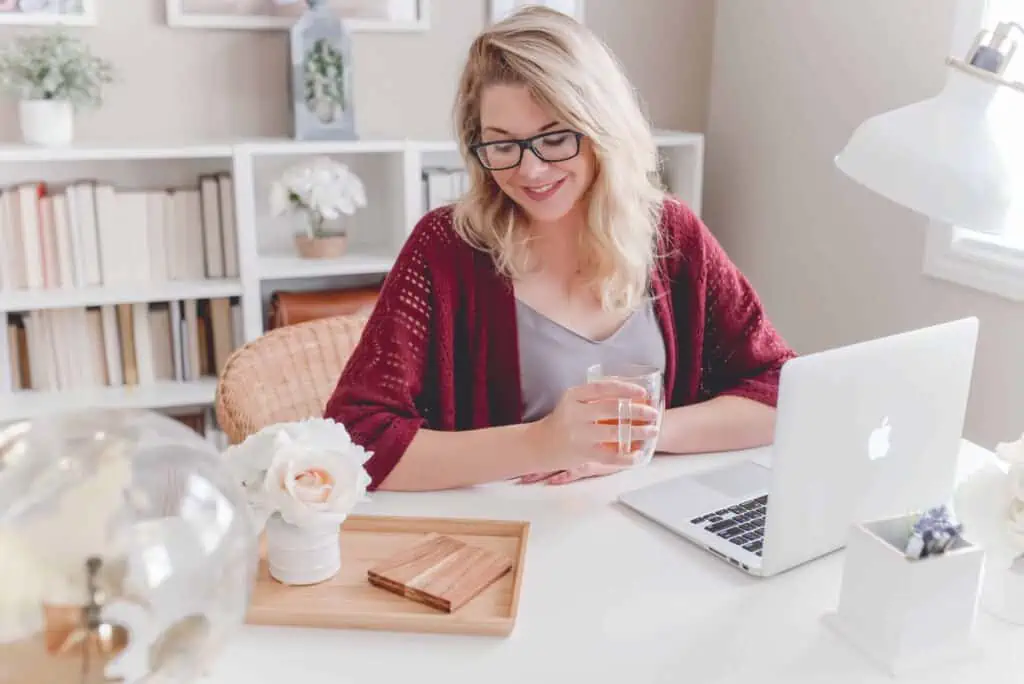 Most people have no idea that this niche exists or that there are thousands of bloggers that regularly purchase from freelance content creators working behind the scenes.
See how this mom was able to retire her husband and stay as a stay-at-home mom working around her own schedule.
You have to see how this works as another mom that I interviewed who does this made $4,000 her first month after she got the proper training! It's insane, and no one talks about this.
How to get started: Check out the article on How to become a Freelance Content Creator
5. Virtual Assitant (Freelancing)

A freelance Virtual Assistant is a great job for moms because you can do everything remotely.
Tasks may include email management, content creation, social media management, editing, bookkeeping, graphic design, administrative duties, and more!
This is one of the best jobs for new moms because of its flexibility. You get to select your hours/schedule, and can work as much or as little as you want.
You can earn anywhere from $25 – $100 per hour for your services as a Virtual Assistant.
See how Micala Quinn was able to quit her teaching job to stay home with her babies and build a thriving business by becoming a Virtual Assistant HERE.
6. Sleep Consultant

Believe it or not, you can become a sleep consultant without kids but it sure is easier when you have them.
So many moms struggle with getting their little ones to sleep through the night and would pay a hefty price if someone could help them. There's no better way to learn than on the job training, and who wouldn't listen to you if you were able to get your own child to sleep through the night at an early age?
If this is something you're interested in, you should do your research on this NOW!
Jayne Havens had early success getting her kids to sleep through the night and she started helping moms for free. When she realized people were willing to pay, she started getting paid $10k per month!!!!
See how she got started and how you can too in our 'how to become a sleep consultant article'.
7. Selling Printables on Etsy

Printables are great because you make them ONCE and can sell them over and over and over again.
You can make some serious money with this, as we know people making $8k a MONTH!
You don't need experience for this if you use Gold City Ventures, they provide printables that you can slightly change to make it your own.
I interviewed Julie who does this really well and you can see how to get started in our how to sell printables on Etsy article.
Related: 16+ Best Business Ideas for Women at Home
8. Tutoring

Online tutoring is a great job for pregnant women because you control your schedule but need to be knowledgeable in something that you can teach to others.
Is there anything you can think of that you could help someone with?
If so, I have the top online tutoring sites that you can look into and create a profile so you can get paid to tutor others.
Check it out and see if there are any opportunities on this list that you want to take advantage of HERE.
9. Search Engine/Social Media Evaluator

This is one of the best jobs for pregnant women because it doesn't require you to have any experience. You make your own schedule as long as you work 20 hours a week, and it does not require you to be on the phone.
The pay is $14+ per hour and you will be evaluating search results from different search engines and rate their relevance.
The job involves analyzing and providing feedback on text, web pages, images, and other types of information for leading search engines, using an online tool.
For more information, you can apply here.
Related: 20 Best Independent Contractor Jobs that Pay Well
10. Chat Operator Jobs

Chat operator jobs are good jobs for pregnant women because you are working from home on your computer. This is a job that doesn't require you to be on the phone.
Tending to a baby and answering chats can be difficult but this is something you can definitely do while pregnant.
We have a list of the top 10 chat operator jobs you can look through to see if this is right for you.
11. Make Money Reading

Do you like to read? What about if you could get paid for it? This is also known as voice acting.
As a voice actor you record yourself reading someone's book so they can create an audible version, and you can get paid pretty nicely for this.
This is a great job for pregnant women as long as you're not at the stage where you're always out of breath (or at least I know I got to that point) but you could make up to $400 an hour.
This is something a lot of people don't talk about but it's really a great way to make money if you have a good voice.
There's more to it that you'll want to fully understand before you get into it, so make sure you check out our article, 'How to make money reading books' and you can determine if this is the right fit for you.
12. Selling Low Content Books

What are low content books? They are things like notebooks, planners, calendars, journals, etc.
These are all things that typically have a cover, and the inside pages are the EXACT same thing as you go from page to page.
It's very easy to create a book like this, post it to Amazon, Amazon will print the book and you both share the costs when someone purchases it.
I know this may not make much sense now, but I do a complete breakdown in our article, 'How to make 1000s selling low content books', or you can just watch as we show you how to do this in minutes.
Are you a part of our community? Remember, we are working on something HUGE for moms who want to stay home, raise their kids AND make money!
To stay in the know, be sure to join our email list if you haven't already and grab a FREE copy of our ebook for additional ways to make money. Click here to subscribe.
Are there any jobs on this list that you want to do? Let us know in the comment section below.
11 Best Jobs for Pregnant Women – #1 Worked for Me!