20 of the BEST 'INEXPENSIVE' Gift Ideas for $25 or less!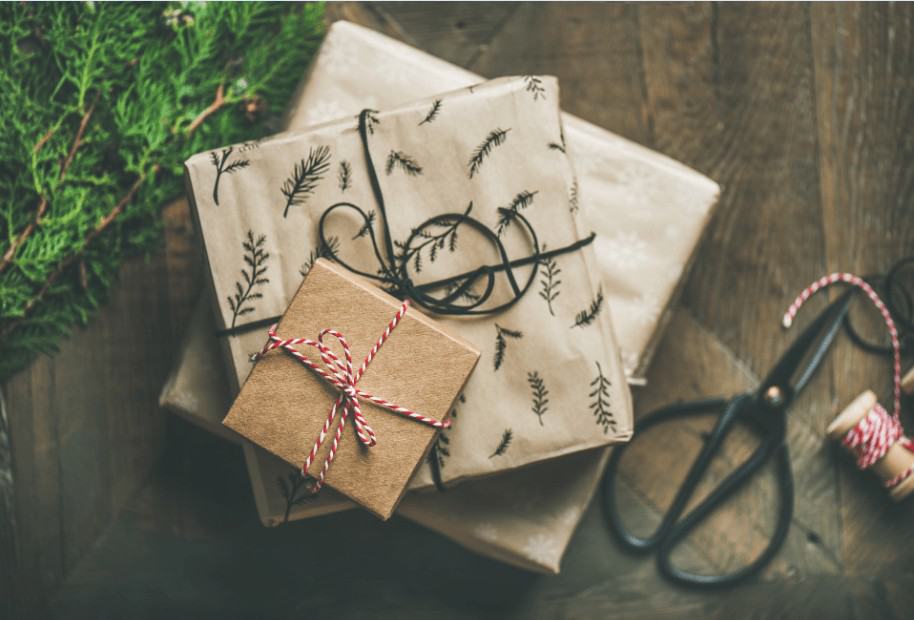 We have gathered the 'Best List' of Inexpensive gift ideas for him, for her, your coworkers, employees, or anyone on your list all within a budget of $25 or less!
In our research, we've found the items that people want and need but typically don't buy for themselves, and that's why they'd make great gifts.
Depending on your budget you can also consider giving the gift of your time and skills like offering a free photography session, babysitting, cooking lessons, or cleaning just to name a few.
We hope the inexpensive gift ideas that we share in this article can help you decide on the perfect gift(s) that won't break the bank.
Quick question: Are you on our email list? If you're a mama like me, you definitely want to be on our list where we send out regular new mom jobs, productivity tips, and inspiration to get through this tough yet awesome journey of motherhood. Click here to subscribe.
Before you shop online make sure you are using FREE tools like Ebates and Honey that find you coupons and cashback!
I shop online a lot for Christmas and use Ebates now known as Rakuten to get cash back on things I'm going to purchase anyway.  See my January cash back statement from last year, a nice little bonus for stuff I was buying anyway.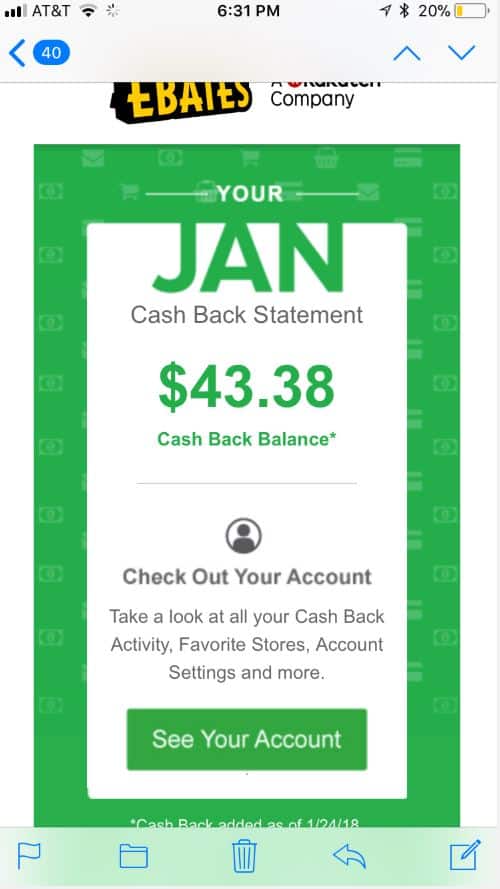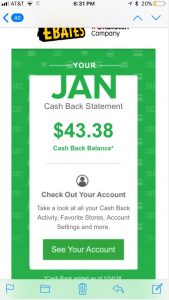 Better than nothing, right? 
Click here to get $30 when you spend at least $30 online.
Have you ever heard of Honey? You'll no longer need to search for coupon codes and sales again! Click on the Honey Google Chrome extension during checkout and Honey will automatically apply coupon codes to your shopping cart.
Great way to save money and find deals without doing the work yourself. It's FREE and you can check it out here.
If you're looking for ways to make money during the holiday season or even after, make sure you check out our most popular article on 30 ways to make money from home.
Ok, enough on how to make money & save…let's show you the best gift ideas that won't break the bank.
Be sure to pin this so you can refer back to it for the holidays and special occasions.
20 Inexpensive Gift Ideas
1. Gift cards
You'll never have to guess what they want and it's still considered a thoughtful gift because you took the time to get it. In a recent post, I shared how you can get FREE Starbucks gift cards with minimal effort.
The post is targeted toward Starbucks gift cards (because I love them) but the process works for getting any kind of gift card.
You can see how to get Free gift cards here.
2. 5-Minute Breakfast Sandwich Maker
You can make the PERFECT breakfast sandwich in a matter of minutes. This is such a great gift idea because who wouldn't love this but most people wouldn't buy this for themselves. Read the reviews, over 4,000 people are raving over it.
You can check it out here on Amazon for under $25!
3. ChatBooks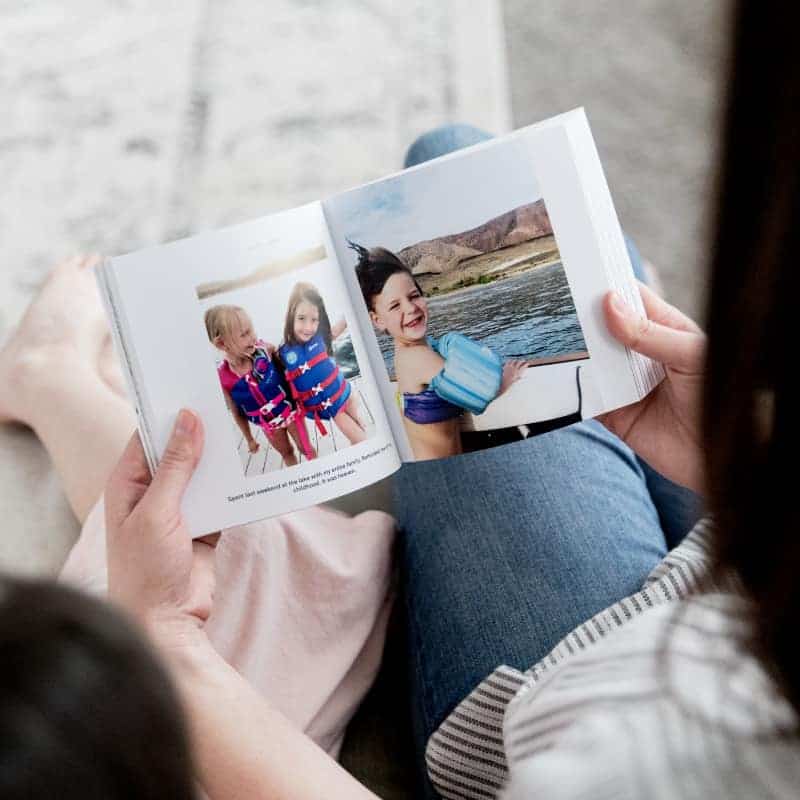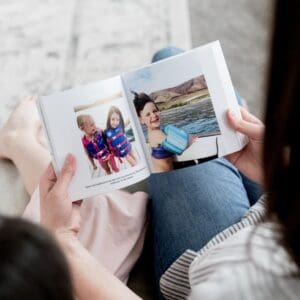 Chatbooks was featured in Oprah's Favorite Things! Download the Chatbooks app and it will take high-quality photos from Facebook, Instagram, or your camera roll and convert them into a book. This is a great gift for family members and close friends and can be mailed to you or them for under $25.
Photos are some of the most precious items, and the time it takes for someone to put a book together really makes it a wonderful gift idea.
Click he
re
for $10 off your first order using my link
4. Scratch off map
Do you know anyone who likes to travel? If so, you have to consider getting them a Scratch off map. Scratch off maps make for great gifts because you get to visually record the places you've visited and the places you intend to visit. This travel-sized Scratch Off Map is the best one I've seen. It comes with gre
at reviews, a storage container and it's under $20!
5. Blanket
This blanket is the perfect mix of class, comfort, and warmth for those days of watching tv and lounging around the house. Who couldn't use a nice warm go-to blanket? Read the reviews, it's funny, people in the comments are begging you to buy two or three because it's just that nic
e. It's under $25!
6. Stanley Classic Vacuum Mug/Gift Card
This really needs to be at the top of the list because you can use this for so many things. We use them for hot drinks, soup, and even the food we want to keep hot and eat on the go. Everyone needs this classic thermos and it's under $25. Throw a gift card inside and you've just given the best gift ever.
Click he
re to find out how to get Free Gift Cards
7. Books
Books make for great gifts and they don't cost a lot. You can find many under $25. For people looking to improve their finances, Dave Ramsey's Total Makeover is a must. Cookbooks are also great gifts, here are the top Cookbooks featured on Ama
zon.
8. Magnetic Dry Erase Calendar for Fridge
The gift of organization and keeping everyone on the same page is almost priceless. This dry erase calendar for the fridge is great for parents with busy schedules and it's one of the best sellers on Amazon under $25!
9. Bullet Journal
Do you know what a bullet journal is? It's a way to keep your life organized in a visually appealing way and helps you to stay accountable. It's a movement that has gone viral, you can see some Bullet journal ideas here. This is a great one to give as a gift.

10. Remote charger

Have you ever been out and your phone died? Wouldn't it have been nice if you had a remote charger? This happens to more people than you think, that's why these make for great gifts. Here is one for under $20 that works great for iPhones and A
ndroids.
11. Portable Bluetooth Speaker
The days of having a boom box are over but you still want to be able to blast your music, that's why I love our portable Bluetooth speaker. It's great for streaming music and listening to podcasts. This remote speaker has over 12 hours of playtime on a full charge. It's small and lightweight and you can take it anywhere. This is a great gift for anyone. Under $20!
12. Personalized Christmas Ornament
If you're giving this as a gift on Christmas it won't help that the tree is already up and the holiday is almost over, but this will be used year after year and it's so thoughtful. I received one for my wedding, and it is by far one of my favorite wedding gifts. I look forward to putting it on my tree each year. You can find some really nice ones here for under $25.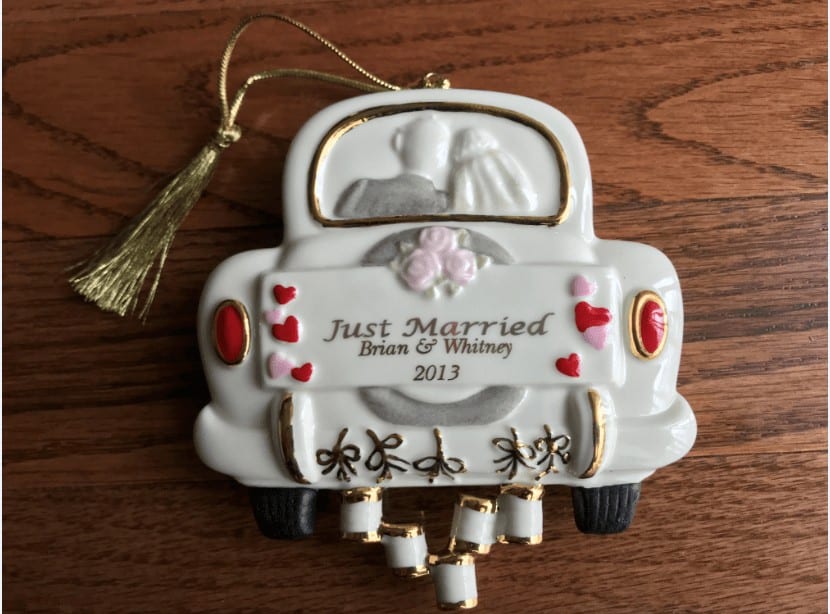 13. Socks
You can think what you want, but when was the last time you bought some socks? Socks are great gifts especially when you can get some really fun and unique socks. Of course Amazon has the socks on lock also, you can check some cool ones out here.
14. Wallet

It's something about having a nice wallet that does something to you, I don't know if it's a confidence booster or what, but everyone should have a nice wallet. I received one just like this (under $15!) from my old boss and I LOVE it and I got one like this (under $25) for my husband last year because he still had the one his ex-girlfriend gave him :- l
15. Golf balls
Do you know anyone who golfs? If so, you can never have enough golf balls. Titleist is a top brand in the Golf world and I found this gem for under $25!
16. Slippers
Keep your loved one's feet warm with some slippers. You can buy some regular comfy slippers or choose to do a themed version for under $25. Whatever you choose, these make for great gifts to use year-round.
17. Towel/Beach Towel
Towels are great gifts because they are not something we buy often. An even greater gift for me, anyway, would be beach towels. My kids go to the beach with regular towels, and it's time for me to step it up or if any of my friends or family are reading this, you know what to do :-). Here are some neat Microfiber beach towels under $20.
18. Lotion
This Burt's Bees Honey Pot Gift set is perfect and its under $15. The cold weather can be rough on your skin, leaving it dry and itchy. This gift set is great to have handy for some relief.
19. Yankee Candle
I love candles, they make your house smell SO good. Yankee candles are on the more expensive side and that's why they make for great gifts. This Balsam & Cedar Yankee Candle is the best sell
er
on Amazon for under $20.
20. Touch Screen Gloves
Everyone has a smartphone nowadays but not everyone has touch screen gloves. I can attest that it is the WORST to take your gloves off just to answer your phone or text outside in the cold! And that's why these make for great gifts. Here is the best seller on Amazon and it's Unisex under $15!
---
I hope this list of inexpensive gift ideas has helped you decide what to get this year without the stress.
Do you have any gift ideas not on this list? Please share.
I'm always coming up with ways to save and make money if you'd like to stay in the loop be sure to subscribe to our mailing list.
You May Also Like:
How to Make $100 a Day during the Christmas Season
14 Family Christmas Traditions to Start this Year
How to Make up to $10,000 Losing Weight
How to Save $10,000 in 52 Weeks
20 Ways to Make Money from Home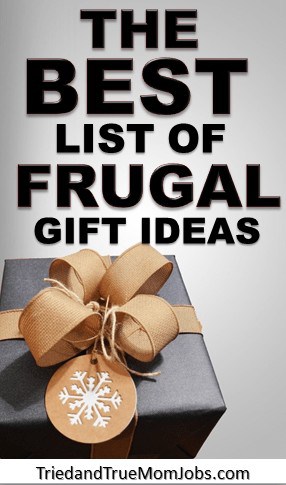 20 of the BEST 'INEXPENSIVE' Gift Ideas for $25 or less!