10 Creative Ways to Save That You May Have Never Considered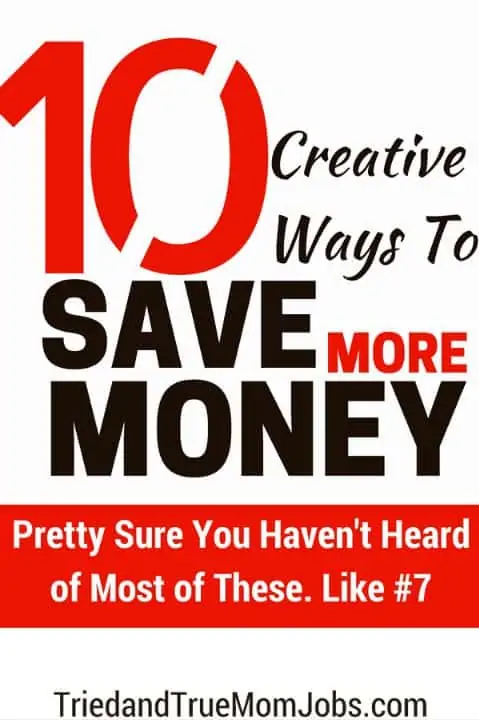 Do you sometimes think "where has my money gone?" You work hard but have nothing to show for it.  Well, it's time for that to change.
You may not be able to do anything extra to make more money, but there are some things you should consider eliminating or changing so you can start saving.
I'm a big proponent of not paying interest because you are LITERALLY giving your money away. So before I go into those areas where you can save, I IMPLORE you to consider working towards paying off any debt (I'm not including your mortgage if you have one) first.
I love and live by the Dave Ramsey Snowball approach.
For those who don't know what that is, it's essentially paying off your debts from smallest to largest. Make the minimum payments on all your debts except the smallest. Pay as much as possible on your smallest debt and then repeat these steps until all your debts are paid in full.
BUT you shouldn't do this UNTIL all of your bills are current, and you have at least $1,000 in a savings account for emergencies.
If you can make more money, see how I do it here along with a host of other ways to make money online.
I recently did a video to update to this post on how I now am saving over $15,000 per year so you might want to check this video out now, I definitely recommend it.

This post contains affiliate links, which means I may receive a small commission, at no cost to you, if you make a purchase through a link.
Here are 10 Creative Ways to Save More Money
1. Meal Plan!
I hate to sound like a broken record but we were paying almost $1,000 a month for food, and it was just the TWO of us. You need to Meal plan or you'll find yourself spending so much money on food.
Coming up with meal ideas can be stressful if this is you consider joining the $5 meal plan. For just $5 a month, they will send you a delicious meal plan where every meal will cost about $2 per person, and in most cases less. It's a great way to eat good for less, and sometimes you just need to know what to eat. Try it for FREE for 14 days here.
Consider the following other areas to save on food:
Search your local newspaper for coupons and specials. This might sound like common sense, but you'd be amazed at how many people just throw these away without looking at them.
When there is a sale on meat RACK up on it and freeze it until you're ready for it. Meat is usually the most expensive thing we purchase for groceries.
2. Take Advantage of Hand Me Downs
This is not so much for adults as it is for kids. Kids continue to grow, so what happens to the clothes they can no longer wear? It either stays in the back of the closet or to the Salvation Army around December just in time to write it off on your taxes.
I have some very fashionable cousins with kids, and I make it a POINT to remind them that my kids are next in line when that dress no longer fits and those shoes get too tight (if they are in good condition).
I won't have to buy my daughter any clothes for an entire year.  Don't be ashamed to ask; I'm glad I wasn't.
3. Give More Meaningful Gifts
Birthdays, Holidays, Anniversaries, Weddings, and Graduation parties are all reasons to spend money on gifts. This can get tricky if you have already set expectations high when it comes to giving gifts BUT when the budget is tight it's time to change those expectations.
I know this may sound lame, but I actually make my own cards and gifts for my family and friends. I'm not talking special paper, beautifully detailed cards…it's more like printer paper with stick figures and a special note written inside.
People actually look forward to my cards now because it's different and funny and I take the time to customize for the recipient, and they always appreciate that. Although it's cheap, it's better than spending $5.99 on a Hallmark card that just gets thrown away.
I've also found that my friends end up keeping my cards while the expensive Hallmark cards never make it past the next day. If you don't want to make your own cards just stop at the dollar store and get you a nice card (even Hallmark now) for $.50!
You can also make gift baskets full of useful low-cost items. Gifts can cost less than giving money sometimes, so try and plan ahead and look for deals.
4. Take Advantage of Exclusive Deal Sites
Sites like Groupon and LivingSocial offer great deals on just about everything, even trips.  My husband and I booked an amazing Honeymoon on Groupon for an unbelievable price. I can attest that this stuff is legitimate. You don't have to sacrifice going out but just do it at a better price.
5. Get your hair done for Free
If you want your hair done for little to no cost, consider going to your local beauty schools.  Make an appointment and remember a professional stylist is always on-site observing so that should give you some peace of mind that your hair won't be a complete mess.
6. Ditch the Gym Membership
It's easy to say this from someone who doesn't have one, but I used to LOVE going to the gym but remember this list is about saving. Going to the gym is a great activity, but you don't have to stop working out just because you don't go to the gym.
Go for a jog on a bike trail or your sidewalks and enjoy the fresh air and if you want to go to a fitness class follow along with some Youtube videos in the comfort of your own home.  I do get you may want to get out of the house, but there are sacrifices we must make to reach our goals.
7. Stop Buying Dryer Sheets
If you try these Wool Dryer Sheets for doing laundry you'll literally save hundreds and it even shortens the dryer time. They last for thousands of loads, replaces dryer sheets, and softens laundry naturally. Just take a look at the reviews.

8. Take Care of Yourself
I know this one sounds a little simple but by getting a full night's rest, eating healthy, and exercising regularly, it all helps to prevent you from going to the doctor and having to pay medical bills. Remember an ounce of prevention is better than a pound of cure. If you don't care about yourself at least care about the bill that will come if you don't.
The next two items are not necessarily about saving money, but you are LOSING money if you're not doing them.
9. Use One Credit Card On EVERYTHING
We had over $500 in cash back rewards last year aka my Christmas shopping money due to our credit card. My husband and I put EVERYTHING on our Chase Freedom credit card and pay our bill off every month in FULL (NEVER pay interest, don't just give your money away). This is FREE money.
The more you charge on your card, the more cash back you'll receive, that's why I recommend having ONE credit card that you put everything on.
If you sign up for the Chase Freedom Credit card as we do you get a $150 bonus if you spend $500 within the first 3 months. That should be easy to do if you use it on everything like us.
I'm at $654.15 so far this year!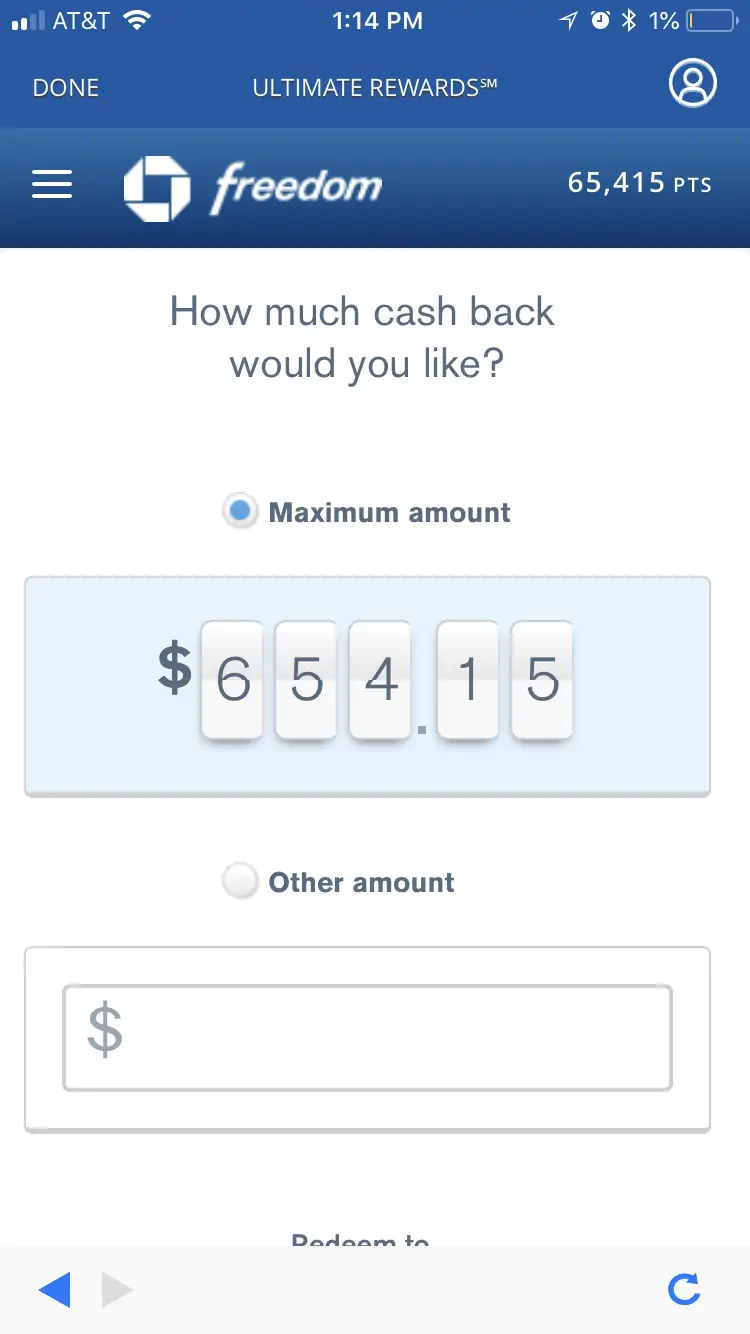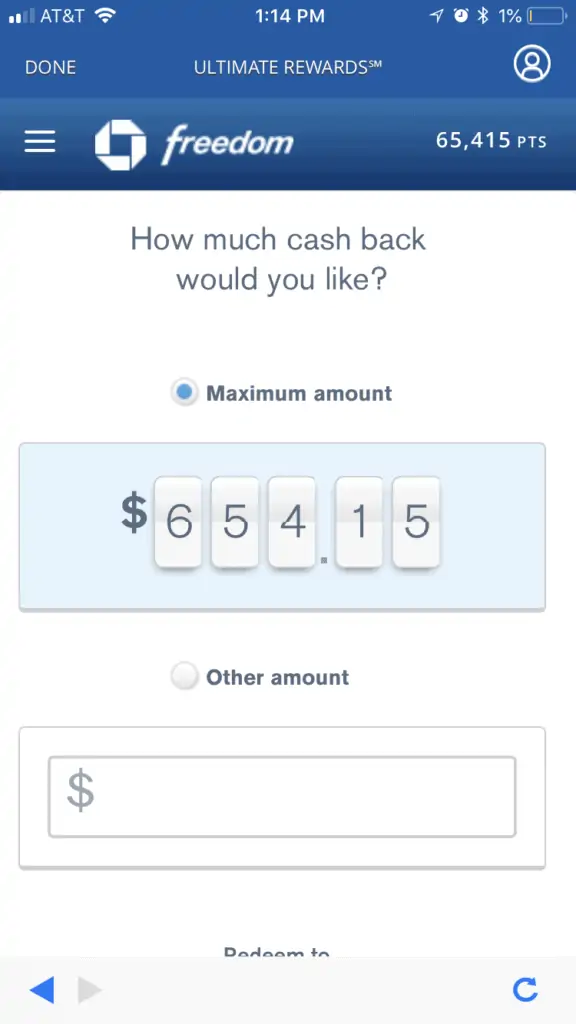 10. Don't Sleep on the Dollar Store!
You literally can't beat the prices at the Dollar Store, did you know they even have sales! This is what frugal people do (me). I shop at the dollar store and save a TON of money. They even have brand name items that cost much more at your regular grocery stores.
Here is a list of 67 things you should always buy at the dollar store.
11. Use Ebates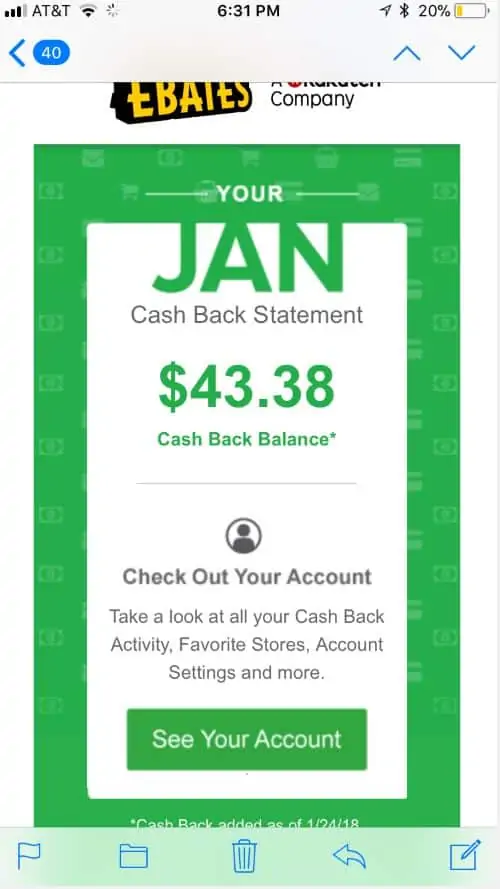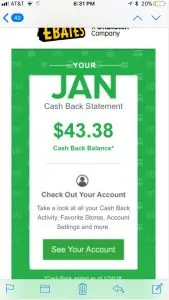 Do you shop online? Why not make a little money as you spend.  I really rack up my Ebates account during Christmas time; you earn cash back rewards for just shopping online.  See my January cash back statement, a nice little bonus for shopping online.
Better than nothing, right?
Click here to get $10 when you spend at least $25 online.
Have you ever heard of Honey? You'll no longer need to search for coupon codes and sales again! Click on the Honey button during checkout and Honey will automatically apply coupon codes to your shopping cart.
Great way to save money and find deals without doing the work yourself. It's a no-brainer. You can check it out here.
12. Get Cash Back on Groceries
Download the Ibotta App and before you shop, add offers on great products by completing simple tasks on the app. Buy the products you selected at any participating store. Don't forget your receipt!
Redeem your offers by taking a photo of your receipt. Ibotta will match the items you bought to the offers you selected and give you the cash!
Your cash back will be deposited into your Ibotta account within 48 hours.
Final Thoughts
The ultimate goal should be to achieve financial freedom.  Saving money is great but to get to financial freedom sooner is to make more money. Here's a full list of ways to make money from home.
If you like content like this, please be sure to subscribe to Tried and True Mom Jobs email list for additional ways to make and save money.
What is your biggest challenge when it comes to saving money?
Are you on Instagram? Follow me as I share helpful ways to save while working full-time as a stay-at-home, work-at-home mom and enjoy the humor as I try to balance it all.
You Might Also Like
17 Ways to Make and Save Money from Your Phone
18 Tried and True Ways to Make Money from Home
17 Legitimate Ways to Make Money Online
6 Incredible Bullet Journal Ideas to Help you Organize Your Money
10 Creative Ways to Save That You May Have Never Considered