How to Make $100 a day(or more) Doing Something you Already Do Every Week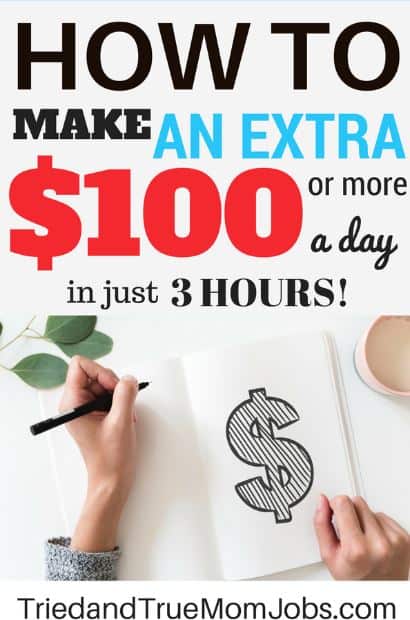 Do you need to make money fast? Consider Instacart and get paid for doing something you do almost every week.
People pay for convenience every day, and that does not exclude the daunting task of Grocery Shopping.
Instacart has capitalized on this need and for those who want to leave the shopping to someone else, opens a door for you to fulfill the orders, make the delivery, and get PAID.
The hiring process is quick and easy.
It takes only a couple days to get started once you sign up.
You will receive a debit card to do the shopping and be paid within that same week, you can sign up for direct deposit and the funds will be sent directly to your bank account.
This is an unbelievably quick and easy way to make money.
Be sure to subscribe to our mailing list as I often get companies reaching out to me about available remote positions they have and I only share these with my subscribers. Click here to subscribe.
This post contains affiliate links, which means I may receive a small commission, at no cost to you, if you make a purchase through a link.
Related Article:
30 Ways to Make Money from Home
Here is how you can make $100 dollars a day or more.
Instacart is not yet available everywhere, see if there is a location near you here.
How to Become a Shopper for Instacart
To be eligible, you must meet the following requirements:
Be 18 or over

Be able to lift between 30-40 lbs with or without an accommodation

Be eligible to work in the United States

Own/have consistent access to a car

Two years or more driving experience

iPhone or Android
To sign up click here. After you go through the sign-up process, a link will be sent to your phone with instructions on how to download the app.
If you like Instacart, you'll definitely love Shipt. It's pretty much the same thing with an average pay of $22 per hour. Click here to sign up!
You will be given this error when you open the app (or at least I did on my iPhone).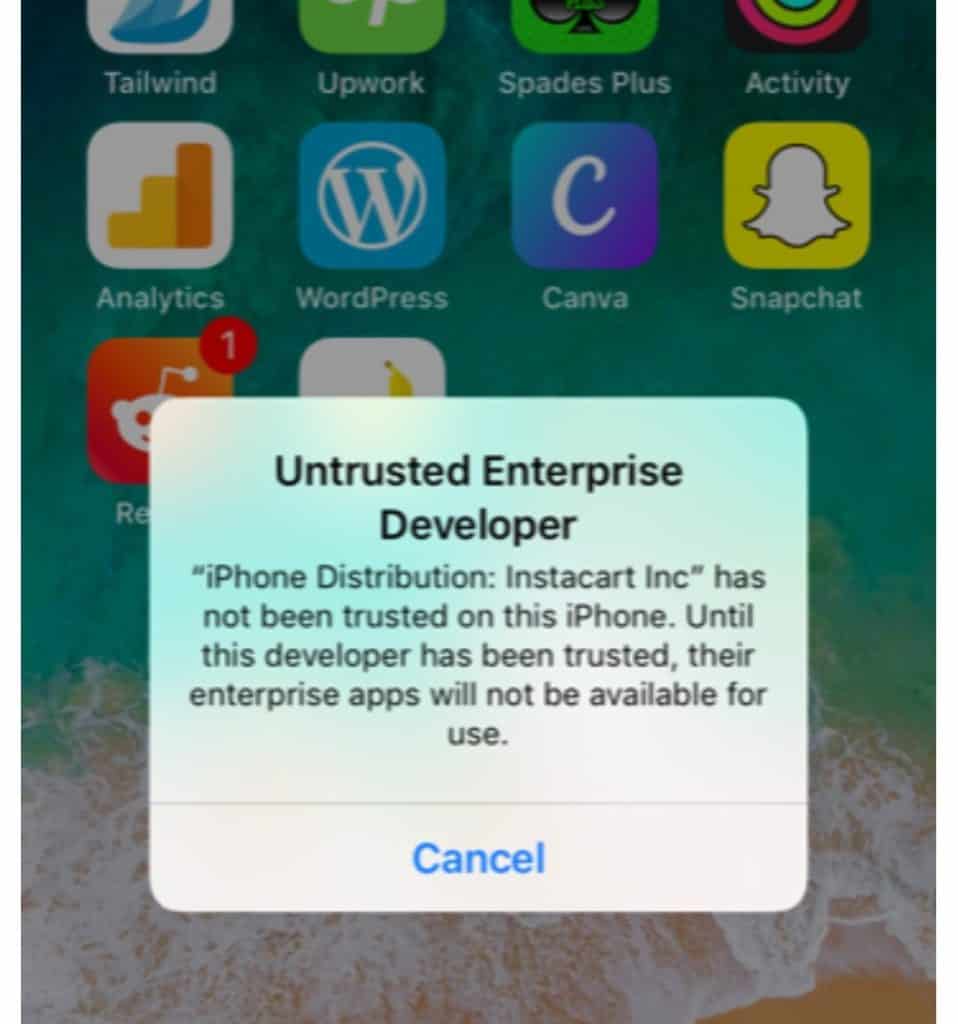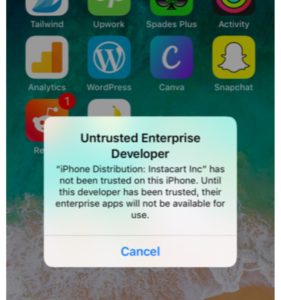 To give it permission go to General Settings – Device Management – Instacart Inc – Trust "Instacart Inc"
Once you open the app go through the process of signing in. You will take a photo of your driver's license, take a selfie, and verify your information.
Once you are accepted and approved you will be sent a debit card. As clients order their groceries online, the money is then transferred to the card to pay for them. You can choose to either shop, deliver, or do both. You make more money when you do both.
Choose When you Want to Work and Where
On the app, you will get visibility to all available options within the time frame you want to work.
You choose your schedule (time slots) but it has to be in a 2-hour increment (1-2;2-3), once you receive an order in your time frame, it's best not to decline it because it will lower your ratings. Once you accept an order you are given an expected delivery time.
You will want to check the app frequently to book which orders you want to take.
The app will continuously update as people place their orders. As you make more deliveries and maintain a good rating, you will receive priority on orders that come in.
How Much Can I Make?
Now let's talk about what matters the most. This is how the payment structure works, below is an example: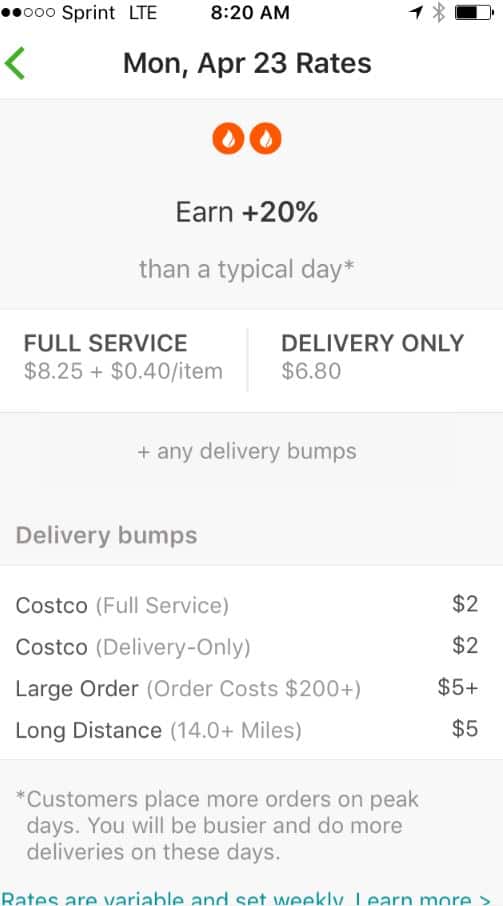 You are paid $8.25 for shopping and delivering the groceries and .40/item. The larger the order the more you earn.
You also earn more money if you shop at Costco, see the delivery bump exceptions in the screenshot above.
Scenario: Full-Service Order with 25 items. $8.25+ 10 (.40*25 items) = $18.25 and this typically takes a total of 30 minutes depending on the location and time of day (Take into consideration how busy the grocery store is and traffic for delivery).
If you picked up 6 orders, you'd make $109.50 in just 3 hours plus TIPS! (Tips are not required but some people just do it). Keep in mind this was just shopping at a regular grocery store (you designate what store you want to shop at), you can make much more by utilizing the various added options for delivery
They also offer the ability for you to earn more by delivering alcohol after a 3-hour training (this is new).
Is it safe?
Yes. Safety should always be first in whatever job you choose. You do not go inside the house to drop the groceries off, this is all given to the person at the door like any delivery service.
Final Thoughts
I love the idea of being able to work when you want and if you want. There is no long-term obligation to this kind of job, and it's easy.
The app technology is very advanced, if an item is sold out, you simply send the client a message through the app for a replacement option (the app provides a replacement option), or they can just say don't buy it.
This can be a great way to pick up some extra money while the kids are in school or whatever your life circumstance is.
Click here to Start Making Money with Instacart
If you found this content helpful, please be sure to subscribe to our mailing list as we continue to find legitimate ways to make money from home and save.
You Might Also Like:
30 Ways to Make Money from Home
How this Mom makes $1,700 a month working 2 hours a day
How this mom of 9 works from home as a Bookkeeper w/ no previous experience
Is this something you would consider? We wanna hear about it. Let us know.

Whitney is the founder of Tried and True Mom Jobs, a blog about legitimate ways to make money from home. She only writes about things that work. Hence the name "Tried and True". She does the research, so you don't have to.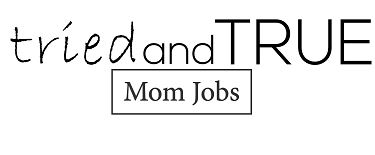 Tried and True mom jobs was created to provide stay-at-home moms legitimate job opportunities that pay well and offer the flexibility to raise their children.
Learn more...