14 of the Best Family Christmas Traditions to Start This Year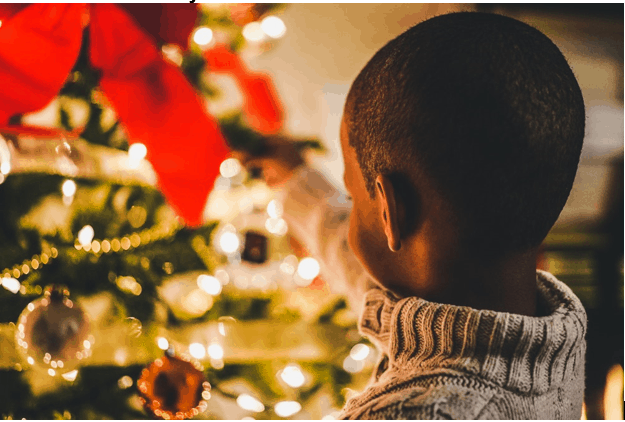 Christmas will be here before we know it, so it's time to make the best of the happiest time of the year ALL month long.
I want to be more intentional this Christmas and create lasting traditions to pass on to our children.
Stores come and go but "Traditions" can last forever. On this list, you'll find a combination of family tradition ideas we practice and some new ones we'll do that you may want to try this year.
I hope you find one or more of these Christmas Traditions suitable for your family and make plans to start this year.
Quick question: Are you on our email list? If you're a mama like me, you definitely want to be on our list where we send out regular new mom jobs, productivity tips, and inspiration to get through this tough yet awesome journey of motherhood. Click here to subscribe.
This post contains affiliate links, which means I may receive a small commission, at no cost to you, if you make a purchase through a link.
Here are 14 of the Best Family Christmas Ideas
---
Get Ready For Christmas December 1st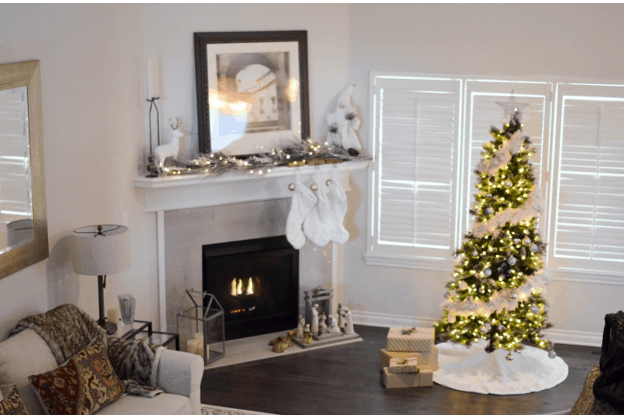 It's Time! Blast the Christmas Music (this doesn't stop until Dec 26 or later), Get your decorations, put up the Christmas lights, Tree, and Deck the Halls.
There is NOTHING better than the "smell" of Christmas. I hate that we no longer get a real Christmas tree BUT you can't beat the convenience and cost savings of an Artificial Tree.
Cinnamon, peppermint, pine, and gingerbread, yum…it definitely sets the Christmas mood. Check out these 5 DIY Ways to Make Your House Smell like Christmas.
---
Advent Calendar
An Advent Calendar is a must-have Christmas Tradition. It's an exciting way to countdown to Jesus Birthday starting December 1st.
There are many ways to do an Advent Calendar and you don't have to spend any money at all.  My friend has an advent calendar that has pockets to hold small gifts but instead, she puts notes for different family members each day with things like: I will make your bed for you today; I will play your favorite game with you, etc. These things don't cost any money but are sweet surprises. What a great idea!
This one from We're Parents was very creative and its DIY!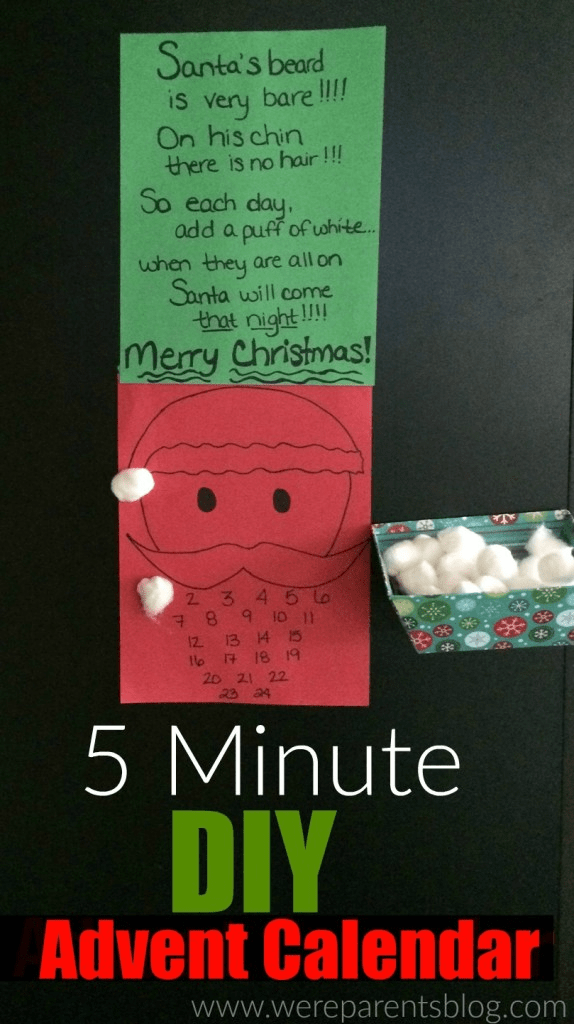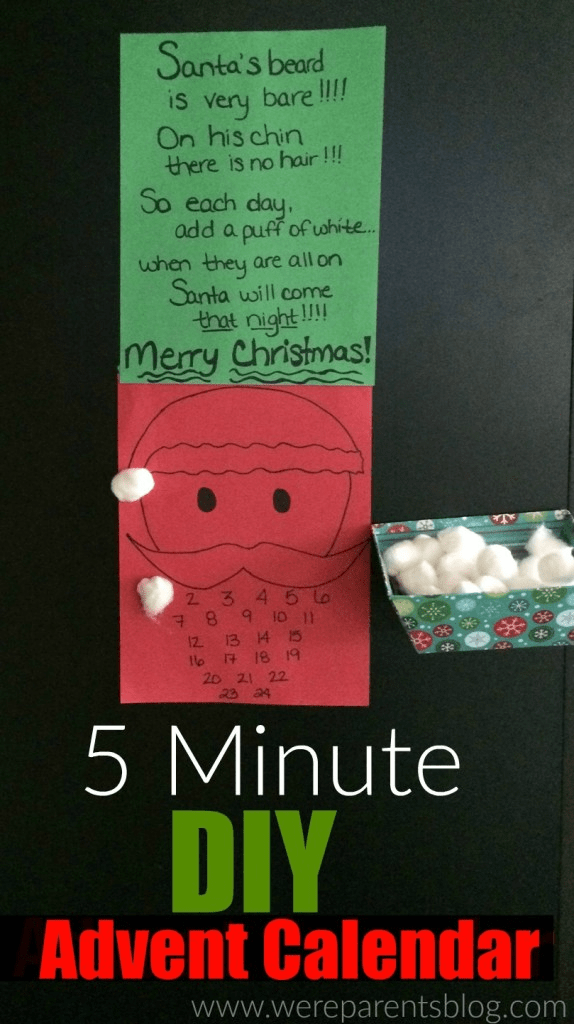 They have a ton of different cool advent calendar you buy on Amazon here.
---
Book Countdown
Similar to the Advent Calendars I think it's a fun idea to wrap 25 books as we countdown to Christmas and unwrap one each night to read.
It can even be books you already own, the fun part is unwrapping it to find out what you'll read that night. I'll be renting my Christmas books from the Library, you can check out up to 40 books at a time at my library.
Here are some Christmas books on Amazon Prime if you wanted to purchase your own.
---
Have an Annual Family Christmas Kick-off Dinner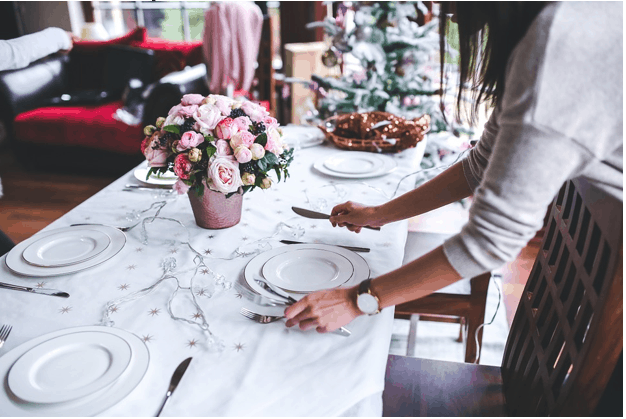 On December 1st have a family dinner and discuss what you want to do this month as a family with your calendar/planner out (this will hopefully make you stick to your plans).
Things are different this year but you can still drive around and see the Christmas lights and other outdoor activities. Whatever it is you want to do, decide what dates you want to do them and plan it out.
---
Family Game Night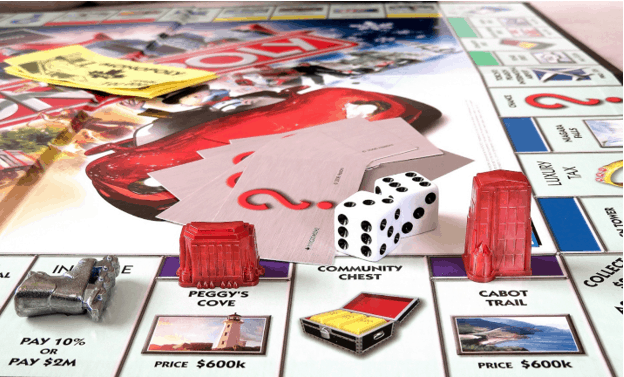 There's not much more that I love than Game Nights. I love spending time with family and winning! I don't care how old you get Monopoly will always be a family favorite.
You can even top it off with the classic Rudolph the Red Nose Reindeer themed Monopoly game.

I was recently at a party where we played Quiplash and it was a BLAST! It's only fun if you get ridiculous with your answers so make sure you are with a fun group. You can find out more about the game here.
Game nights are something we do often but it's more special when we do it around Christmas.
---
Put a Twist on Looking at Christmas Tree Lights
We love doing this every year but I'm even more excited after reading this article. Make it into a scavenger hunt!
Use this list and break off with a set of family, you can do boys against girls or however you want. Load up the car and check off as many things as you can on the list within the amount of time you give yourselves.
Take a picture on your phone for proof.
Try meeting at a local coffee shop and grab a cup of hot chocolate to go over who won and end the night perfectly!
---
Make A Gingerbread House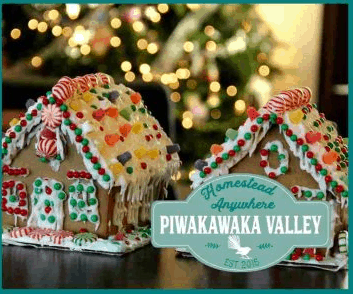 If you're anything like me, you'll buy the pre-baked Gingerbread kit instead of trying to make it yourself but if you love to bake try this recipe.
We don't intend to eat this but it's a fun activity to do with the kids and leaves a great smell in addition to topping off our Christmas decor.
Remember to blast the Christmas music when doing this, music sets the tone and makes things more enjoyable.
---
Christmas Movie Night/Day
On the weekends we will usually have a big breakfast and binge watch Holiday movies on the Hallmark channel and make it a point to watch our family favorites like the Christmas Story, Grinch and Home Alone.
I look forward to our lazy mornings with my coffee, movie, and loved ones.
---
Bake Christmas Cookies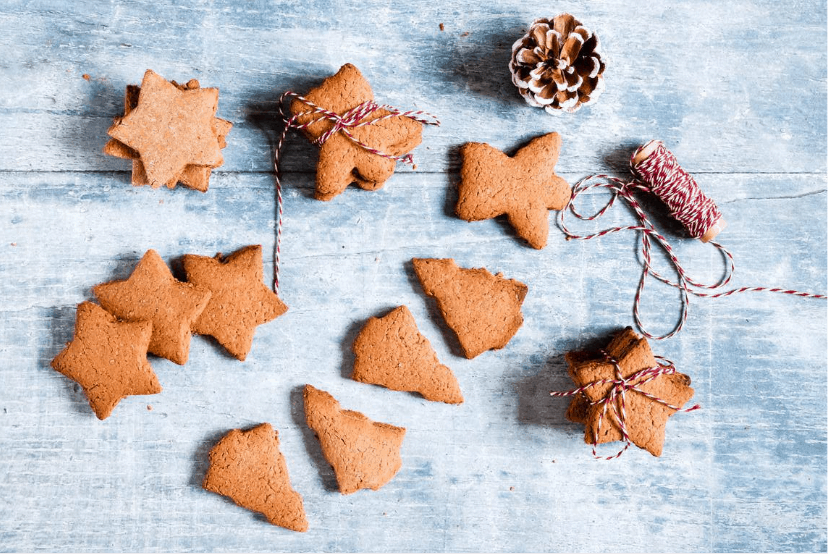 This is really a tradition for our family because I don't usually bake. I make a different recipe each year and blast the Christmas music while we bake and have a good time singing and dancing.
The cookies from the image above can be put on the Christmas tree for decoration or just to enjoy like we do at my house. You can check out the recipe here.
---
Christmas Eve Gift Box
Let the kids open one gift on Christmas Eve that includes a new pair of pajamas, hot chocolate, a movie (or write down the name of the movie if you're watching it on Netflix), and snacks for the movie.
---
Christmas Morning Family Photo on a Bulb

Get matching pajamas or just cute pajamas for the whole family and wear them on Christmas Eve. Take a picture in front of the tree on Christmas morning and make a pose that you'll want to do each year.
I like these pajamas because this is something my husband would actually wear.
Print the picture on a Christmas bulb and begin adding it to your tree each year. This is a nice way to make memories and be reminded of how much the kids have grown while decorating the tree each year.
You can do this by uploading the photo to Walmart.
---
Have Some Fun
Hide your kids presents (the one they've been wanting the most) and when they are done opening the rest of their gifts give them the clues to where they can find the last one. They'll hate you but it will be fun to watch.
---
Give back
This is a great season to focus on giving. We are going to take a special trip and go shopping for a toy to donate during the Christmas season. We also plan on going to check the soup kitchens in our area to try and get on the schedule.
---
Recognize the Reason for the Season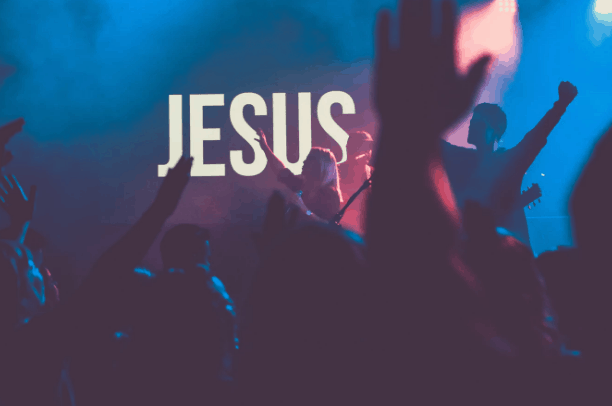 I think it's great to have fun traditions but through all the noise don't forget what we're celebrating.
The birth of Jesus, who came to give us life. I thank God He was born and that we celebrate Him. If you don't know the full story of Jesus, I encourage you to read this.
My life has been forever changed since I came to know Him and the personal relationship we share. It's an amazing feeling to have peace in your home (and mind), joy, and love.
Jesus came so that we have life and have it abundantly. John 10:10
---
Are there any traditions that you and your family do that's not on the list? Please share.
Make sure to join our FREE mompreneur tribe on our exclusive email list. Where we send out new mom jobs, financial tips, and more! Subscribe here.
Before you go, I'd like to leave you with this quote from Mother Teresa to think on:
People are often unreasonable, irrational, and self-centered
Forgive them anyway.
If you are kind, people may accuse you of selfish, ulterior motives
Be kind anyway.
If you are successful, you will win some unfaithful friends and some genuine enemies
Succeed anyway
If you are honest and sincere people may deceive you
Be honest and sincere anyway
What you spend years creating, others could destroy overnight
Create anyway
If you find serenity and happiness, some may be jealous.
Be happy anyway
The good you do today, will often be forgotten.
Do good anyway
Give the best you have, and it will never be enough.
Give your best anyway
In the final analysis, it is between you and God.
It was never between you and them anyway
Articles You Might Also Like:
17 Ways to Make and Save Money from Your Phone this Holiday
16 Ways to Make Money Online for Free
15 Business ideas to start this year
10 Things Frugal People do that Save Them Thousands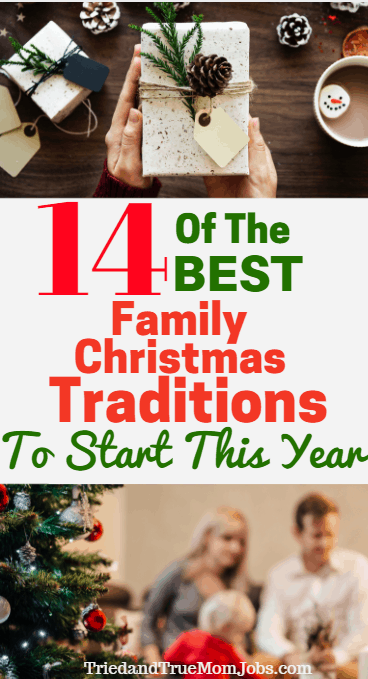 14 of the Best Family Christmas Traditions to Start This Year