How to Make Money with Alexa and Google Home

Conversationally Review
This market research opportunity was sponsored by Conversationally, but all opinions in this post are my own and I actually use this tool.
Do you have an Alexa or Google Home?
If so, did you know you can actually make money off of it?
I didn't either until I heard about this new user research platform called Conversationally.
Like many of the surveys and research studies I do, they collect market research to improve the experience for different products and services. In this case, they are analyzing the voice assistant we use and conducting behavioral research to help smart speakers become more useful.
In order to do this, they need people like you and me to sign up. We get the advantage because they need us and are willing to pay us for using our Voice Assistants just like we normally do. We don't change anything!
Important Note: To sign up you'll need to live in the U.S.
I have a Google Home and at first, I was a little hesitant about doing this but as I thought about it more, since they only collect the data I say to my Voice Assistant how bad could it be?
I only say things to my Voice Assistant like, Set my alarm clock for…, What's the Weather, Play "insert song", how do you "insert question", and the list goes on.
It's all harmless stuff that I honestly don't care that anyone knows. I mean, what are you saying to your Voice Assistant that you wouldn't want anyone to know?
So, why not get paid for using it?
I also felt more confident when I saw users commenting on Reddit on how they liked this platform and how easy it is to earn money. They also have these monthly sweepstakes and since this platform is still so new we have an even better chance at winning!
Here is a screenshot of some of the comments from the conversation on Reddit.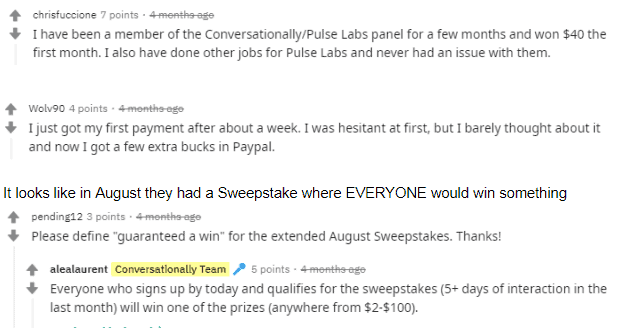 Pretty cool, huh?
Not to mention they have 4.8 stars and great reviews on the Chrome web store!
I'm not sure if you have both Alexa and Google Home (or why you would :-)) BUT if you do you can double dip your sweepstakes entries for the best chance at winning a prize!
Here's How Much You Can Earn with Conversationally:
*Get paid a guaranteed $5 per month you're active (5 or more days of interaction per month) directly to your Paypal account.
If you use your smart assistant at least 5 days every month, you automatically qualify for their monthly $100 sweepstakes! You'll earn one sweepstakes entry every single day you interact with your smart speaker, as long as you stay connected! (Remember the odds are in our favor!)
I know $5 may not seem like a lot but I'm more interested in the sweepstakes. If I have a chance at winning $100 for telling Google to set my alarm clock for 8:00 AM every day, Count Me In!
*PLEASE NOTE:
Conversationally will soon change their reward system to a tiered program which means members can earn $5, $4 or $3 per month depending on how long they've been active.
Once this is in place, new members will join at the $3 tier.  For every 3 consecutive active months, they'll level up. The first 3k members will be locked in at the $5/month tier, which means they won't ever lose that status.
Conversationally has room for only 500 more members before the guaranteed $5 goes away.  So don't hesitate and sign up now!
Here's How You Can Sign Up with Conversationally:
Download their Chrome extension (on desktop) or their Android app.
Connect your Alexa/Google Assistant account
Go about your life and use your smart speaker like usual (at least once a day for your best chance of winning)
And that's it!
Do you want to do this too? Let's earn together and take advantage of this easy money. Oh, and another thing…
Bonus Tip!
As you start to earn money using this platform I suggest you tell your friends and family about it because guess what, you can make more money!
Once you sign up you'll see something at the top right hand of your screen about Refer and Earn unlimited bonuses in your dashboard.
I recommend as you accumulate more money you tell your friends how much you've easily earned when you've reached $50+ (the amount doesn't matter, $50 just seems intriguing) just talking to your Voice Assistant.
If they want to do the same, log-in and get your referral link and have them sign up with your link. It's a great way to help your friends earn money and you! Win-Win.
If you have any questions or comments please feel free to drop them in the comment section below or visit their FAQ section.
Is this something you want to try?
If you want to stay updated on more ways to make money from home, save, or invest make sure you subscribe to our mailing list. Click here to subscribe.