How to Survive Off One Income and Live Better
Today, I have a great article about How you can Live off One Income and Live Better from Waynna. Waynna is a stay-at-home mom who blogs at allgracedup.blog and lives by the very advice she is sharing with us today. Below is her article, enjoy!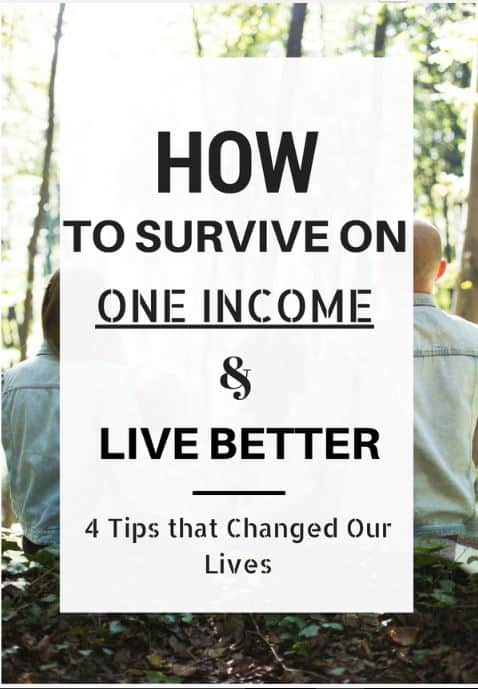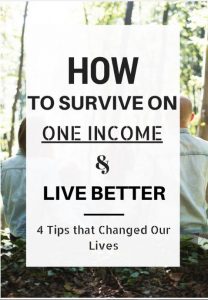 I became a stay at home mom a few years ago and quickly realized that living on one income can be a burdensome blessing.  
The stressors of motherhood such as finances and clutter forced me to get creative. As a two-income household, we were used to eating out and buying new.
As a one-income household with the same habits, we found ourselves sitting on heaps of clothes our kids had outgrown, hardly used toys occupying space in the garage and a dwindling bank account.  
According to the U.S. Environmental Protection Agency, every person throws away about 4.5 lbs of trash per day. In a family of 5 that amounts to almost 23 lbs of trash per day.
I became aware of our consumption and waste and wanted to make a change.  
Although my desire for a more resourceful life was due in part to our financial situation, I'm a firm believer that hectic schedules or full bank accounts shouldn't interfere with the way we care for our environment or how our unused goods can help others.  
Quick side note from Max – for some of us we need to help contribute financially, check out 20+ Stay at home mom jobs.
I'm listing some practical changes we made to our home life in an attempt to become more resourceful.
First, buy used, borrow or ask for hand-me-downs. From snow gear to toys, we have saved hundreds of dollars by accepting used goods from our family and friends.  
It can be like Christmas multiple times a year when others declutter their space and allow us to benefit from their gently used goods.
Another alternative to hand me downs is to visit your local Goodwill, Salvation Army, kid consignment, or neighborhood thrift store. Not only are you advocating for the environment you're helping out organizations who give back to the community.
We found gently used snow gear for all three kids for just under $20. Not only does reusing things help the bank account, but it also helps the environment, by creating less trash.
I would say before purchasing anything, consider the space it will occupy in your home and the cost.  
What could you use those resources for instead? By borrowing items, it eliminates the need for both space and money. All of these options can benefit all parties involved and still helps the economy and pertains to both small and large items.
Next, donate anything in good condition or re-sell.  We like to donate to Goodwill because they accept donations during working hours and can easily drive to their back door.
This may be different by location. I would suggest calling to see what the procedures are prior to driving to drop items off anywhere.
Also, some places won't take certain baby or food items. Aside from donating, there are a lot of apps that you can download to your phone where you can sell used goods.
The apps I have used in the past and have had success with are LetGo, Offer Up & Craigslist. You can take photos right from your phone & upload them in seconds to these apps.
All communication can stay within these channels & you can list both big & small items. We have sold everything from toys to an SUV, all on our phones.
Another option would be to visit a local consignment store, and they'll usually give you a price for your goods on the spot if it is a popular, reliable brand.
All of these opportunities account for less waste overall, and you would be surprised at how many people are in need of what you no longer do.
Third, make a grocery list, meal plan & eat leftovers.  For obvious reasons, we eat leftovers two to three times a week.
This small change has accounted for less cleanup, less grocery shopping, and less money.
Another small change that has saved us a lot over time is meal planning.  There are numerous items that can be meal planned and Pinterest is a great place to get ideas and have fun in the process.
The kids can help with this too by preparing and planning their own meals.  
Another obvious, but highly underrated tool is to make a list. This hopefully can alleviate emotional purchases and makes it easier to stick to a budget. The key to success is to be consistent but give yourself grace in this area.
When planning activities, research things to do for FREE.  From events at the library to movies in the lawn, there are so many public events you can find through your city's website.  
Choosing free activities will make a big financial difference over time and will hopefully be a teachable moment for the kids that fun doesn't have to come with a price.  
As a homeschool family, it's important for us to become aware of ways we can be creative, especially when it comes to helping others and helping the environment.  
You Might Also Like:
30 Ways to Make Money from Home
10 Ways to Save on a Tight Budget
How to Make $80/hr as a Bookkeeper from home w/ No Previous Experience
Click here to check out Waynna's blog allgracedup.blog. Waynna shares on her blog that she is a God-fearing mama to three littles and one babe in heaven. Living off of grace & coffee.  Thank you Waynna for sharing this great article with us!