30 of the Best Housewarming Gifts for Men in 2022 – They Really Need these…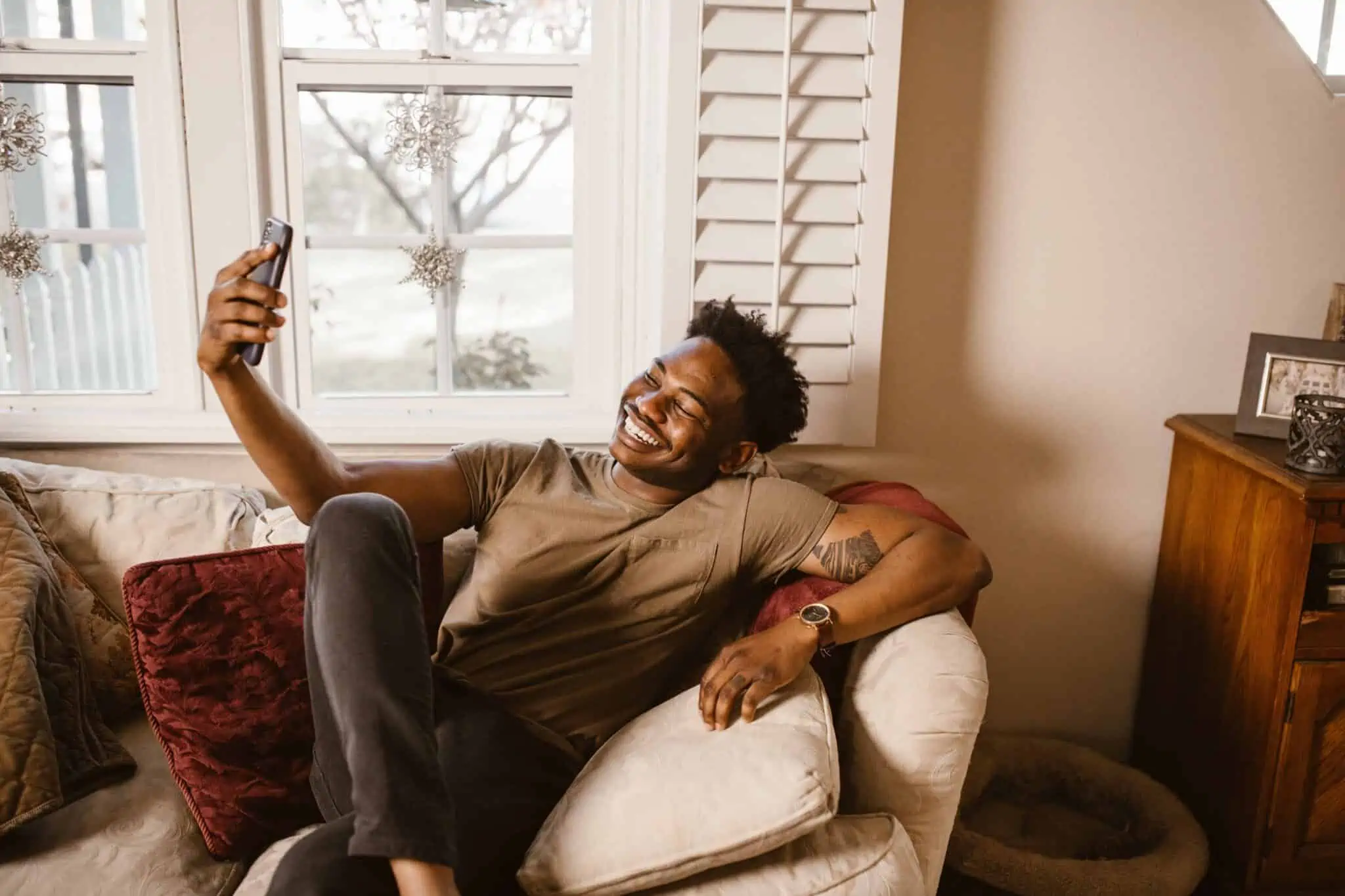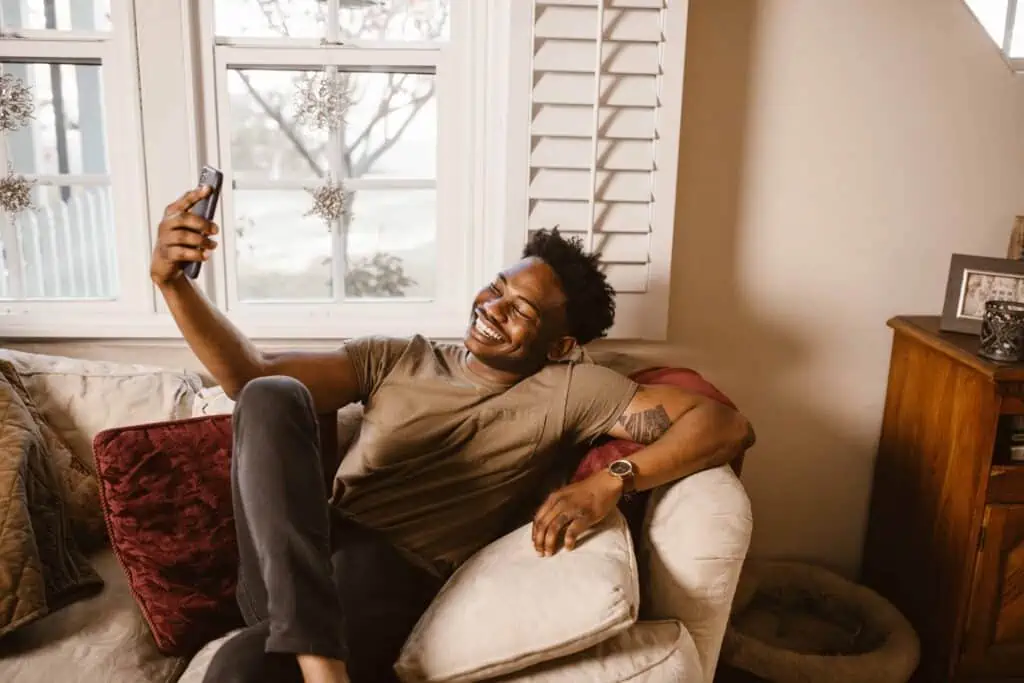 Bachelor Housewarming Gift ideas
Are you looking for housewarming gifts for men?
If you have a special guy or just a friend that just moved into a new home and you need to find the perfect gift for his housewarming party, look no further!
Guys are hard to buy for, so that's why we just asked them what they wanted and needed. We compiled their answers to give you the greatest gift ideas that any guy would love in his new home.
You'll leave here with the gift idea no doubt, and if you need to get the gift yesterday, most of these are from Amazon so you will be able to get them as quickly as tomorrow.
Related: Best housewarming gifts for couples
This post contains affiliate links, which means I may receive a small commission, at no cost to you, if you make a purchase through a link.
30 of the best housewarming gifts for a male friend!
1. Air Fryer
GoWise Digital Air Fryer– Price at time of publication $67.11
He may not know he needs this, but he needs this. We had to kick this off our list because everyone should have one but especially MEN. It's a super quick and easy (not to mention healthy) way to cook DELICIOUS meals.
This is a gift any guy will love but may not buy for himself, and that's why this makes for such a great gift.
---
2. Breakfast Sandwich Maker
Hamilton Beach Breakfast Sandwich Maker– Price at time of publication $39.99
This breakfast sandwich maker has over 17,000 RAVING reviews! Who would have thought this would make such great breakfast sandwiches, but it does and that's why he needs one. I'm almost sure he won't buy this for himself so once again, that's why this will make for such a great gift.
---
3. Intelligent Vacuum
iRoomba 694– Price at time of publication $249.99
We know, this is a pricey one and that's why it would make for a good group gift idea. We have one and we love it, set it and let Roomba (my name for it) go to work. It's like your own personal maid, she picks up your dirt and vacuums.
---
4. Putt-Putt Practicing Green
Putt-A-Bout Grass Par 3 Putting Green– Price at time of publication $31.26
For the golfer in your life, this practice putting green is the perfect gift. He will love being able to work on his putting skills anytime he wants from his new home. His guests will love it too.
---
5. Wireless Charger
Anker Wireless Charger– Price at time of publication $37.99
This charger is great to have for home. I'm constantly losing my charger and this one can be used in portrait or landscape orientation. It also has a fast-charging mode that is compatible with both Apple iPhone and Samsung phones so no need to know what phone they have.
---
6. Luxury Sheets
Danjor Queen Size Sheets– Price at time of publication $39.99
Luxury sheets are something everyone should have. Guys might not always want to splurge on something like this and would never know what they are missing out on. That is why we included these sheets on our list of best housewarming gifts for men.
---
7. Silent Wall Clock
Hito Non-ticking Wall Clock– Price at time of publication $21.79
This super sleek wall clock is perfect for the kitchen, office, or bedroom. It is silent, non-ticking, so truly can be placed anywhere in the home. There are many different colors to choose from to fit his style.
---
8. 5-Piece Folding Table and Chair Set
5-Piece Folding Table and Chair Set– Price at time of publication $19.99
What guy doesn't need a card table for game nights with the crew? This set is highly rated on Amazon and something he will use for most of his life for different events. He'll always remember you when putting it together.
---
9. Personalized Rubber Stamp with New Home Address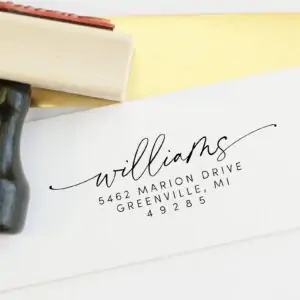 Custom Return Address Stamp – Starting at $24.95 at the time of publication
What new homeowner wouldn't want this? This gift highlights the excitement of owning a home and can be used for years to come. Mailing out invitations has never been easier than it will be with this customized rubber stamp to save the trouble of writer's cramp. They will love this.
---
10. Personalized Key Chain
Personalized Engraved Leather Keychain– Price at time of publication $4.99
We love the idea of a personalized keychain. He will be given his new pair of keys to the house so why not give him something to hold them on. It's so thoughtful and something most people won't think to do. He'll love you for it.
---
11. Bluetooth Speaker
JBL Bluetooth Speaker– Price at time of publication $110.95
Next up on our list is this waterproof bluetooth speaker for the music lover. He can listen to it anywhere in his house or backyard, it's perfect for entertaining. JBL is one of the highest-rated brands…just look at those reviews!
---
12. Handheld Clothes Steamer
Steamer – Starting at $35.99 at the time of publication
This steamer has had almost 62,000 awesome reviews. This item is a time saver and sure to get a ton of use. Some of the benefits include this steamer being super easy to use and small enough to store away in between uses. This is a gift any couple would love and think of you with gratitude every time they use it.
---
13. Steak Knife Set
Dalstrong Steak Knife Set– Price at time of publication $89.99
Ribeye, New York Strip, or Filet, these steak knives go well with any steak. The craftsmanship and premium materials make them a gift that any man will appreciate. We know he could use a new pair of knives lol.
---
14. Coffee Mugs
Coffee Mug Set – $22.00 at the time of publication
Whether they prefer coffee or tea, every homeowner needs mugs. We choose this simple set with just enough flair to make them an ideal housewarming gift for couples. They come with over 4,000 raving reviews that will keep their coffee hot.
15. Board Game
Monopoly Game – Starting at $20.98 at the time of publication
Who doesn't love game night? Monopoly is a classic and sure to be something the new homeowners will enjoy.
---
16. Complete Tool Set
Cartman 39 piece Tool Set– Price at time of publication $19.99
This is for the guy you know who doesn't have one. He will definitely need tools for all sorts of different projects in his new home. This complete toolset is sure to have everything he will need to get the job done right and so affordable.
---
17. Tool Tower Garage Organizer
Rubbermaid Deluxe Garage Storage– Price at time of publication $87.94
Men can never have enough garage storage space! This tool tower garage organizer is a must-have item. It can store up to 40 tools and will keep everything in one organized place. I'm getting this for my husband! Definitely a cool housewarming gift.
---
18. Stainless Steel Beverage Tub
Brekx Insulated Beverage Tub– Price at time of publication $74.99
This stainless steel beverage tub is sure to get plenty of use. It is leak-proof and insulated to keep beverages icy cold on even the hottest summer days. Did someone say pool party?!
---
19. Personalized Cutting Board
Bamboo Cutting Board– Price at time of publication $24.99
Put your own personal touch on this cutting board to create one of the best housewarming gifts for men. Your guy will love this gift and it is sure to get a ton of use.
---
20. Luxurious Bath Towels
Utopis Bath Towels– Price at time of publication $29.99
These luxurious, jumbo-sized bath towels are the best thing. They come in a variety of colors to go with any bathroom and you get 2 towels for a great price.
---
21. Handheld Vacuum
Bissell Handheld Vacuum – Starting at $41.19 at the time of publication
This handheld vacuum is multi-faceted and can be used in the house or car to keep it nice and tidy. It is a great gift idea for any new homeowner at a very affordable price.
---
22. House Cleaning Service- Prices vary depending on location and size of home
What guy wouldn't love to have his house cleaned? This is a great idea. Check out one of these links for housekeepers in his area.
https://www.housekeeper.com or www.care.com/housekeeping
---
23. Swiss Army Knife
Swiss Army Classic – Starting at $28.04 at the time of publication
This little gadget is something every homeowner needs. It will get a lot of use while unpacking boxes and just for everyday little things for pretty much the rest of their lives.
---
24. Marble Coasters
Lifver Marble Coasters– Price at time of publication $15.89
We love this marble coaster set. It is a gift idea that anyone can use and the natural tones will go with any style. This set of coasters (6) comes with a holder too!
---
25. Glass Food Storage Containers w/lids
Pyrex Food Storage Glass Containers – Starting at $44.99 at the time of publication
Every homeowner needs food storage containers. Pyrex is known for quality products and that is why we chose this container set for our list. Check out that 5-star rating! We can't say for certain but we are almost sure your guy doesn't have a good set of these, and that's why this would make for a perfect gift.
---
26. Glassware Set
Amazon Basics Ridgecrest Coolers Glass Drinkware Set, 15.5-Ounce, Set of 6 -Price at time of production $19.50
This 6 glass set is a gift that will get plenty of use. Whether he is serving up an iced coffee or lemonade, these glasses will always come in handy. These are one of the best gifts because who couldn't use more glasses, highly rated on Amazon.
---
27. Valet Tray
Houndsbay Victory Valet Tray– Price at time of publication $44.99
Take a look at this desk valet tray. It comes complete with a smartphone charging station, multiple trays for small objects, and a place for his sunglasses. It is also super stylish! A great gift that will keep his dress/bathroom organized.
---
28. Cooking Utensil Set
Stainless Steel Utensil Set – Starting at $98.13 at the time of publication
Ok, so we love this stainless steel utensil set. This is quality. This is something that's needed and will look stunning on his kitchen counter.
---
29. Pressure Cooker
Instant Pot Duo– Price at time of publication $99.95
This little beauty makes cooking dinner an easy task. It has so many options and recipes that he can use. The Instant Pot will be his new BFF in the kitchen.
---
30. Faux Indoor Plant
Forever Leaf Faux Plant– Price at time of publication $32.99
A little greenery can lighten up any new space. This decorative plant is so realistic-looking that no one will ever know it is artificial. Shhhh, it's our little secret! Men don't typically buy plants, so help him out and bring a little life to his place, even though it's fake! 😉
---
Well, that sums up our list of the 30 of the best housewarming gifts for men. If all else fails, you can always make a housewarming gift basket for guys and fill it with his favorite candy and snacks. That's a gift he'll definitely use.
Whether it's his first home or he is moving into a new place it is a big deal! This list of the best gifts can be your guide in finding the most awesome housewarming gift. We hope you found the perfect housewarming present and that your gift helps him turn his new house into a home.
Were you able to use any of our gift ideas? Let us know in the comment section below.
If you're looking for ways to make money from home, check out our most popular article on 30 lucrative ways to make money from home, and be sure to sign up for our mailing list so you don't miss out on a new job opportunity.
You may also like:
Best housewarming gifts for couples