10 Really Cool Gifts for Guys – Under $25
Unique Gifts for Boyfriend
This post contains affiliate links, which means I may receive a small commission, at no cost to you, if you make a purchase through a link.
Most men have the reputation of being too hard to shop for. Whether they struggle with articulating exactly what they want or seem to have it, buying for the male gender often leaves shoppers stumped and bound to follow the beaten path of ties, colognes (I do buy my favorite for my husband) and tool boxes. 
Finding unique gifts for your boyfriend or husband doesn't have to be a drag. So to help you in your search we've compiled a list of cool gifts for guys under $25 that will wow the man in your life.
We hope the inexpensive gift ideas that we share in this article can help you decide on the perfect gift(s) that won't break the bank.
Before you shop online make sure you are taking advantage of FREE tools like Ebates and Honey to get you cash back on your purchases and the best prices. I LOVE these tools and they save me money as I spend it.
I shop online a lot and use Ebates to get cash back on things I'm going to purchase anyway.  See my cash back statement below, a nice little bonus for stuff I was buying anyway.
Better than nothing, right? 
You can simply sign up here and get $10 when you spend at least $25 online.
And have you ever heard of Honey? You'll no longer need to search for coupon codes and sales again! This is GOLD if you shop on Amazon as it finds the best-priced items for you and will watch the price of a product if you don't want to buy it right away.
Great way to save money and find deals without doing the work yourself. Make sure you sign up here before you make any purchases online.
And if you're looking for ways to make money from home subscribe to our mailing list as I often get companies reaching out to me about available remote positions they have and I only share these with my subscribers. Click here to subscribe.
Okay, so here's what we've found…
Top 10 Really Cool Gifts for Guys
1. 5-Minute Breakfast Sandwich Maker
How could this not be the coolest gift ever? Perfect for the ordinary man who probably already has a George Foreman grill :-). You can make the perfect breakfast sandwich in a matter of minutes, please don't just listen to me but read the reviews!!! Over 4,000 people are begging you to get it.
You can check it out here on Amazon for under $25!
 2. 
Victorinox Swiss Army Classic SD Pocket Knife 
I'm a firm believer that EVERY man should have a pocket knife but believe it or not my husband must have missed the memo. So I'm getting him Amazon's #1 pick with over 6,000 raving reviews and it's under $20! This multi-tool is equipped with a 1.25″ blade, nail file, screwdriver, scissors, key ring, tweezers, AND a TOOTHPICK! Does your guy have one or is it just me?
3. MyArcade Retro Machine Gaming System
Giving to a gamer? This handheld retro-style arcade game comes with 200 built-in games including Pacman, Galaga, and DigDug. The machine is lightweight, entertaining and can be transported virtually anywhere. With the throwback graphics and arcade sounds, he will be taken back to a time in his life when things were much simpler. This is a unique gift for husbands that they'll love. Under $20!
4. Scratch off map

Does your guy like to travel? If so, you have to consider getting him a Scratch off map. Scratch off maps make for great gifts because you get to visually record the places you've visited and the places you intend to visit. This travel-sized Scratch Off Map is the best one I've seen. It comes with great reviews, a storage container and it's under $25!
5. Stanley Classic Vacuum Mug/Gift Card

You can use this for so many things. We use them for hot drinks, soup, and even the food we want to keep hot and eat on the go. This will be perfect for him to take to work. This classic thermos is under $25. Throw a gift card inside and you've just given the best gift ever.
6. Exotac nanoSTRIKER Ferrocerium Fire Starter 
Don't know what to get your outdoorsman? How about something that is essential to practically any extended time outdoors: FIRE. Whether he uses it to cook, stay warm, or tell ghost stories around a fire starter is a perfect gift he'll always use during his nature adventure. Under $25!
7. Wallet

It's something about having a nice wallet that does something to you, I don't know if it's a confidence booster or what, but every man should have a nice wallet. I got one like this (under $25) for my husband last year because he still had the one his ex-girlfriend gave him O_O
8. Travel Shoe Shine Kit 


If your guy is the type that takes good care of his shoes, then you'll want to get him this. There is no better way to start maintaining your shoes than by buying a shoe shine kit. This kit is under $12 with raving reviews! 
9. Portable Bluetooth Speaker
The days of having a boom box are over but you still want to be able to blast your music, that's why I love our portable Bluetooth speaker. It's great for streaming music and listening to podcasts. This remote speaker has over 12 hours of playtime on a full charge. It's small and lightweight and you can take it anywhere. This is a great gift for him, under $15!
10. Pure Fitness Multi-Purpose Workout Bar 
This is a heavy-duty workout bar that can be easily installed in any door frame at home or at work. It features six foam padded grips, eight positions for multiple exercises and has a weight capacity of 250 lbs. This piece of equipment is ideally used to target and strengthen abs, shoulders, and arms. Definitely a cool gift for the health conscious guy. Under $20!
Final Thoughts
I hope these cool gift ideas for guys has helped you decide what to get him without the stress. If you're interested in ways to make money from home, save, and invest make sure to subscribe to our mailing list as that's what I normally talk about.
Are there any Cool Gift Ideas Not on this list? Please let us know in the comments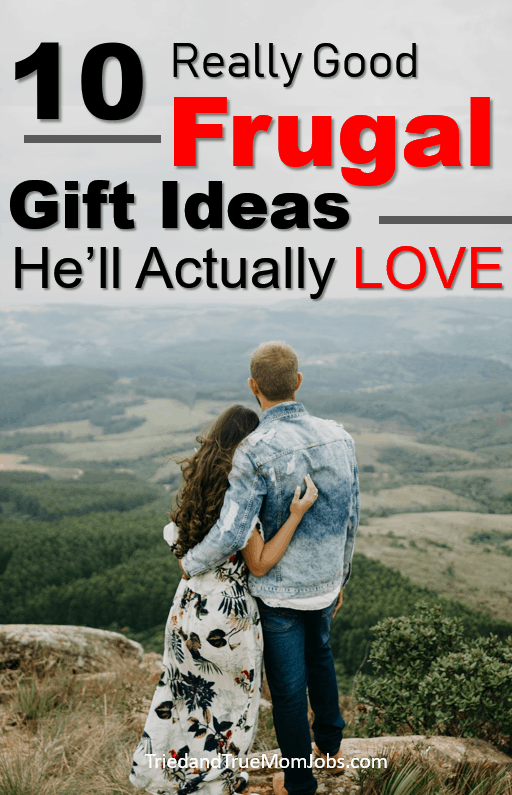 You Might Also Like
30 Ways to Make Money from Home
52 Week Money Saving Challenge to $10,000
10 Really Cool Gifts for Guys – Under $25

Max is the founder of Tried and True Mom Jobs, a blog about legitimate ways to work from home, save and invest. She only writes about things that work. Hence the name "Tried and True". She does the research, so you don't have to.