30+ Best Unique Gifts for Mom She Never Knew She Wanted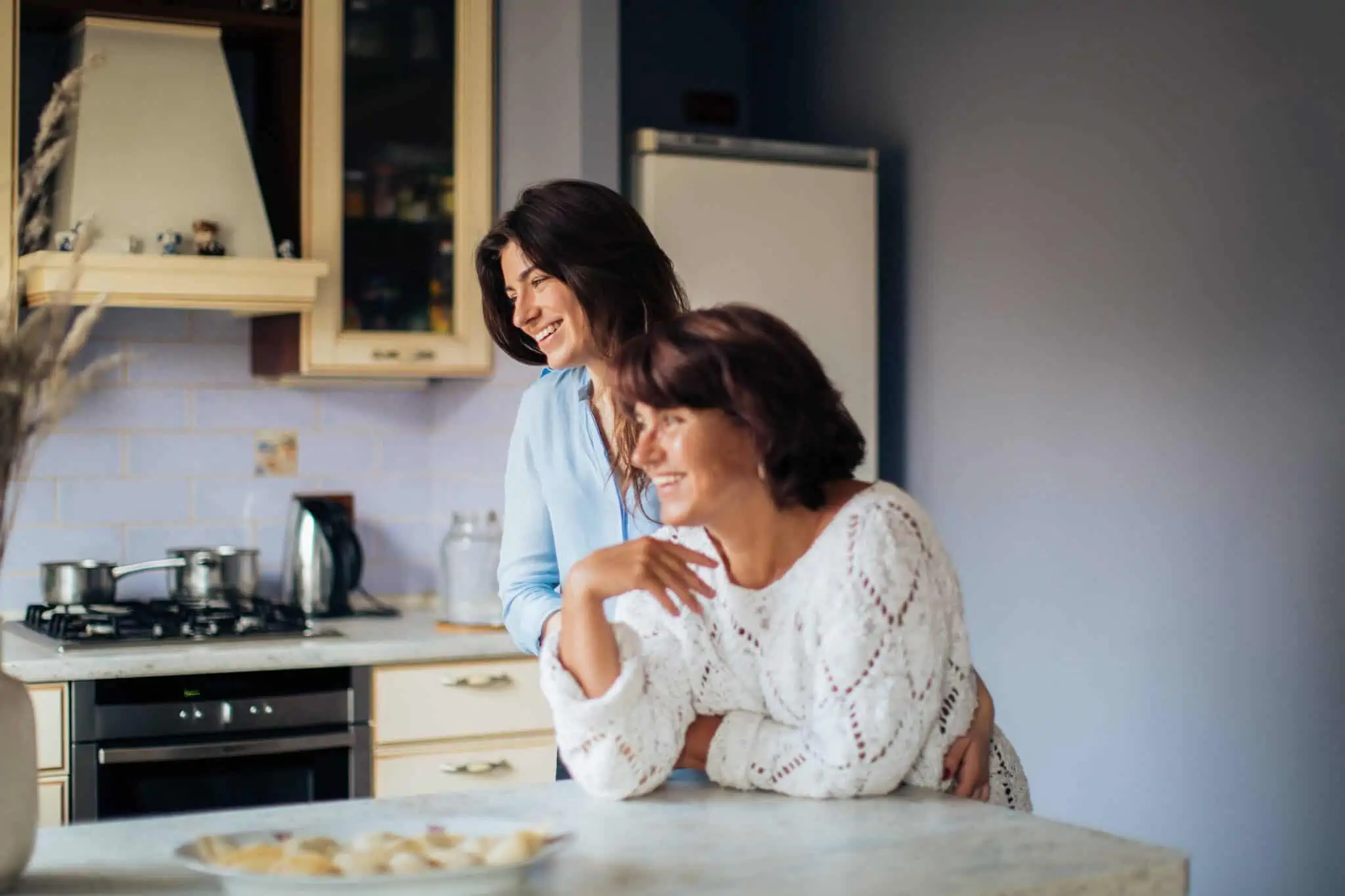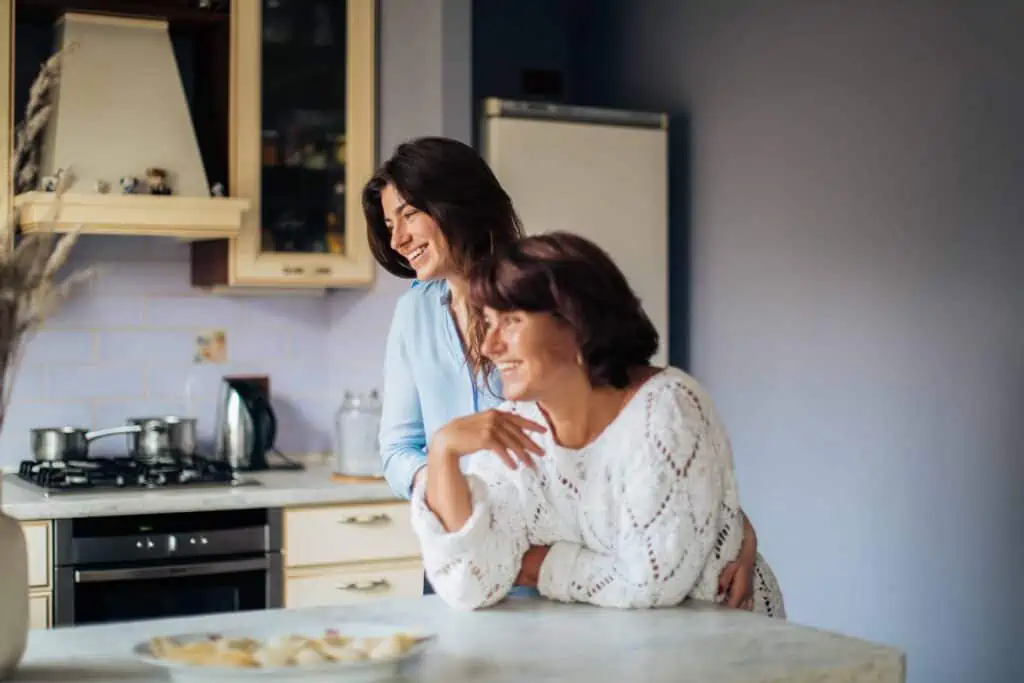 Meaningful Gifts for Mom
Looking for some unique gifts for mom?
We've got the list for you.
We tapped into our database of over 40,000 moms to see what unique gifts they received and loved!
We compiled their answers and are giving you the best of the best. The special mom in your life will love your gift and feel celebrated and appreciated!
The gifts will work for mom's birthday, Mother's Day, or just because.
Many of these gift ideas are from Amazon, so for those Prime members, you can get these tomorrow.
We have gift ideas for every type of Mom and can't wait for you to find the perfect gift that is just right for your Mom!
Quick Question: Are you in our group? We have a private FB group where our mission is to help you earn a MINIMUM of six figures per year. If you'd like to join our free Unbound: More than just a mom group, fill out the form here.
This post contains affiliate links, which means I may receive a small commission, at no cost to you, if you make a purchase through a link.
Here is our list of the best and most unique gifts for Mom, enjoy!
1. Heated Coffee Mug
Ember Temperature Control Smart Mug – Price at time of publication $99.95
This is for the coffee/tea loving mom. We wanted to start our list of unique gifts for mom, with this app-controlled mug that she can control from her phone. Her heated beverages will always be the perfect temperature and stay warm for hours and as a mama, we know how important that is.
---
2. Birthstone Jewelry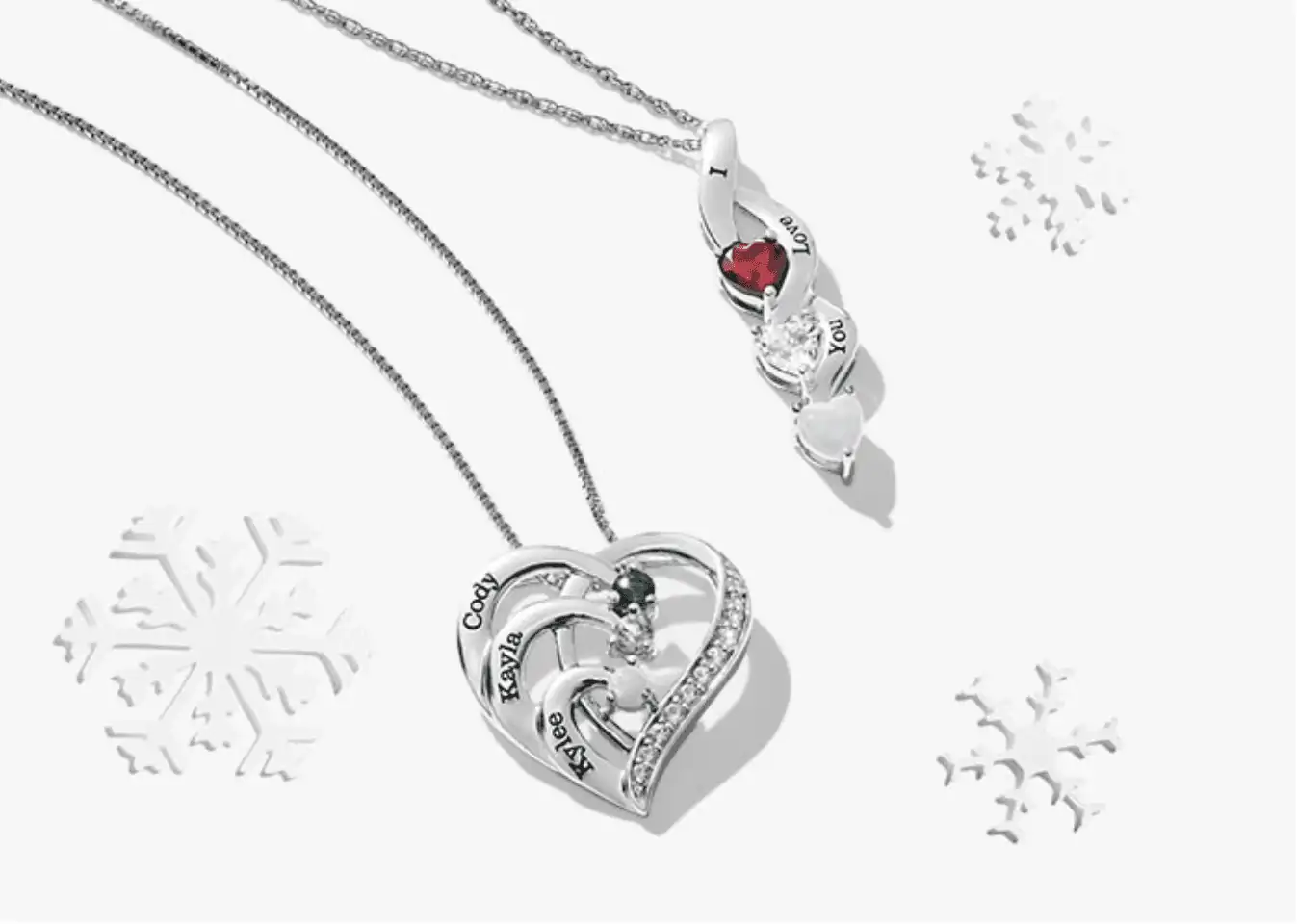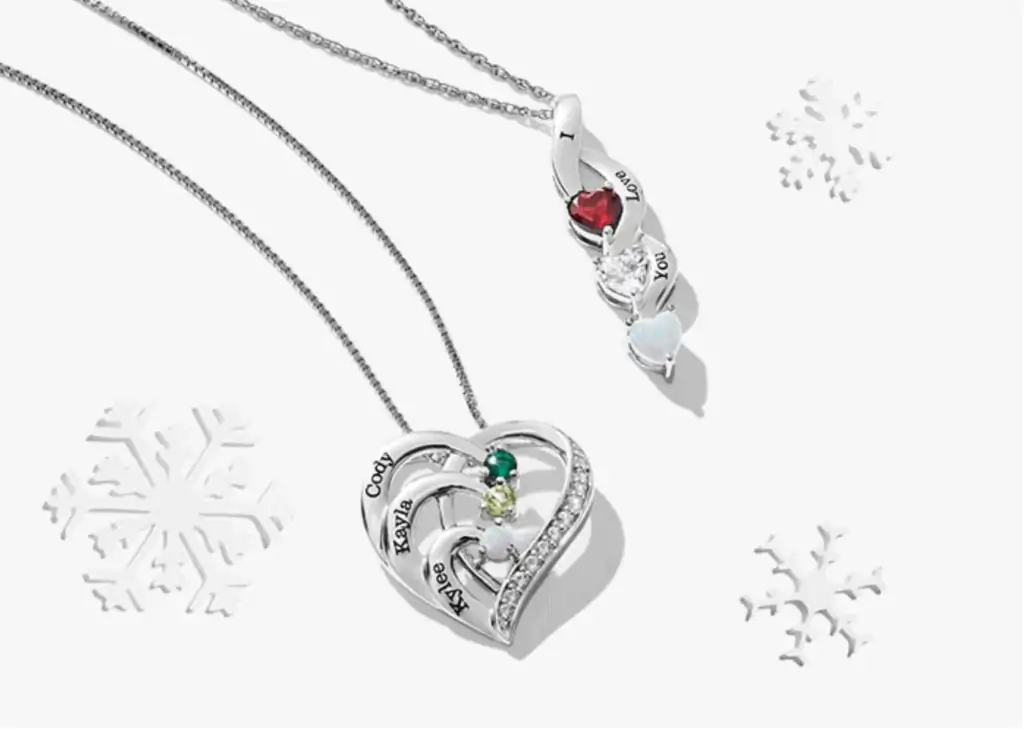 Color Stone Family Heart Necklace – Price at time of publication $118.00
First of all, who couldn't use a new necklace AND to top it off with your kid's name and birthstone on it! There is no way we couldn't add this to our list. This is a gift that will last a lifetime. The color stone family heart necklace is our favorite.
---
3. Custom Puzzle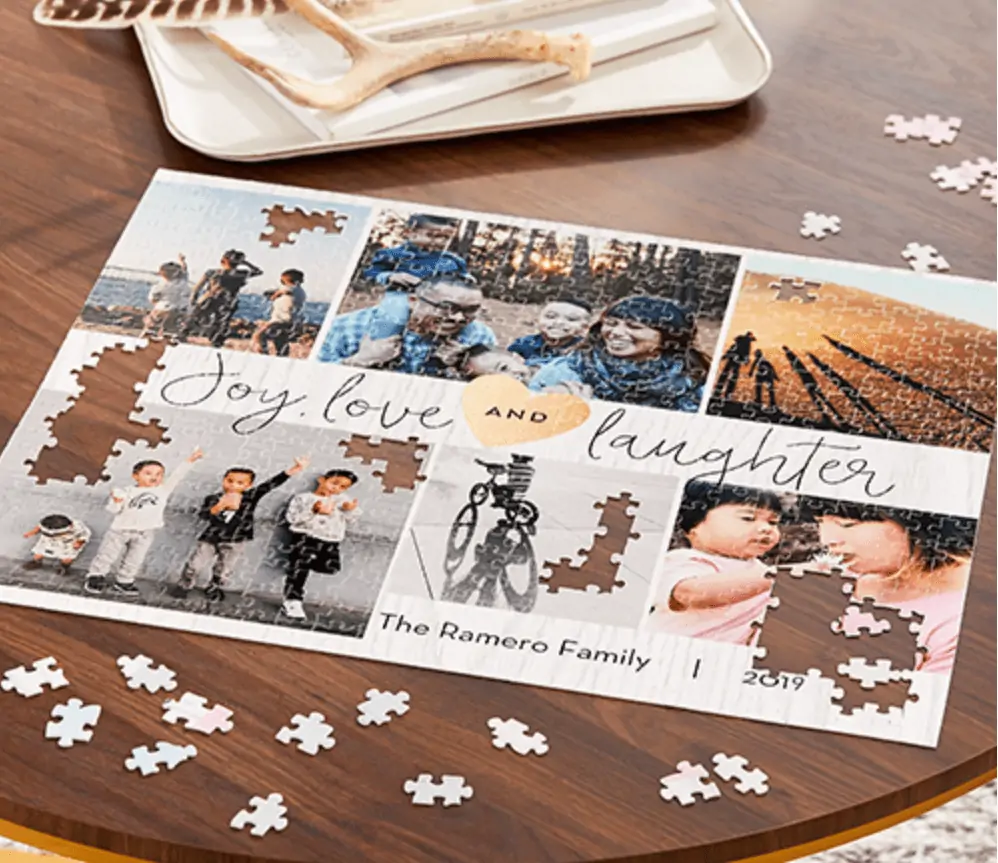 Customized puzzles – starting at $16 at the time of publication
If you choose a nice laid-back day to spend with mom, why not make it extra special and put a puzzle together with each other. You can choose whatever photo you'd like and have it custom-made just for mom.
It could be the grandkids, you and the fam, or just her. Find the best picture and put all the pieces together with the one who started it all. This is a unique gift for mom that she can keep forever.
---
4. Electronic Photo Frame
Skyzoo Digital Picture Frame – about $139 at the time of publication
If mom doesn't have this yet, it's time to get her one. An electronic photo frame where you can send live photos and videos to her instantly. Keep a smile on her face every time she walks by with old and new memories. This one has a 5-star rating from Amazon and is ranked their #1 best seller!
---
5. Hand Massager
Heated Hand Massager – Price at time of publication $69.95
It seems as though a mother's hands are always at work. This heated hand massager has 3 different pressure modes to give her a well-deserved break. It is great for anyone who has arthritis, carpal tunnel syndrome, or is just in need of some pampering!
---
6. Bath Mattress
COMFYSURE Bath Cushion for Tub – about $42 at the time of this publication
If your mom likes to take baths, let's take it up a notch with this bath mattress. You get to fully relax with this bath mattress that has the same soft plushness as your bed but with soothing hot water and foamy bubbles. They GUARANTEE their bathtub mattress will provide you with supreme comfort and peace of mind, or they'll refund you for your entire purchase. Sounds good to me!
---
7. Ancestry DNA
Ancestry DNA Test Kit – about $69 at time of publication
If your mom wants to know about her ancestors, now is the time to let her know. Get the full story, her ancestors are more than just the name. You can get her a kit here.
---
8. Photo Blanket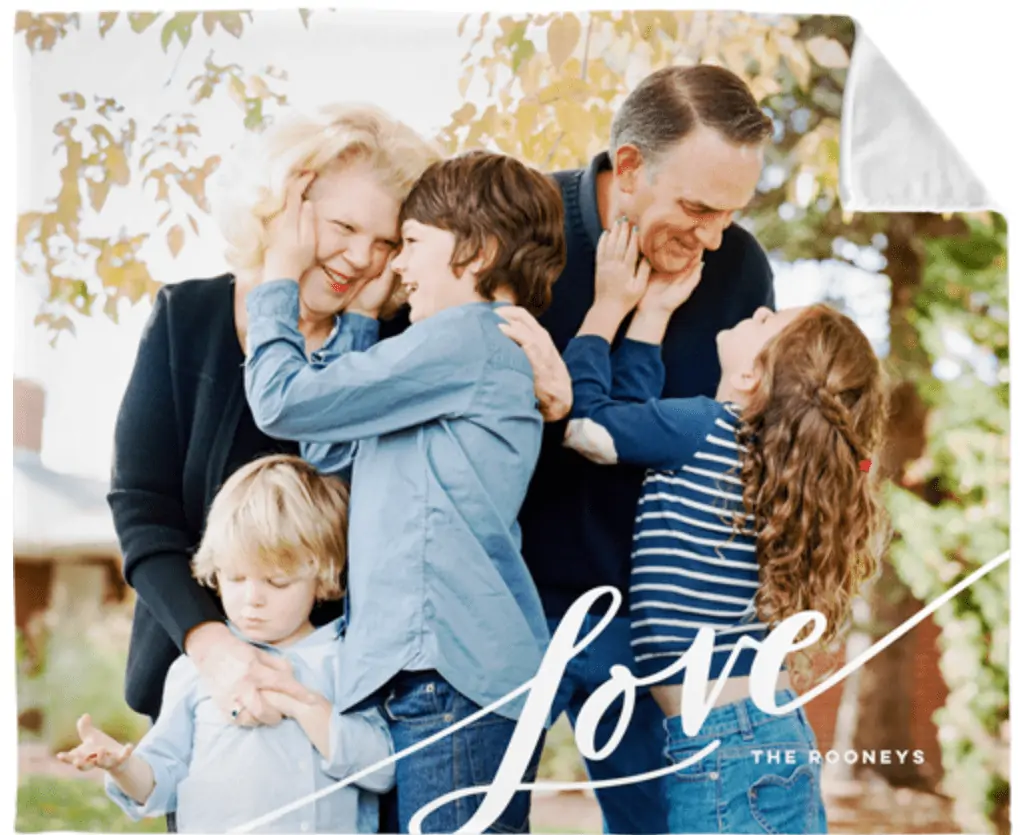 Tilted Love Script Fleece Photo Blanket – $44.99 at the time of publication
What woman doesn't love a good blanket? Yes, this is one of the best unique gifts for mom because it has her family on it. These are the best photo blankets at a great price.
---
9. iRobot Roomba
iRobot Roomba 694 Robot Vacuum – about $179 at the time of publication
Give mom a break and get her this iRobot Roomba that will vacuum and sweep her floors for her. This can be quite expensive, they just updated this version leaving the older model just a little over $100 which is a great deal. I have one and I really do like it, great gift for mom.
---
10. Lavender Pillow
Lotus Weighted Lavender Eye Pillow – Price at time of publication $21.95
Your special mom will love this lavender eye pillow. The aromatherapy qualities of lavender are calming and soothing. She can heat the pillow to make a soothing eye mask for dry eyes or cool it to relieve sinus tension and headaches. She can also use this pillow during a workout for an extra level of comfort in meditation.
---
11. Hammock Chair
Patio Watcher Hanging Hammock Chair – Price at time of publication $74.99
How many people can say they have this at home? She will love this hanging hammock chair. It is stylish and the perfect place for her to relax and read a book or take an afternoon nap. Of course it depends on if she can put it somewhere in her home, but if she can, get it! It can be hung on the front porch or from a tree in the yard.
This is definitely one of our unique gifts for mom.
---
12. Full Body Massager
Shiatsu Full Body Massager – Price at time of publication $49.97
This gift is perfect for the mom who needs some rest and relaxation. The Shiatsu body Massager does it all. It has 8 different roller balls and 3-speed strength levels to give her exactly what she needs.
---
13. Memory Box
Willow Tree Mother and Daughter Sculpted-Hand Painted Memory Box – Price at time of publication $32.96
Check out the reviews on this Willow Tree Keepsake box. This is a meaningful gift that any mother would appreciate from her daughter. Fill it with some precious things that will make her smile.
---
14. Bucket List Book
"The Bucket List: 1000 Adventures Big & Small" – Price at time of publication $21.49
For the more adventurous mom, we love this book idea. With 1000 adventures to choose from, this mom will be living and loving life. This is one of our top unique gifts for mom because these are things you can do with her. Making memories together are the best gifts.
---
15. Shower Aromatherapy
Cleverly Aromatherapy Shower Steamers – Price at time of publication $29.50
Cleverly makes these aromatherapy shower bombs with essential oils. There are six different aromatherapy benefits ranging from stress relief to immune system support. They are even enriched with real herbs and flower petals.
---
16. Hand Cream
Ahava Naturally Silky Mineral Hand Cream Set – Price at time of publication $20.00
The reviews for this hand cream set say it all! "Perfect!", "Best hand moisturizer available!" and "Smell great!" are just a few of the comments reviewers have made. They replenish the skin with 21 essential minerals and will leave your mom's hands feeling restored.
---
17. Compact Mirror
Rose Gold Compact Mirror – Price at time of publication $19.99
A compact mirror is a gift that will get a ton of use! Our choice is this engraved gorgeous rose gold mirror. It is both a sentimental gift and a practical gift idea. How thoughtful of a gift is this! She'll look at it everytime and think of you. These really are some unique gifts for mom!
---
18. Hair Waver Tool
Bed Head Wave Affair 3 Barrel Digital Jumbo Hair Waiver – Price at time of publication $36.99
For the mom that is always on the go, we are fans of the Bed Head Waver tool. It is a quick and easy way to curl her hair before she heads out for the day. It heats in seconds and is made from ceramic to fight heat damage and add smoothness and shine.
---
19. Bracelet
Alex and Ani Mom Bracelet – Price at time of publication $29.99
For a daily reminder of how appreciated your mom is, this Alex and Ani bracelet is a special present idea. It is simple, meaningful, and available in silver or gold.
---
20. Bangle Watch
Anne Klein Women's Bangle Watch and Bracelet Set – Price at time of publication $49.99
This watch and bangle set is an awesome gift. Your mom will love its versatility. She can wear just the watch, just the bracelets, or put them all on to make a statement. We love this so much, we're getting one too!
---
21. SodaStream
SodaStream Terra – Price at time of publication $79.00
SodaStream Terra is a great gift option for the mom who loves sparkling water. She can make a refreshing drink any time she wants. There are so many flavor options and combinations available, your mom will be able to try a new one every day!
---
22. Lounge Set
Prettygarden Women's Tie Dye Lounge Set – Price at time of publication $30.99
If your mom likes to lounge on a Sunday (or any day!), this pajama set is our gift choice. Tie-Dye print is so fashionable right now and the breathable, lightweight material will give a great night's sleep.
---
23. Initial Necklace
Dainty Layering Initial Necklace – Price at time of publication $14.99
Initial necklaces are back in style and we love the look of Dainty's layering initial necklace. It is a beautiful piece of jewelry and very reasonably priced.
---
24. Luxurious Robe
UGG Women's Blanche li Robe – Price at time of publication $97.95
When it comes to a soft robe, the Blanche Li by UGG is our top pick. Your mom will feel like she is wrapped in a cloud. The reviews say it all.
---
25. Coffee and Espresso Maker
Nespresso Vertuo Plus Coffee and Espresso Maker – About $149 at time of publication
If your mom loves espresso or coffee, the Nespresso could be another sibling gift option. It is a novelty item that is sure to get a lot of use. Your mom can enjoy espresso from the comfort of her home and save a trip to the coffee shop!
---
26. White Noise Machine
Yogasleep Mini Portable White Noise Machine – Price at time of publication $25.99
We really like the gift idea of a white noise machine for moms. Yogasleep makes this mini portable one that can be used anywhere for a soothing night's sleep. This isn't for every mom, but this list is full of unique gifts for mom. Is this one for your mom?
---
27. Portable Charger
Anker Portable Charger – Price at time of publication $59.99
It seems as though everyone is always looking for a charger of some sort to charge their electronic devices. With this portable charger by Anker, your mom will never be without a charger. It is great to have for home use or for out on the road in an emergency. Truly a gift idea that any mom will appreciate.
---
28. Nitetime Oil
Sunday Riley Luna Sleeping Night Oil – Price at time of publication $50.00
For the mama who needs a little help relaxing before bed, we recommend Sunday Riley Luna Sleeping Night Oil…but the best part of this oil is that it fights wrinkles and fine lines while she is sleeping. Truly a win/win product!
---
29. Tea/Teapot
Primula Half-Moon Teapot – Price at time of publication $14.99
Pair with Tea Forte Assorted Loose Leaf Tea Sampler Set – Price at time of publication $28.00
If your mom is a tea lover, this teapot is the gift for you. It has a removable infuser and can be used with a tea bag or loose leaf tea. We included the link for our favorite tea sampler set for the perfect gift combo!
---
30. Sandals
Reef Cushion Vista Hi Platform Sandal – Price at time of publication $54.95
These Reef cushion sandals are the perfect Spring accessory. They are super comfortable and stylish and come in a variety of colors.
---
31. Gardening Set
Naye Garden Tool Set – Price at time of publication $35.99
With summer right around the corner, moms will want to get their gardens planted soon! This garden set makes the perfect gift for moms with a green thumb. She will have everything she needs and will love the colorful print.
---
32. Water Color Pens
Watercolor Brush Pens by GenCrafts – Price at time of publication $29.99
Pair with Phoenix White Blank Cotton Canvas 10 pack – Price at time of publication $21.99
For our last item, we wanted to include a gift idea for the mom who loves art. She can use all of the different colors in the watercolor brush pens to create her own masterpieces. Pair with the canvases listed below and she will be one happy mama!
---
Well, there you have it! Our complete list of unique gifts for mom. Every mom works so hard for her family and deserves to be gifted a truly awesome gift. So whether you are looking for a birthday gift, a mother's day gift, or simply a gift to tell your mom how much you appreciate her, we hope you found what you were looking for.
Before you go, if you're into pursuing financial freedom be sure to subscribe to our email list where we share one epic email a week to help you get there. Click here to subscribe.
You Might Also Like:
How this mom makes over 400,000 a year while homeschooling her 3 children
How this mom of 9 makes over $2,000 a month working on the side as a bookkeeper
How to make money proofreading from home