How to Become a Notary from a Notary Public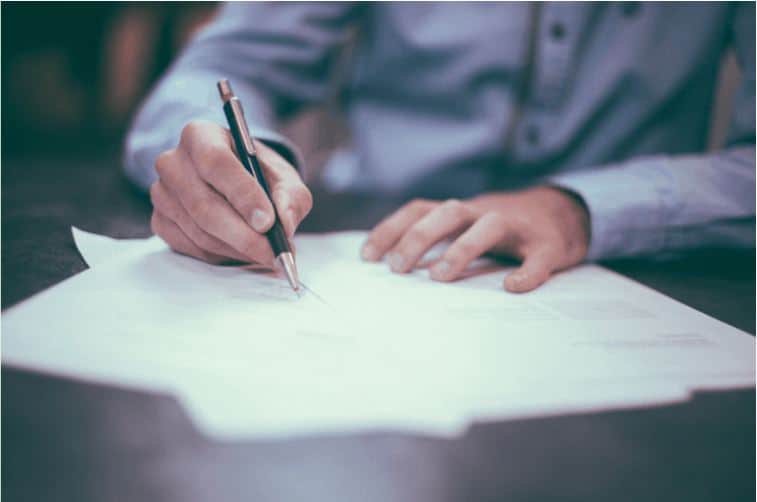 Do you want to know how to become a notary? Great, because today I'm going to teach you how to become a Notary through the mouth of a Notary who does this today.
You can't beat the advice of someone who has worn the shoes you want to fill. I was privileged to interview Notary Public, Valencia Morton on how she became a Notary. She'll also give you insight on how to make money as a notary.
According to the National Notary Association, to become a Notary you must be 18 years old and a legal resident of the state you live in with no criminal record.
Becoming a Notary can be a great way to make money on the side depending on where you live.
Quick question: Are you on our email list? If you're a mama like me, you definitely want to be on our list where we send out regular new mom jobs, productivity tips, and inspiration to get through this tough yet awesome journey of motherhood. Click here to subscribe.
If you find that a Notary isn't right for you take a look at our most popular article on ways you can make money from home from people who are doing it today at "tried and true".
This post contains affiliate links, which means I may receive a small commission, at no cost to you, if you make a purchase through a link.
How to Become a Notary
1. Can You Tell Us a Little About Yourself and How You Became a Notary?
I am Valencia Morton, a debt-free financial coach, blogger, and author. I am the founder of Millionairess Mama Financial Group, LLC in which I help women eliminate their debt and achieve wealth.
I write about family finances, ways to build a legacy and flourish with multiple streams of income. I have been featured in the Huffington Post and was a 2018 finalist at FinCon for the Plutus Award for Best Social Media.
Along my journey towards debt freedom, I picked up several side hustles. I was a stay at home mom going through a divorce and on government assistance.
I wanted to be able to get debt free while also staying at home with my daughter. My mother had been a notary and told me it was an easy way to make good money. So, I looked into it and got started.
2. What Does a Notary Do?
A notary is an appointed official of the state government. They serve as an unbiased and impartial witness and can perform numerous duties depending on where you live.
Some notaries can perform marriages, oversee the signing of loan documents for new homeowners, witness Power of Attorneys and much more.
3. What are the Steps Required to Become a Notary?
Apply to become a Notary through your local county government website and pay the small fee.
Wait several weeks to be called to your local courthouse and be sworn in as a Notary.
Buy your Notary materials, and you are READY!
Each state is different, click here to see your State requirements.
According to the National Notary Association, most states require you to purchase a surety bond but the amounts vary widely by state. A typical amount ranges from $5,000 to $10,000, although it can be as low as $500 or as high as $25,000.
You won't pay the full amount of the Bond. For example, if you need a $10,000 surety bond and you get quoted at a 1% rate (depends on your credit score), you will pay $100 for your surety bond.
A surety bond protects consumers. If you make a mistake that damages someone, the bond is intended to compensate the injured person up to the amount of the bond. You then would be required to repay the bond company.
4. How Much do Notaries Charge
You're probably wondering, is being a notary worth it? I have been a Notary for a couple of years, so for me, a notary public job must be over $100. I have made thousands being a Notary. When I first started I made between $20 to $50 a signing.
Which is good money because signings take about 5 – 20 minutes depending on the documents.
You can make much more as a Notary Loan Signing Agent, see how John Flick is earning $5k-$7k per month only working 3-4 days per week!
You can check out the full interview with John Flick here.
5. How Do Notaries Find Work?
You can find clients by putting an ad out or talking to local businesses. You can work for a bank or other companies who frequently use notary services.
But the best way is to have the money come to you by joining a site that will literally text you Notary public jobs. That way you can either accept or deny the jobs. But if you sign up for sites like that, be READY to do the work because a lot of requests will come in once you start.
Once you become a member of the National Notary Association they will share resources like this.
Here is how John Flick gets work as a Notary Loan signing agent.
6. What Supplies Do Notaries need?
When you become a notary, you need a notary journal to record your signings, a self-ink stamp with all of your info on it, possibly an ink pad (depends on state), a bag to hold all your materials and a blue pen.
7. Any Cons to Becoming a Notary?
The only con is that it cannot be done from home. Well, clients can come to YOUR home, but you must be a witness which normally means leaving your house.
8. What Advice Would You Give to Someone Who Wants to Become a Notary?
Do it!! It's a great side hustle, but even better if you can put more time and energy into it to turn it into a full-time business. Also, it looks great on your resume.
---
Thank you, Valencia, for such a great interview!
Valencia is very blessed to make money as a notary public, but that's not the case for everyone. Each state defines what you can charge.
For example, if you live in Arizona you can only charge a maximum of $2 per signature! It's impossible to make it a lucrative side hustle there. Check out this chart to see how much you can charge for notary acts.
To make more money as a Notary definitely consider becoming a loan signing agent. Click here to get started as a loan signing agent.
Are you wanting to make money as a notary public? Let Us Know in the Comments Section.
Make sure to join our FREE mompreneur tribe on our exclusive email list. Where we send out new mom jobs, financial tips, and more! Subscribe here.
You Might Also Like:
30 Legitimate Ways to Make Money from Home
30 Small Business Ideas You Can Start Today
20 Passive Income Ideas from Millionaires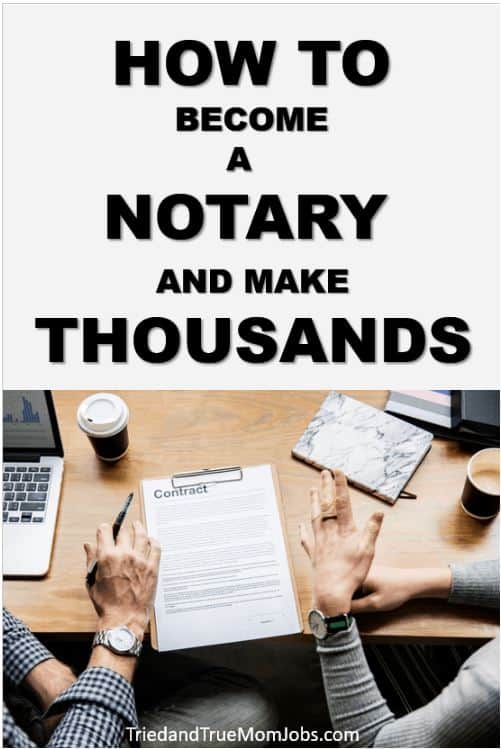 How to Become a Notary from a Notary