Amazon Flex Review: Can you Really Make Money with Amazon Flex?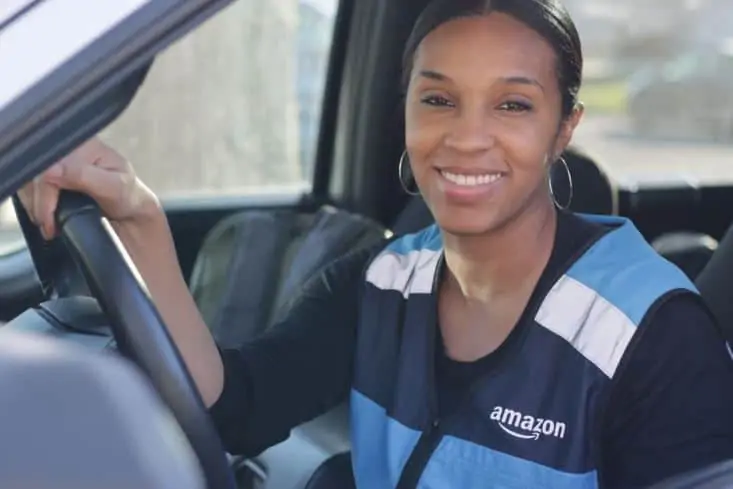 Can you really make money with Amazon Flex?
The short answer is yes.
If you're looking for a solid path to make money quickly AND get paid TWICE a week, this may be the right choice for you, but there's a lot to consider before diving in, and we're going to break it down for you and make sure you know what you need to know before you get started.
For a quick overview of Amazon Flex, this is a great video to check out
To make sure we are all on the same page, let's first cover what Amazon Flex is and give you an overview of how it works. 
What is Amazon Flex?
Amazon Flex allows drivers to earn money by delivering Amazon packages from their fulfillment centers using their OWN vehicles.
It's like you're the UPS or FedEx driver albeit using your own vehicle.  It allows you to pick and choose when and if you want to work by setting your own schedule.
How Much Does Amazon Flex Drivers Earn?
$18-$25 per hour. These are broken up into blocks which I will discuss shortly.
Before you can even consider this as an option, you must meet the following criteria:
But keep this in mind: If you do not meet the criteria below or feel this is not the right opportunity for you, be sure to check out our most popular list of 15+ side hustles that you can do from home to earn an extra $1,000+ per month 
Amazon Flex driver requirements:
You must live in a city where Amazon flex operates. You can see if they are in a city near you here. If your city is not listed you should still apply so you'll be notified when and if they build a fulfillment center in your area. 

Pass a background check

You must be 21 years or older

You must have a valid driver's license and Social Security number

You must drive a mid-size or larger vehicle such as;  4 door mid-size sedan, SUV, van or truck with a covered bed

You must have an iPhone or android because everything is done through the Amazon flex app
If you meet these requirements, the next question is
How do you get started with Amazon Flex?
Download the Amazon Flex App and put in your information to get started. The background check typically takes 2-5 days. Once you pass the background check you should be able to get started. 
Amazon has a process referred to as "blocks" that are used to select the time-frames chosen to set your schedule.  These blocks are typically set at 3-4 hour increments.
Here is an example of what a block looks like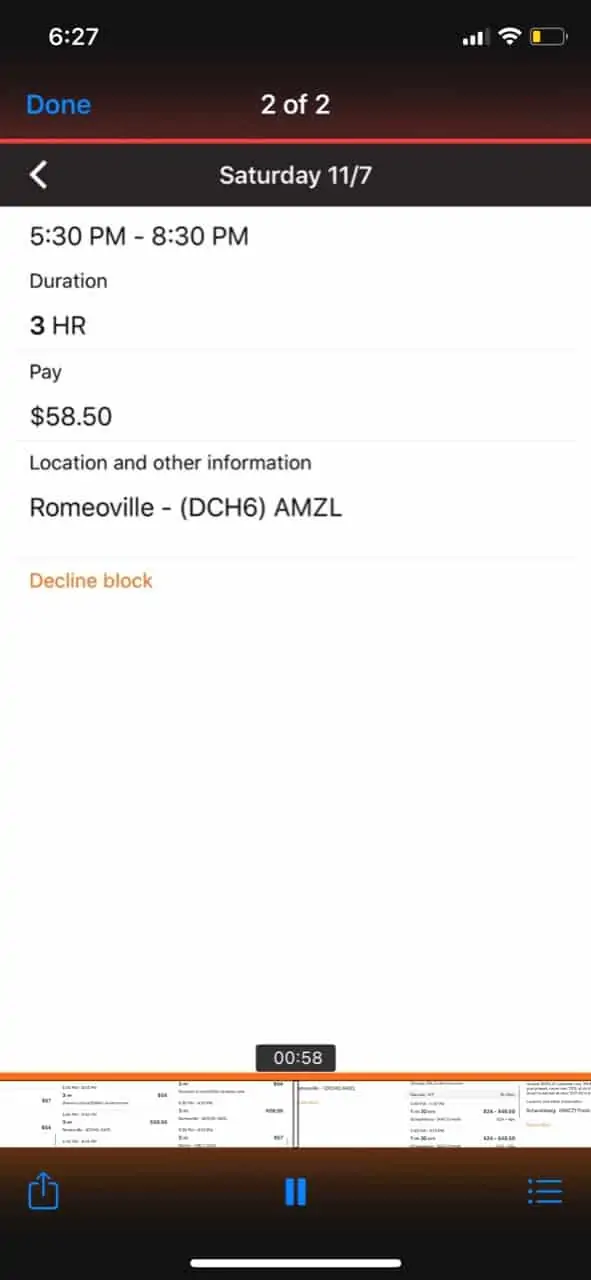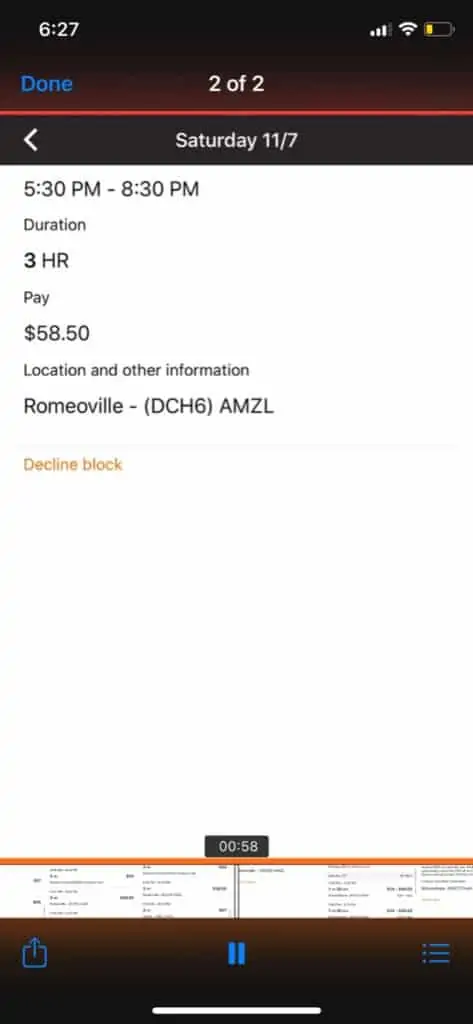 Each block includes:
The date and the time of the delivery

Amount of money you'll receive

Duration and Fulfilment center Location 
You can search through all the available blocks in your area and pick and choose which ones you'd like. 
Once you select your block it will show up on your home screen as your current schedule
There are some blocks that will have a minimum and an up to amount, like this one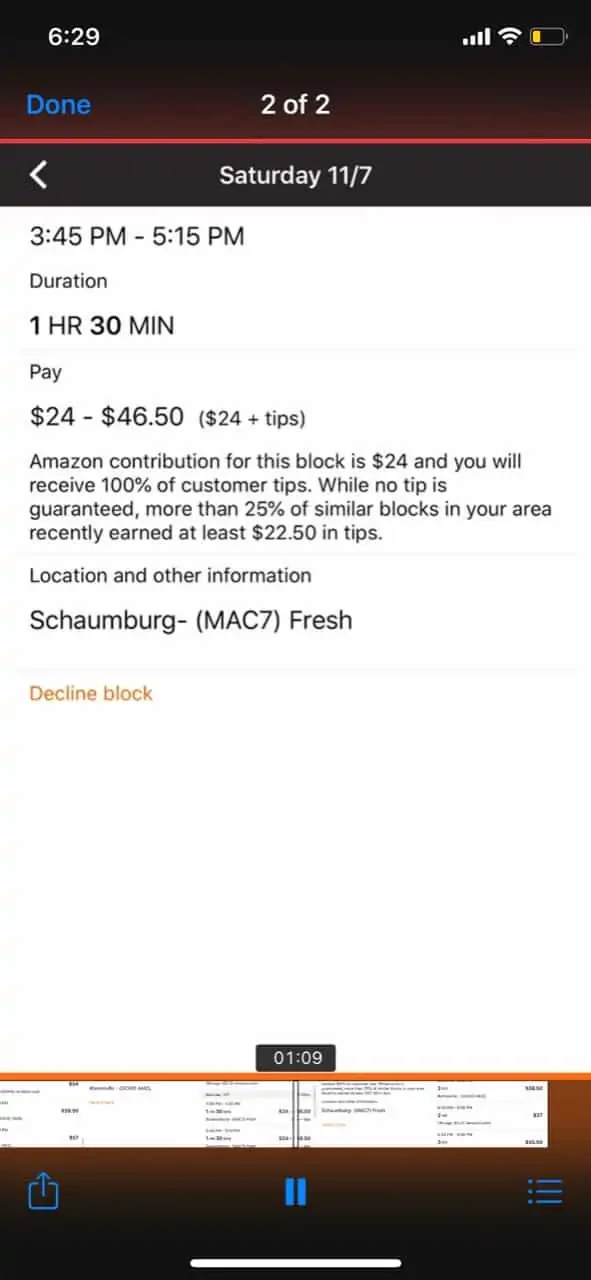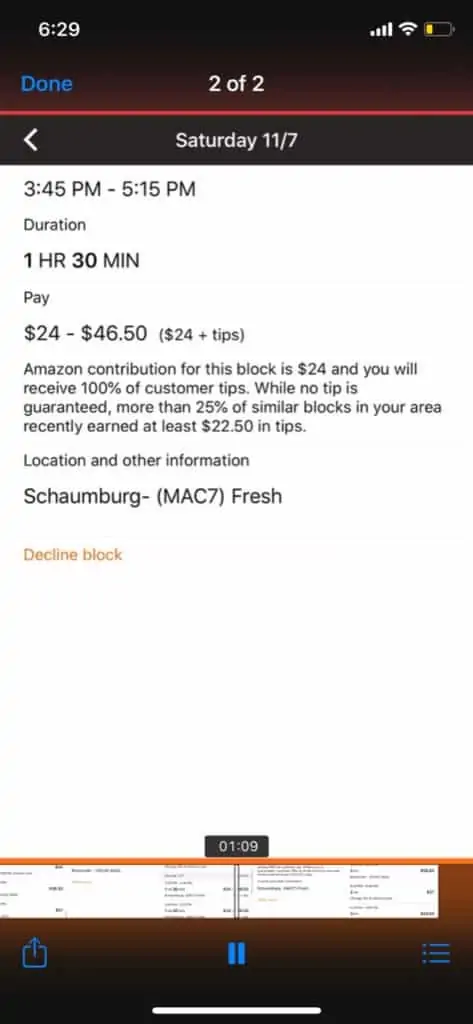 With those, you're definitely going to make the minimum, and the maximum amount depends on Customer Tips. 
So for those of you who didn't know, yes Amazon also delivers groceries. You don't do the grocery shopping, the orders will be ready for you at the store. You just go to the store to pick up the groceries and deliver them. 
Do Amazon Flex drivers get tips?
Amazon Flex drivers only receive tips if they are delivering groceries, which they get to keep 100% of the tips. For all other deliveries, tips are not included. 
Amazon also has a feature where you can get instant offers by seeing what is Available Now.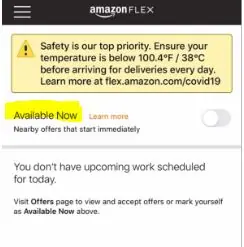 So you can always check to see if there are any offers in your area.
---
The process to deliver items for Amazon Flex is pretty easy, but I'm going to break it down into two steps.
Step 1: Pick up the Packages
After you choose your block you'll go to the designated fulfillment center to pick up the packages for your block. 
MAKE SURE YOU'RE ON TIME because you don't want to get a strike for being late. When you get to your designated fulfillment center, an Amazon Employee will scan your phone and ID to verify who you are and what block you have.
They'll bring your packages out for your block and you'll need to scan each package to verify that you have everything in the load. Use the app to click start your route and the app will give you the route for your block. 
Pro tip: Organize the packages when you scan them in your car per household to make it easy to find when you drop off the packages.
You won't know the route until you actually pick up your packages from the fulfillment center.  Once you pick them up press start route on the app. The app will guide you to each location. 
Step 2: Deliver the packages
Once you reach your first home. You scan the package and drop it off. You might be asked to take a photo of the package where you left it if you don't give it to a person. 
You move on to the next home until all your packages have been delivered and then you're done for the day.
If you finish your block before the time block expires you will still get paid the same. If you are working outside longer than the time block because of traffic or other mishaps, you can call Amazon support and they will pay you for your extended time. 
Now let's discuss the Pros and Cons
Pros
Work on your own time

Know how much you're going to get paid before you start working

You are paid by direct deposit TWICE a week on Tuesdays and Fridays 

You don't have to pick up strangers like Uber or lyft

If you pick up a block and show up on time but there are no deliveries ready for you, they will still pay you for the block amount. My friend made $77 for doing nothing 

In addition to your personal insurance coverage, Amazon provides all states other than NY with the Amazon Commercial Auto Insurance Policy at no cost- So if you get in an accident while driving for Amazon Flex, they will cover the costs

And of course, you get to make extra money
Cons: 
Amazon Flex is a 1099 Independent contractor position which means you pay for the gas needed to travel and have to cover the wear and tear on your vehicle- you could drive around 70+ miles in one 3-4 hr block

Competition – There may be a lot of people in your area doing this and it won't leave you with a lot of opportunities to make extra money. So I wouldn't depend on this as a consistent source of income 
So can you really make money with Amazon Flex?
The answer is yes, especially if you track everything. As an independent contractor, you can take advantage of the many tax write-offs like 
Maintenance and repairs, including tire and oil changes

Gas

Parking & tolls

Car insurance

and so many other things 
But you must track EVERYTHING, so definitely download the hurdlr app before you get started.
I always recommend when you are doing gigs like this to forget doing turbotax and get a Certified Public Accountant (CPA). 
The payment to your CPA is also a tax write off, it's important to get a CPA because they will know how to save you so much money.  They are trained and experienced to help manage your spending and income so that you will get to keep as much money as possible during tax time. 
If you don't have one, you can check out this excellent firm I highly recommend here.
Here are our final tips if you are interested in trying this out
How to get an Amazon flex vest
To get an Amazon Flex vest simply ask for one when you arrive at the fulfillment center to pick up your packages and an Amazon employee will give you one free of charge if they have any available. 
What to wear as an Amazon Flex driver
You can wear whatever you want as an Amazon Flex driver, but we recommend that you wear something comfortable yet presentable and we'll leave that up to you to decide what that looks like.
Final Thoughts
So, is this something you would try? Let us know, and if you are an Amazon driver we'd love to hear any additional tips and tricks you may have. 
Remember if you find this isn't the job for you be sure to check out our list of 15+ Side jobs you can do from home.
Make sure to join our FREE mompreneur tribe on our exclusive email list. Where we send out new mom jobs, financial tips, and more! Subscribe here.