How to Quickly Grow Social Media Followers on Instagram, Pinterest, Facebook and your Email List & Make Money!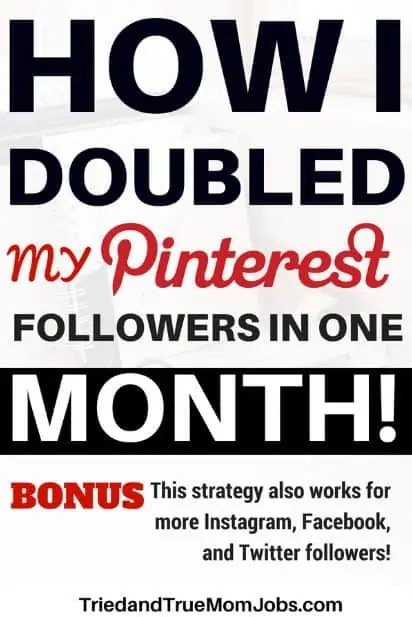 Do you want real Instagram, Pinterest, Facebook, and Twitter Followers? I'm sure your answer is YES. Have you tried the 'follow for a follow' technique? Well, Stop!
You want people to follow you because they like your content, not because you're doing each other a favor. Trust me; this will help you in the long run.
I get 99% of my traffic from Pinterest, so that's what I'll focus on in this post, but this method can be applied to Instagram, Facebook, Twitter and even Email Subscribers.
A lot of people place a lot of focus on their Instagram and Pinterest following, so here's how you get followers without having to follow others.
This post contains affiliate links, which means I may receive a small commission, at no cost to you, if you make a purchase through a link.
How to Grow Social Media Followers Organically
I get Pinterest followers for one main reason and that's because of:
and below I'll tell you how this is the EASIEST way to make money through their affiliate program.
I signed up for Milotree May 5, 2018, with 350 followers and now I have WELL over that. When I first signed up for Milotree I gained 72 followers in the first 7 days!
Update: You can see how many followers I have now, I can't believe how fast I got them. I really wonder why more people don't talk about this.
I had a post go viral the other day and because of Milotree, I gained 111 followers in one day!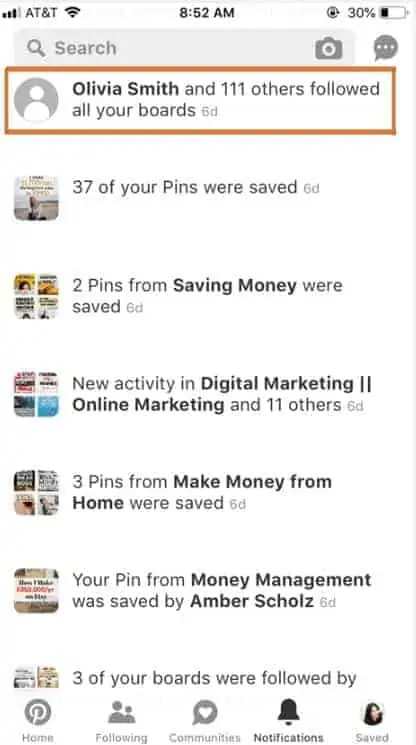 I launched my blog January 20, 2018, with 0 followers; if I had signed up with Milotree earlier I would have had way more followers than I do now 🙁
Don't make the same mistake.
So what is Milotree? If you have visited someone's website and seen a popup like this:

This is what Milotree does, creates a pop-up on your website with an objective to convert your website visitors into followers.
Think about it, when someone visits your website they are only there to read an article based on your advertisement.
They are not thinking, "Hey, I like this content let me follow them for more content like this." People need a reminder, and Milotree does that.
Gaining Pinterest followers is important.
The more Pinterest followers you have, the greater the chances of increasing your website traffic, and credibility.
As a new blogger, I'm beginning to understand the importance of capturing people who have visited my site because if I don't, they may be gone forever.
Yes, they could have signed up to my mailing list, but many people don't like making that commitment. Following someone on Pinterest seems less invasive.
When I create new pins or share some of my older pins (for older posts) to my boards my followers see that, it's almost better than an email subscriber because I only talk about new stuff with my subscribers.
Now that you know the importance of Milotree let me show you how this is the EASIEST Affiliate Program to make MONEY!
Have you ever heard of Affiliate Marketing? If not, it's referring people to a product or service and collecting a commission if they make a purchase from your link.
Related: See how this Mom makes $6,000/mo from 6 affiliate partners
This is how you make money from Milotree, BUT it's even easier than THAT.
Sign up for their affiliate program (everyone gets accepted) here. Your account should be approved within 24 hours, and then you will have access to your affiliate dashboard.
Add your affiliate link to the "Powered by MiloTree" link at the bottom of your popup through the MiloTree's website under settings (see highlighted area below for reference).

This way every time someone sees your popup and clicks the link and purchases, you make $20.
You are not even trying to convince anyone to use MiloTree, and you still make money.
This is how I found out about MiloTree; visiting someone's website and seeing the pop-up. At the time I knew I needed to increase my Pinterest following, so I signed up for MiloTree.
I don't even recall the website I was visiting when I clicked, but they made a profit from me.
The affiliate cookie lasts for 30 days – this means that someone could click your affiliate link, and make a purchase up to 30 days later, and it would still be credited to you! This gives your readers time to check it out and decide if it's in the budget for them or not.
I haven't seen an easier affiliate program than this. To sign up for MiloTree, it costs $9 a month, and you can use my affiliate link here to purchase (let's help each other out).
The first 30 days is FREE so you can see if you get an increase in followers and if it's worth it to pay. Doesn't get much better than that.
By joining their affiliate program, you may not have to pay anything, as you may get a return on your investment in affiliate sales.
Final Thoughts
Now that you know about MiloTree, you can get followers without following others. Let people follow you because they want to, not because they are just doing you a favor.
Don't wait to purchase MiloTree and make the same mistake I made, sign up for MiloTree and increase your following Today!
You may also like:
How to Increase your Traffic using Pinterest
How to find group boards and determine if you should pin to them
How to start a money making a blog for only $84