7 of the Best Gift Ideas for Toddler Boys – Ages 2-3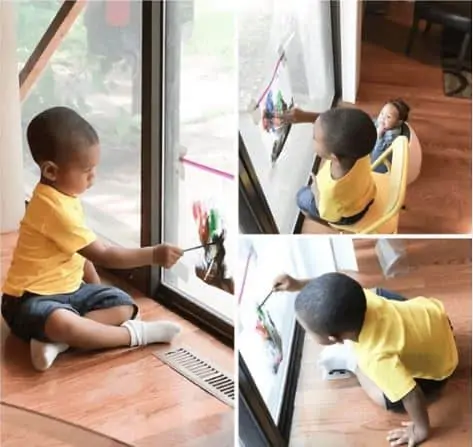 Activities for Toddlers at Home
Whether you're a stay-at-home or work-at-home mom, we all need a way to keep the little ones busy, so we can get some things done.  It's no easy task, but there are some creative ways to do this.
Thanks to Pinterest and recommendations from friends, I discovered seven activities/toys that actually give my 2-year-old son 30 minutes or more of independent play time, and that means more time for me to work.
If you're looking for things to buy your toddler or give as a gift you have to consider these because they are great toys for independent time and they will give mom a break!
When it comes to things, I have a more minimalistic approach and am not an advocate of too many toys. However, the toys today are educational and helps with their motor skills, so it's more like an investment.
This post contains affiliate links, which means I may receive a small commission, at no cost to you, if you make a purchase through a link.
If you've read my post on How I Work 8 hours a day with My Toddler and Newborn you'll know that I keep my toddler busy right before his naptime with bath time!
My son LOVESSSS the Bath.
He'll play in the bath for 30 minutes to an hour, and when I take him out and dress him he will nap for 2-3 hours! But there is a reason he bathes so long, and that's what I will start my list off with…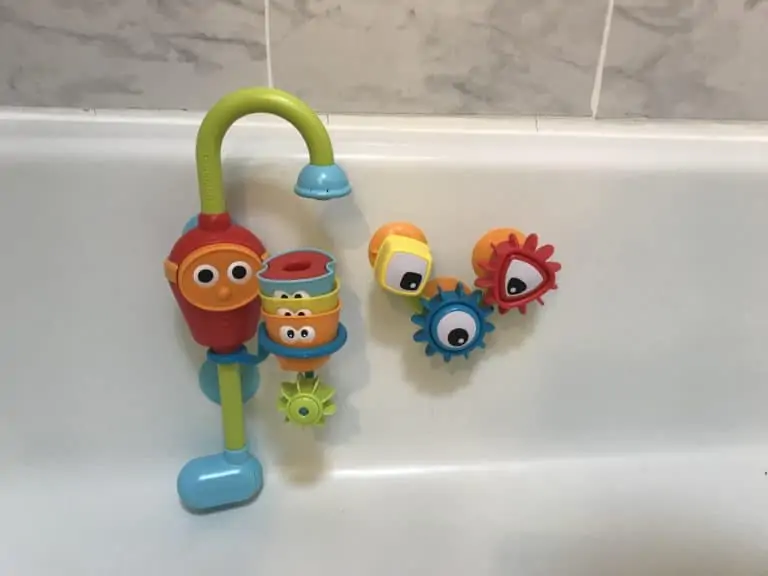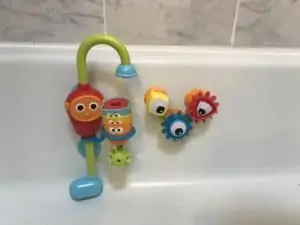 I take a seat near the tub and work on my phone or laptop while he has endless fun with the automated squirting spout of water while I'm wearing my daughter in my Boba Wrap (I also have a 2-month old daughter) or she'll be rocking away in the best rocker of all time (she rarely ever cries in this rocker).
This Flow N Spill Spout is the best toy ever because it keeps him so busy you don't get any of those "look at me mom", "watch me do this"! It's great independent time for him.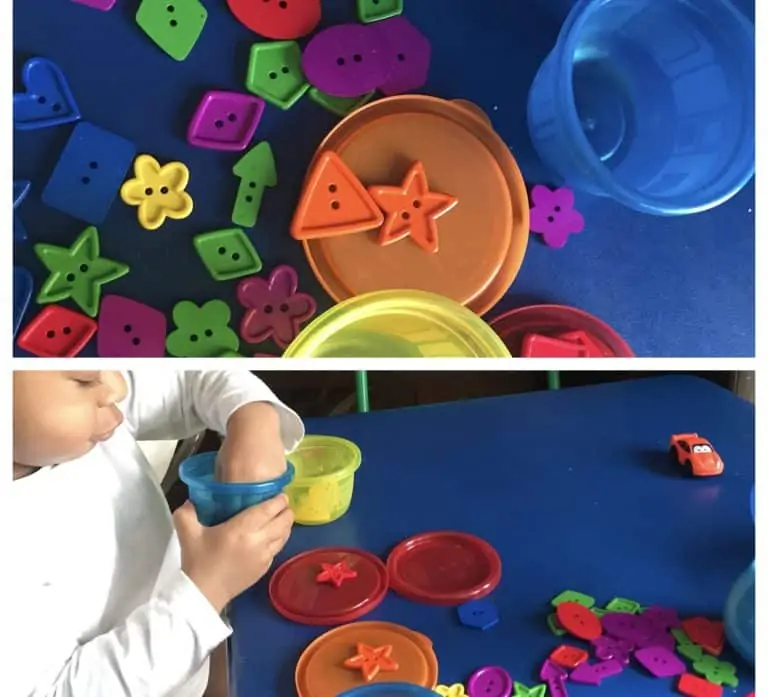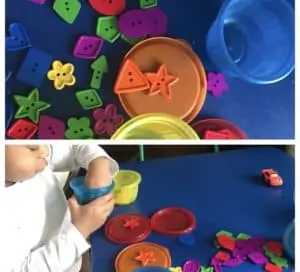 Thanks to Pinterest I purchased some buttons from Amazon and toss snack cups to help my son with his colors, counting, and shapes.
Right now, he is saying everything is blue and has more fun pouring all the buttons in one bowl into the other but we're getting there :-). This is a great way to keep him busy for some time by himself.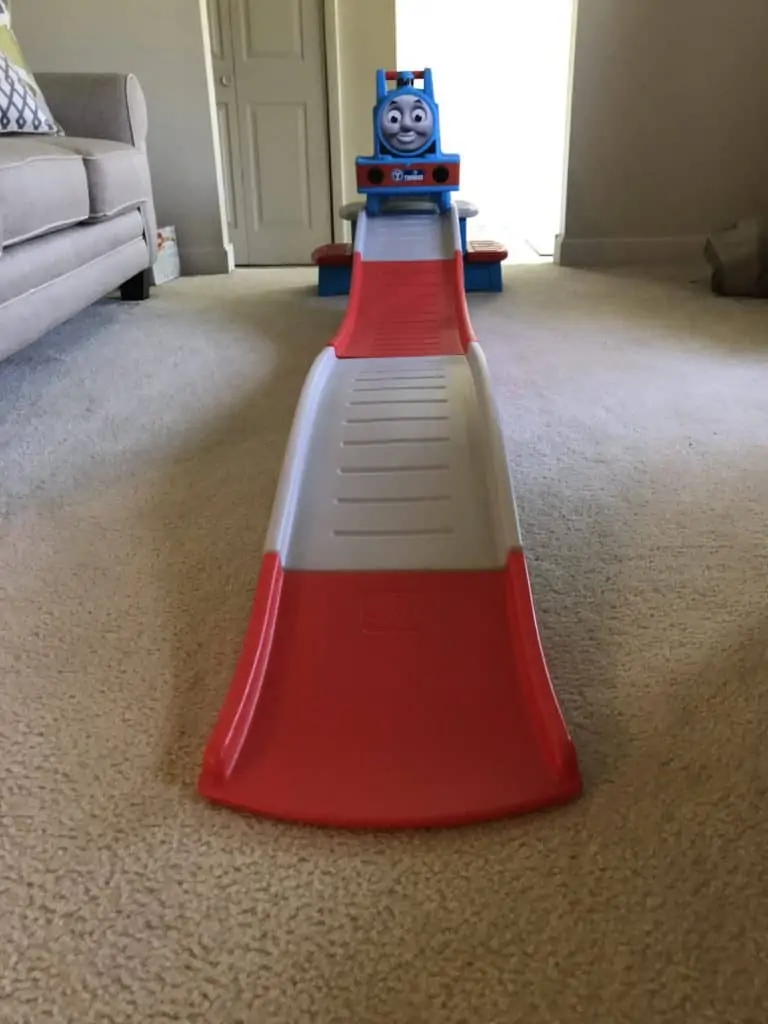 We LOVE this! It's one of the coolest ways to keep my son busy while I get things done around the house. It has over nine feet of roller coaster track for endless hours of coaster ride-on fun.  
Some days my son loves riding Thomas down the tracks OVER AND OVER AGAIN, and other days he just plays on the tracks with his cars.
My nieces and nephews also have a blast with this; they literally play with this ALL day when they are over.  I don't have to entertain them, and I get so much done!
It may sound counterproductive but if you have one toddler like I do you might want to invite a fellow toddler over to have a play day. It encourages sharing, social interaction, lots of fun AND adds some variations to days that could otherwise get redundant.
I just sit in the room supervising while multitasking on my laptop. You can catch up with laundry, paying bills, Social Media or whatever.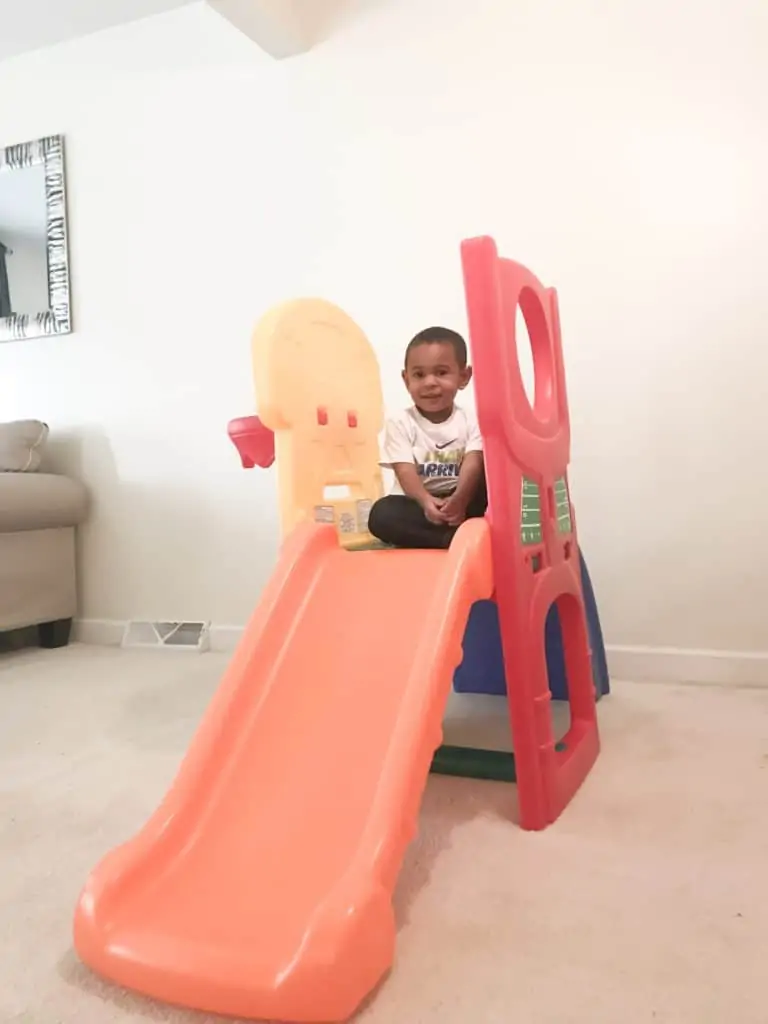 This was my son's first Christmas gift (extremely excited first-time parents), two years later it's finally getting its use. This Sports Climber features a basketball hoop, a climbing ladder, football toss, soccer, slide, and scorekeeper.
The Thomas Roller Coaster and All-Star Sports Climber literally brings outside fun to the inside and keeps my son very active. With the weather FINALLY getting better we can go and get some fresh air and play outside, but this and Thomas are very helpful on rainy days.
5. Painting without a Mess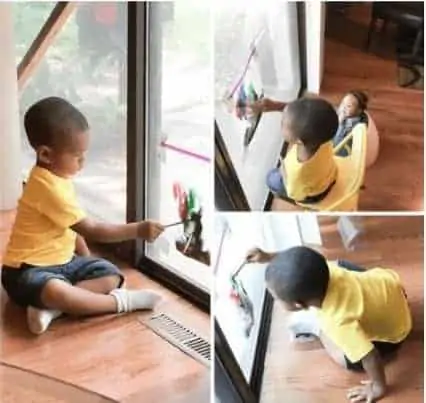 I recently stumbled upon this on Pinterest and it was a GREAT find. This activity cost $2 (thanks Dollar Tree), I paid $1 for the Ziplock Bags and $1 for the paint.  You simply pour the paint in the plastic bag, tape it to a window and let them go at it.
My son loves it and so do I. It keeps my son busy without making a mess.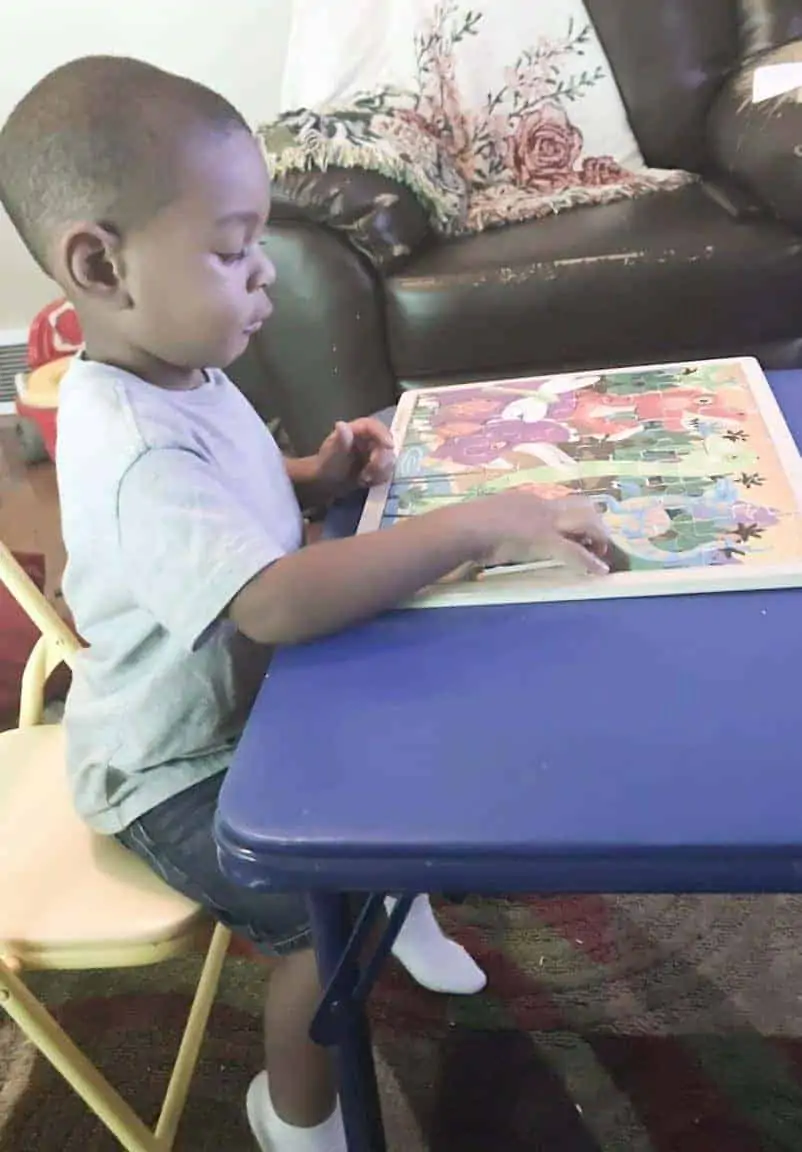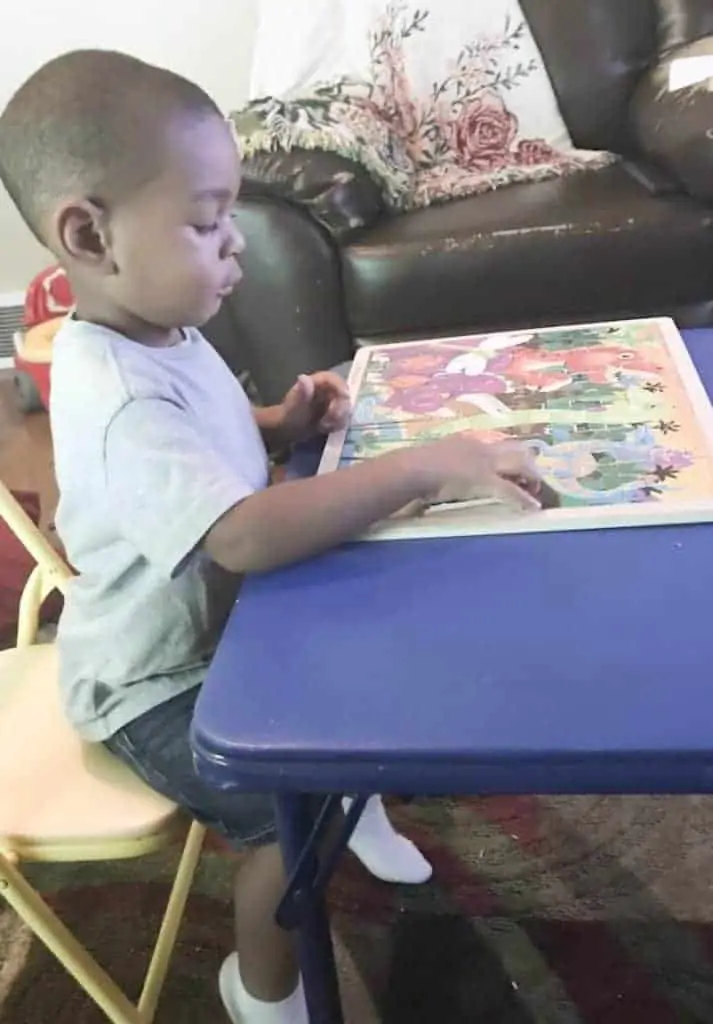 My son and I were very happy when I bought this Melissa and Doug Dinosaur puzzle (Dinosaurs are his new thing), but this was a true test of his patience and well, he doesn't have any. After many tears and tantrums he started to finally get the hang of this puzzle and now he doesn't even need me. I'm just so proud of him. He will literally stay to himself for quite some time working on the puzzle and once he completes it, he turns it over just to start again.
This puzzle is just the right size, it's 48 pieces so not too small (difficult) or too large (easy). You can check this puzzle out here on Amazon if you'd like one similar.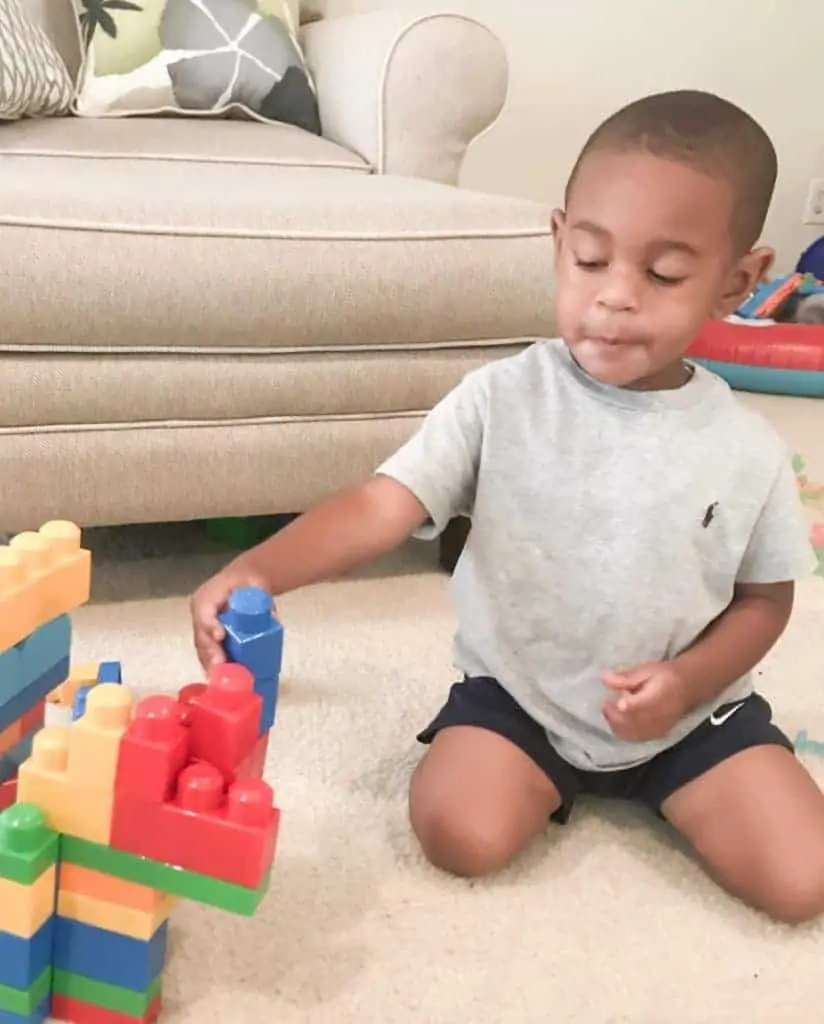 I bought this for my son when he was one and as excited as I was, he just didn't care about them BUT now, he can't get enough.  He is always in our living room building and calling it a sand castle.
After seeing how much my son loves these this is what I buy his friends for their birthdays.  We practice his colors with these and it promotes focus, concentration, and motor skills.
You can find these on Amazon as well here.
---
These are toys and activities that allow me to get 8 hours or more work done in a day, see my typical schedule here.
It's so important to promote independence in your children, my friend Anita wrote a great article on how to raise an independent child. You can check it out here.
I love blogging because it gives me the freedom to share great tips, ideas and suggestions and has also given me the flexibility to make money from home while spending time with my kids.  
It's also a mental break; it literally takes me away to a place of relaxation when I blog, I feel a sense of accomplishment, contributing to the household income.
If you are looking for flexible ways to make money from home that allow you to spend more quality time with your children, click here it's working for me and so many other moms.
Are you on Instagram? Follow me as I share helpful ways to save while working full-time as a stay-at-home, work-at-home mom and enjoy the humor as I try to balance it all.
You Might Also Like
How I work 8 hours a day at home with my Toddler & Newborn
17 Flexible Ways to Make Money from Home
How I started my Money Making Mom Blog for Only $84
I'm sure there are many other ways to keep your toddler busy.  Please share yours; I'd love to hear and hopefully add to this list.
7 of the Best Gift Ideas for Toddler Boys – Ages 2-3