How to Get Real Instagram Followers: Success Story from 0-70k+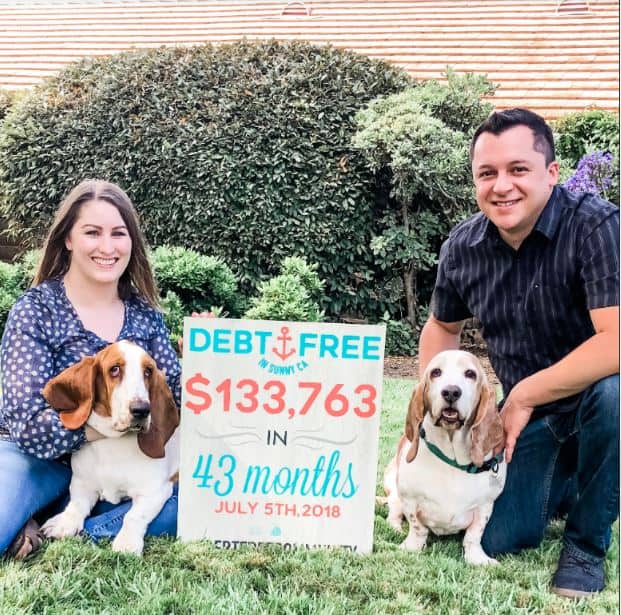 How to get Instagram followers without Following
Are you looking to grow your Instagram account?
Do you want to know how to get REAL Instagram followers?
If so, you're in the right place. 
I'm very active in entrepreneur Facebook groups and often see people posting that they are trying to grow their Instagram following and are willing to follow others if they will follow them.
I want to scream at them and say, 'STOP THE MADNESS'.  I cringe to say I've done this in the past but I know better now.
You want to have a good number of followers because it brings credibility to your name/brand and gives you access to things like the swipe up feature (if you have 10,000+ followers) BUT what good is having 10,000 followers if only 5 people are liking your posts?
You want REAL Instagram followers.
Followers that love you and will engage with your posts by either a like or comment…and in return, Instagram will reward you by giving you further exposure and a chance to get even more followers and more traffic to your website if you have one.
Don't you see, it's the engagement that matters.
It is also important to note if you want to make money from Instagram through sponsored posts:  Brands want to work with people who get plenty of engagement on their posts.
They are looking for more than a massive following but a mix of both followers and engagement.  These both work together to show that you not only draw a crowd but you can keep them interested in coming back again and again.
You could have 5,000 followers and make more money with brands than someone with 10,000 followers all because of the level of engagement you have with followers.
I know people who have paid for followers and it has done nothing for them because those "purchased" followers do not engage in their posts.
So, in this article today I want to show you how to gain and retain real Instagram followers without following others from someone who went from 0 followers to over 70,000 Instagram followers!
I am so excited to do this interview because I'm now working on the growth of my own Instagram account. 
I feel like I've mastered this blogging thing now getting over a half-million page views per month through Google (organic search) and Pinterest, so now it's time to branch out into a different medium.
Related Article: How I Make Money Blogging Consistently
I have learned a couple of things myself from talking to others on how to get followers on Instagram and thought this way was really interesting…
Depending on which niche you're in, you can get followers by answering questions from users on other Instagram accounts with a bigger following in the same niche as you.  
Most of the time these Instagrammers get so big they don't have time to respond to everyone's comment or question on a post but even if they do, you can still engage and give your opinion.
Just be helpful. Don't try and sell anything or make it seem like you're trying to outshine that Instagrammer (and you don't want them blocking you either).
You can gain more followers this way because others will see your response, AND the bigger Instagrammer will take note of you.
The person you specifically help will show their way of thanking you by following you. If you continue to post things on the subject matter that user had a question about you may win a client over or just an Instagrammer who now loves you and ENGAGES with your posts.
This all takes time and work but I like to live by this motto, how bad do you want it? 
How bad do you want Instagram followers so you can later monetize it and make a living off of it?
If you want it bad enough keep reading to see how you can do it.
Here starts my interview with the wonderful Amanda Williams who turned her Instagram following to over 70,000 people.
Here is How to Get Real Instagram Followers
Can you tell us a little bit about yourself and how you started using Instagram?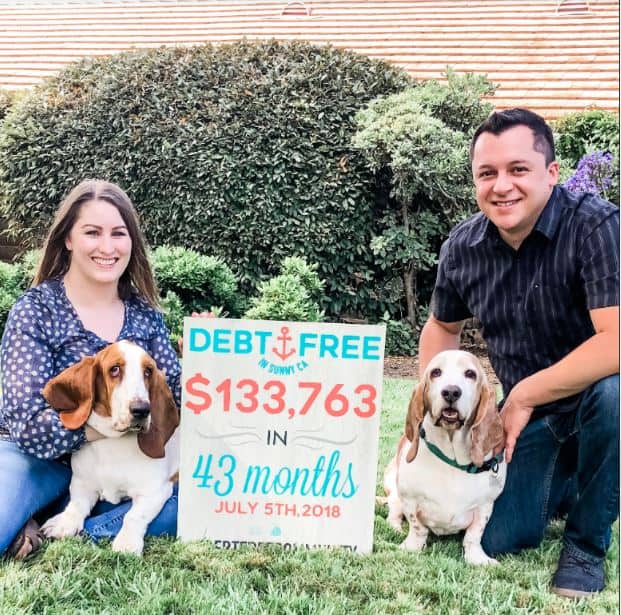 Hey Whitney! Thank you for the opportunity. My name is Amanda Williams and I am the owner of Debt Free in Sunny CA. My Husband, Josh, and I paid off over $133,000 in debt in 3 years and 7 months. We recently relocated from California to Texas to start our journey to FI/RE (Financial Independence Retire Early) and we're expecting our first child in April. 
I started using Instagram because I needed accountability and motivation from others to get out of debt. I tried to get out of debt once before and failed miserably. I went through some personal things and reverted back to my old debt loving self. A few years and a lot more debt later, I had to do something about it. My grace period was ending and there was no way I was going to be able to pay my student loan payments AND my car. Something had to be done. 
I turned to Instagram to find people that I could relate to and keep me motivated. At first, I was using my personal Instagram to share what I was doing to get out of debt, milestones, and tips I learned. It felt weird that strangers on the internet were more supportive than my real-life friends and family (engagement on posts). 
That's when I created my own public debt-free account – @debtfreeinsunnyca. Later, I started #debtfreecommunity to make it easier for other debt-free accounts to find each other. 
How did you start getting Instagram followers?
I started gaining followers by engaging with other members of the community – liking and commenting on their posts.
I posted consistently about our wins and failures, helpful tips, and debt-free community information.
As more people became interested in getting out of debt and the community, my account started to grow!
How often do you post and how often do you do stories? What do you think has the most impact?
My goal is to post once a day on my feed and multiple times a day on my stories. I always keep the in-feed posts related to money in some way. With stories, I post more personal, day-to-day pictures and videos. 
That's a tough question because they are both impactful in their own ways. With in-feed posts, more people typically see them through the home menu, hashtags, or popular page. The downside for in-feed posts is that many people don't want to click multiple times to visit the link in your bio. 
Stories are very powerful, especially the swipe up feature. Someone is more likely to swipe up on your story than go to your profile and click on the link. You can load stories up with hashtags, but they likely won't get as many views as an in-feed post. 
If you post daily, do you find that you HAVE to post once a day to stay on Instagram's good side with their algorithm?
I don't! I think it's more about engagement from your followers than consistent posting. The more likes, comments, shares, and saves your post gets, the more it will be seen. 
Any tips or advice you would give to those who want to grow their Instagram following?
My first tip is to be authentic! Your story is unique to you and people will appreciate that. Share the good and the bad. 
Post information that your followers will find helpful and be consistent. Use relevant hashtags. Comment on accounts similar to yours. 
Photo tip – download Adobe Lightroom on your phone (it's FREE!). Then, invest in some presets to edit and brighten your photos. With one touch, my photos instantly look better. My favorite presets are Light and Airy. 
Lightroom preset pictures. Before and after presets: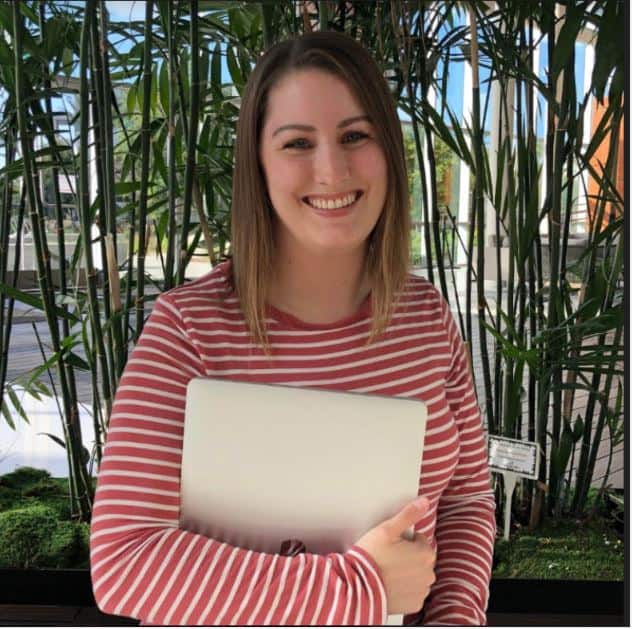 After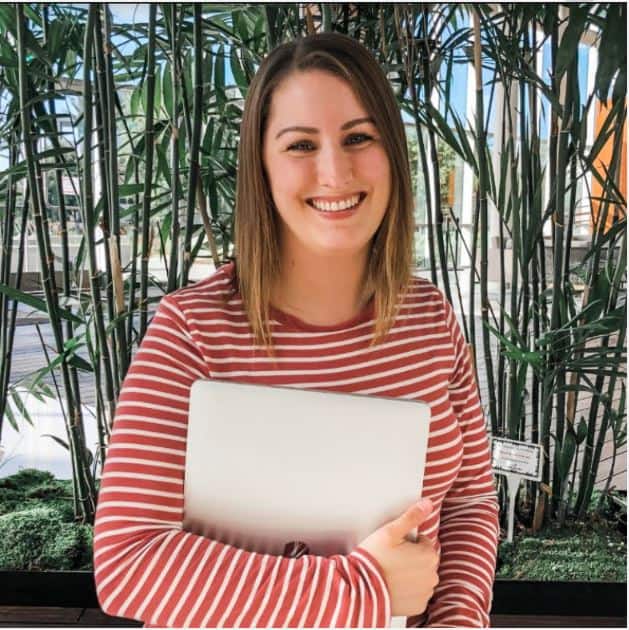 Is there a certain time of day you post?
I look at my Instagram analytics to find out when most of my followers are online. Usually, I post between 3-9 PM.
To view what time your followers are online, click the hamburger menu, then Insights, and finally Audience. Scroll all the way down and click on the bar chart. It will display the number of followers for every three hours. Click the arrow to view a different day of the week (If you've upgraded to a business account).
How do you choose what hashtags to use and how many do you use?
I choose hashtags related to my field – personal finance. I have a set of 21 saved hashtags that I use regularly. I add or remove hashtags depending on the post.
I use an application called Later for all things Instagram. It has a fantastic feature that suggests hashtags to use. For example, typing in "debt" would bring up popular hashtags related to debt. 
Are you monetizing your Instagram account? If so, how?
Yes! I monetize my Instagram in several ways. I opened my own store on debtfreeinsunnyca.com earlier this year where I sell budget templates, printables, apparel, accessories, and more. 
Additionally, I monetize by partnering with companies to do sponsored posts and affiliate links. With sponsored posts, I follow the guidelines set by the company to promote a product, service, or website. 
For affiliate links, I have a specific link for a product that I promote. When someone purchases from that link, I get a small kickback. 
Do you use a scheduler? If so, how far out in advance do you schedule your posts and what scheduler do you use?
I use Later as my Instagram scheduler, but I usually don't plan out my posts far in advance. I found that it becomes too stressful for me and I prefer to post the message I want to talk about that day. 
Whitney Here: I agree with Amanda, planning out too far in advance has been a little stressful for me BUT that doesn't have to be the case for everyone. I know this one Instagrammer that schedules a whole month of Instagram content in one day! It's brilliant actually, here's how she does it
Any tools you recommend to run your Instagram account?
Yes. Later! There's a free and paid version. The free version allows you to post 30 times per month and search hashtags. 
I use the paid version – $19 a month. Here are a few of my favorite features:
Schedule Instagram posts and stories

Later keeps the spaces in your paragraphs! This may seem like a weird one, but if you've tried to do spaces on Instagram, it's extremely frustrating. Later keeps the spaces when you post from the website (Later website only. The Later app doesn't keep the spaces)

Linkin.bio – this feature is AMAZING. Instead of having one link in your profile or using link tree to list a bunch of links, linkin.bio mimics your Instagram feed and allows you to put multiple links per post.That might be confusing. You can check out the link in my bio to see what I mean!

Mentions – because I have a large following and only so many notifications show, I often miss when accounts mention me. The mentions feature saves every single mention in the platform!
---
Wow! Thank you Amanda for such a great interview, I'm definitely going to check out Later and using the Linkin.bio will be perfect for me so I can link to specific blog posts.
When I think about Instagram and gaining a following, I think it's important to ask yourself why would someone follow you?
Is it because you're funny

You have great style

You post inspirational quotes

You're helping someone lose weight, get out of debt, etc.

You have great cooking skills
The list goes on, but I think it's important to choose ONE reason why people should follow you. 
Don't take this so literal. If you talk about money that means you can talk about saving money, making money, investing, etc. I'm just talking about picking a category on the kind of things you want to talk about and stick to that. 
This way you know exactly who your target audience is and the type of people who will want to follow you. 
You don't want to be everywhere unless your topic is lifestyle and people just follow you to see what you're up to aka influencer.
Amanda is very niche down and has over 70,000 ENGAGED followers. So if you want to become debt-free, follow Amanda because that's what she's going to be talking about.
I'm still trying to figure out exactly what my story is, do you know yours? I don't know if I want it to be just about mom life, work from home jobs, work/mom life balance, etc. 
Once I figure it out I'll be taking these steps Amanda mentioned to get real Instagram followers without following others:
Pick a Niche

(What category do you want to fall in)

Be Authentic

(What makes you different from others)

Study the Competition

(Use my competitors as inspiration to come up with post ideas and see what type of posts get the most engagements)

Comment on other Instagrammers posts and get engaged with the community
Plan

(Write down what types of posts I want to do and take quality photos using Amanda's techniques)

Post consistently using relevant hashtags 
Stay committed
For all my bloggers out there looking into Instagram, I recently added this little blurb in my top-performing articles to get more Instagram followers and it has helped tremendously.

This link takes my readers directly to my Instagram homepage where they can follow me. Your url will be "Instagram.com/yourusername"
This is a way to get connected personally with your readers and I hope it goes without saying but I'm going to say it anyway, if someone comments on your post, please respond.
This is just another level of engagement that you want. 
Two other quick tips I want to leave you with, I learned when it comes to links on Instagram if you want to send someone to a specific link you can always put them into direct messenger. 
AND make sure you have the two-factor authorization passcode set-up.
Someone in a Facebook group I'm in was hacked and the hackers told her that if she wanted to keep her account active she had to pay $250. Even Amanda's account got deactivated accidentally, so she wrote an article on how to avoid this from ever happening to you. It's a must-read, you can find it here. 
I also follow the six-figure chick and she is always giving great tips on how to grow your business on Instagram, definitely worth a follow.
After reading this article I hope it has been helpful in showing you how to get real Instagram followers without following others.
Do you have any questions? Please let us know in the comment section below.
If you liked this content and want to stay updated on ways to make money from home, be sure to subscribe to our mailing list. Click here to subscribe.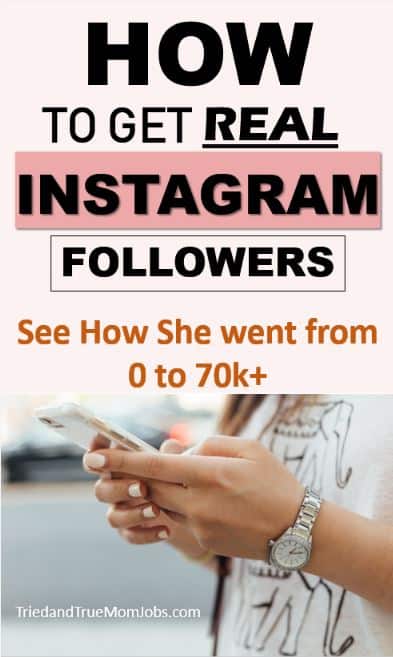 How to Get Real Instagram Followers: Success Story from 0-70k+