40 + Best Activities to Keep Kids Busy While Working from Home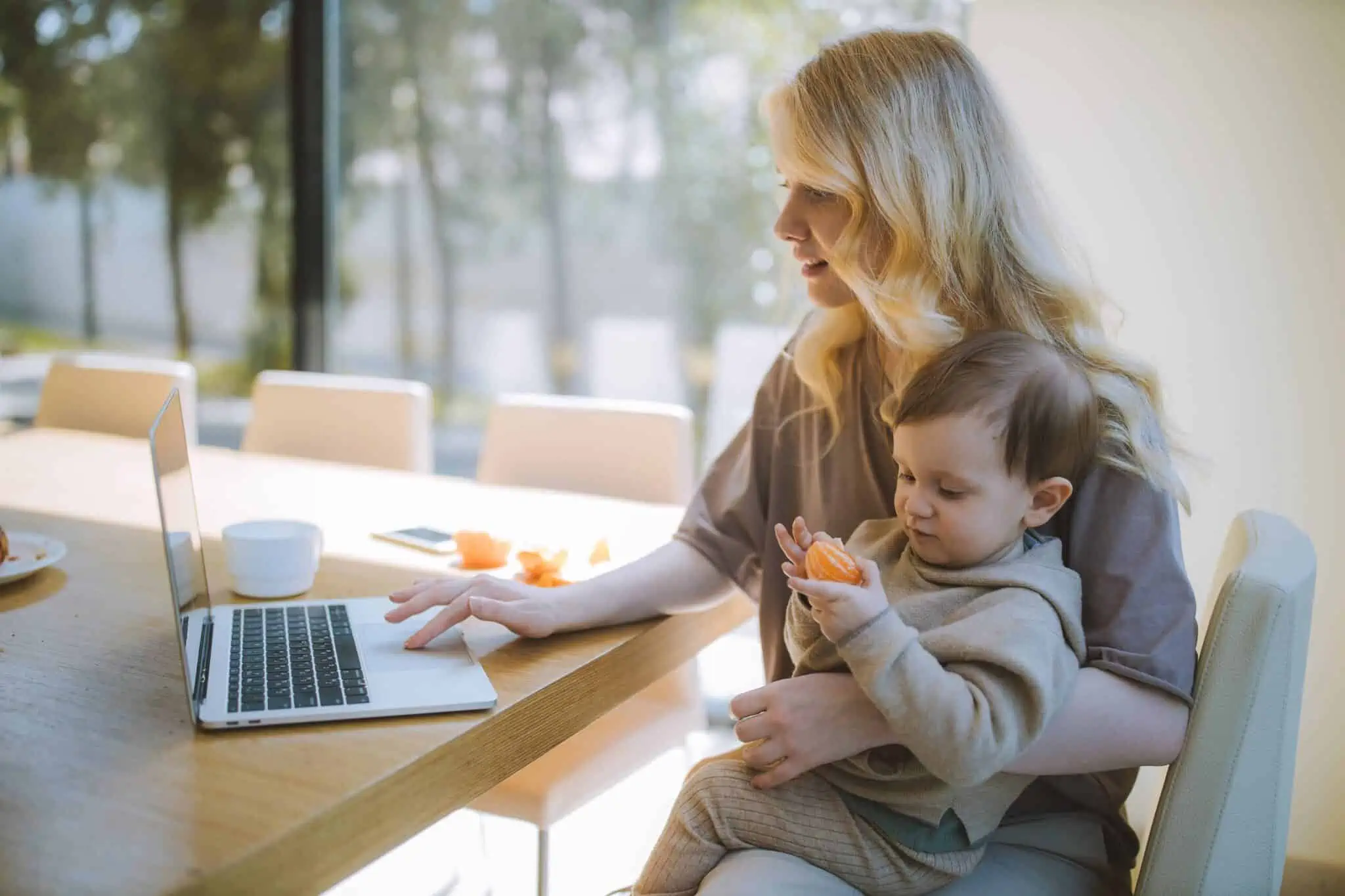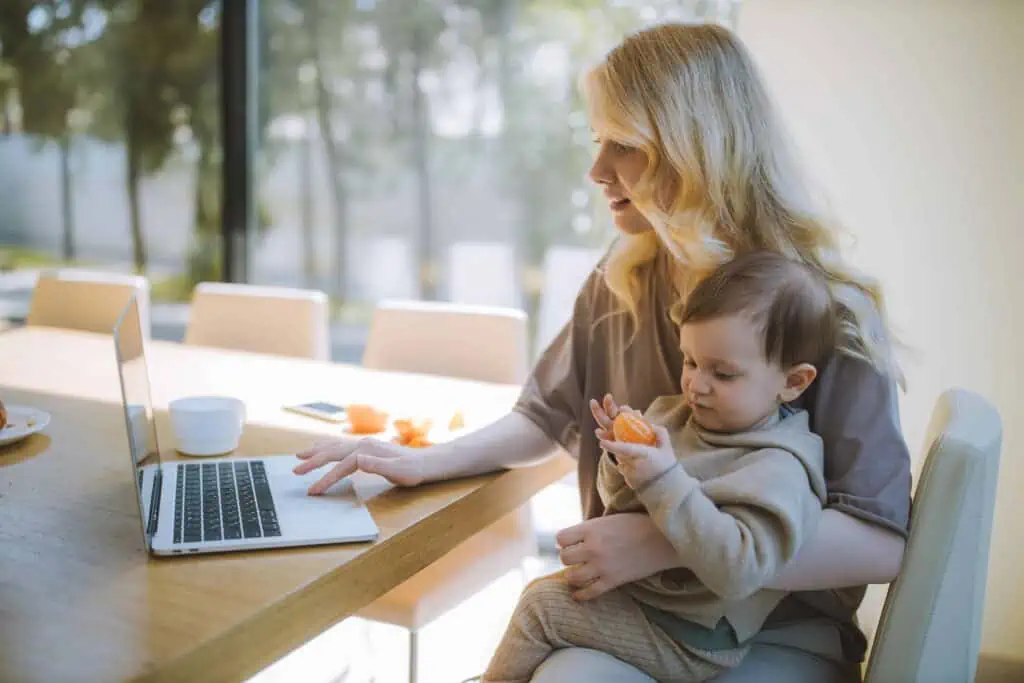 Are you constantly looking for activities to keep your kids busy while you are working from home? Well, you have found what you are looking for!
Whether you are new to working from home or have been for a while, we all are familiar with the constant battle of getting our work done and keeping our children busy. Read on for our complete list (categorized by age!) of activities that will keep your kids happily occupied and allow you to get your work done!
Make sure you read until the end for some excellent ideas for kids of all ages!
But first…are you in our exclusive FB Mom Group? Our mission is to help you earn a MINIMUM of 6-figures per year. If not, click here to join.
This post contains affiliate links, which means I may receive a small commission, at no cost to you, if you make a purchase through a link.
---
Baby
Check out this highly-rated tummy time floor mirror. It has black and white patterns to catch your baby's interest as well as non-toxic, soothing teethers.
Your baby will be happily making music with this piano gym. We love this option because it grows with your baby: Lay & Play, Tummy Time, Sit & Play, and Take-Along.
3. Explore Sounds
Creating sounds helps with your baby's learning and development. Try putting some beads in a tightly closed container for them to shake or fill a safely knotted bag with cellophane or another item that makes crinkling sounds.
When you are working from home with a baby you need to have a place where you know they will be safe if you get distracted for a minute. This playpen will keep them safe and has many built-in toys to keep them occupied and happy!
A sorting toy like this Fisher Price Stacking Toy helps build muscle control and is great for your baby to stack, sort, and drop the pieces in.
6. Good Old Pots and Pans
Don't skip this one, it works for a long time, ask me how I know! Grab different size pots and pans and a wooden or plastic spoon and watch your baby have the time of their life!
---
Toddler
7. Make Your Own Playdough
Keep them busy for hours! I love this recipe. It is easy and cost-effective to make at home and non-toxic!
This highly-rated kitchen is sure to keep your child busy with imaginative play. Check out resale stores or Facebook Marketplace to find a gently used kitchen for a bargain price.
Fill a container with items like rice, beans, water beads, or sand. Add small toys, scoops, and containers for sensory exploration. Of course, you will need to watch for smaller pieces when purchasing for younger children, but if you want to purchase a sensory bin set, this is our favorite pick.
Introduce age-appropriate puzzles with larger pieces. This activity promotes problem-solving skills and hand-eye coordination.
Use soft building blocks or large wooden blocks for creative construction and imaginative play. I love these Mega Blocks. The larger size makes it easier for children to grasp and will provide tons of creative fun!
Provide a variety of objects in different colors and encourage your toddler to sort them into matching containers. Check out this highly-rated set.
Try making a large letter or number on a piece of paper and have your child "dot" along the line with these easy-to-grip dot markers. Or write different letters on the page and have your child "dot" all of the "a" letters.
I have bought my son a ton of dinosaurs. He's obsessed. He loves to take them all out of the bin and have them stand up while watching them on TV. It keeps him quiet for a good hour and he barely watches the TV, it's just good for background noise.
---
Preschool
My kids love to play with water beads. They take a couple of hours to prepare so you need to plan ahead. These water beads will keep your child busy for hours! They can get messy so it is best to play with these outdoors or in a large plastic container.
16. Shaving Cream and Food Coloring
You will need a cookie sheet, shaving cream, food coloring, and a paintbrush for this activity. Simply spray the shaving cream over the cookie sheets and drop food coloring in a few places. Your child will love making designs and shapes.
Make a game and challenge your child to put the alphabet in order. You can even do upper and lower case letters. For an extra challenge, see how high they can get the numbers in order!
18. Shape and Color Hunts
Hide colorful objects or shapes around the house and have your toddler find and identify them. Cut out shapes in different colors and sizes. Hide them around your house. Tell your child to find so many of each shape or color.
Provide costumes and props for imaginative role-playing, such as pretending to be pirates, superheroes, or animals. What will your child be today? Check out this set that includes a doctor, a firefighter, and more!
Play games that involve counting, sorting, and basic math concepts, such as board games or card games with numbers. My kids love this monkey balance game…and they don't even realize they are learning while they play with it! You can even use this for school-age kids by changing up the game.
Provide a variety of art supplies like markers, crayons, colored pencils, glue, child scissors, and paper. Encourage them to create drawings, paintings, and crafts. Hang your child's creations on the walls. This art set is a good place to start and has a ton of supplies to keep your little one occupied!
22. Make a Fort Out of Cardboard Boxes
Save up your old boxes and create a fort or house out of them. Your child can color and decorate the walls. This is sure to provide hours of creative fun for your little one!
Don't Pop The Pig is a favorite in my home. It is simple to play and my kids go crazy over this silly game!
Duplo sets are a great option for preschool-age children. The larger-size Legos will foster imaginative play and they come with their own storage bin!
25. Work on Patterns
Try starting with simple patterns using colors or shapes. Your child can continue the patterns and create new patterns of their own. If your child is ready for it, they can make beaded necklaces and bracelets using patterns.
26. Noodle and Marshmallow Fun
Give your child a box of spaghetti and marshmallows and let them create away. Challenge them to see how high they can build a structure (and not eat the marshmallows!).
If you haven't tried kinetic sand…your kids are missing out! They will love this! They can create all sorts of fun things with this sand. It can get a little messy so you might want to put a towel down for worry-free play time!
Your child will be so excited to play with these tiles. The magnetic tiles connect to each other for creative and entertaining fun!
---
Grade School
Use LEGO sets, building blocks, or STEM construction kits to foster problem-solving and engineering skills. This robot has a 5-star rating and is sure to keep your child busy for hours. How fun to build something they can play with after!
30. Reading Clubs
Start a family reading club or challenge your child to read a certain number of books each month. Check out Epic, a free app for readers up to 12. This app can read books to your child or just help them with tricky words as they read the story. You can even set up a reward system for each book read for some extra incentive.
Diamond art sets keep my kids busy for hours! They are easy and fun to do. Try one like this that comes with a frame so they can put it on display in their room when they are done!
32. Outdoor Sports and Games
Encourage physical activity through sports like soccer, basketball, or biking. Organize family sports days or play classic outdoor games like tag, hide and seek, or kickball. We also love the idea of an obstacle course. Set clear boundaries for your child so they know where they can be when you are not outside and when they need to check in with you.
Encourage them to explore hobbies like photography, model building, or collecting. National Geographic has a whole line of models for kids.
Offer more complex puzzles and brain-teasers like jigsaw puzzles, Sudoku, or crosswords. Try something like this for challenging, brain-twisting fun!
35. Musical Instruments
Provide music lessons or explore musical instruments such as the keyboard, guitar, or drums. Check out musicarts.com to see if there is a location near you. Kids can rent different instruments to try out before they have to commit and you have to make a big purchase!
Encourage creativity through more complex art projects such as painting, sculpture, or crafting jewelry. This Foil Fun set looks like so much fun. Give it a try for something different!
37. Give Donations
We love this idea of giving your child an opportunity to help others. Have your child go through their clothes and toys and make a pile with things that no longer fit or that they no longer play with. Take the items to a local shelter with your child.
---
Ideas for Any Age
38. Check out Outschool for Online Classes
We love this option for fun and educational online classes for your child of any age. It is also a great option if your older children are stuck home from school due to an illness. They have educational classes for many different subjects and interests.
39. Set Up a Mini Library or Reading Corner
Make this space fun and inviting, and your child will love to spend time here. Swap out books every week to keep things fresh and exciting. We recommend this comfy children's couch that can unfold for the perfect reading place!
40. Encourage Quiet Time Activities and Independent Play
These can be great options for when you need uninterrupted work time. If your child has outgrown nap time, quiet time in their room can still be beneficial. Educational apps can also be a great resource for you. Try Khan Academy for a free learning resource.
41. Involve Your Child in Your Work
Depending on their age, involve your child in small, age-appropriate tasks related to your work. This can make them feel part of your routine and give them a sense of responsibility. My kids love to "help" Mommy work!
42. Plan Breaks Together
I also love the idea of planning breaks together. Your child will be more willing to focus on their "tasks" while you are working when they know that they will have your individual attention during break time. You can set a timer for activities so your child will know when it is time for a break. This timer is a great visual for smaller children.
---
Ok, you made it to the end of my complete list of the best activities to keep your kids busy while working from home. You've got this! With creativity, patience, and a little planning, you can successfully manage both work and parenting responsibilities.
Remember, every day is a chance to find that perfect balance between work and parenthood. We hope these ideas have inspired you to make the most of your time together. Happy working!